Get Radiant, Youthful-Looking Skin with Rosehip Seed Oil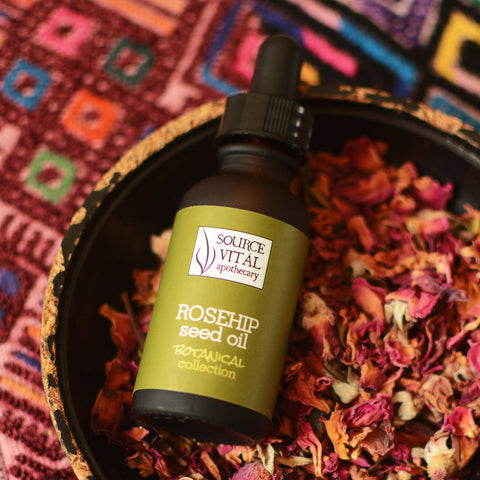 Ingredient Spotlight: Rosehip Seed Oil
Facial oils are certainly having their 15 minutes in the beauty world. With so many to choose from, navigating the sea of oils and understanding all the claims about what they can to do for your skin can Definity be a challenge.
One oil that is generating a lot of buzz due to its skin benefits is Rosehip Seed Oil – trust us, Rosehip is just as lovely as the name suggests.
What is Rosehip Seed Oil?
Rosehip Seed Oil originates from the wild rose bush, grown in Chile, in the Andes Mountains.
Surprisingly, this oil doesn't actually have a "rosy" scent. That is because Rosehip oil comes from the "hips" which are small fruit seeds found behind the petals.
When it comes to benefits for the skin Rosehip is rich in antioxidants and also high in essential fatty acids, making it a master at hydrating and promoting the appearance of youthful skin.
It is incredibly lightweight yet nourishing and can be used by nearly all skin types.
This oil is also a very versatile. It can be applied directly to the skin or simply added to your favorite facial moisturizer to give it an extra boost.
Benefits of Rosehip Oil in Skincare
1. Enhances Moisture Levels in The Skin
Rosehip seed oil contains high levels of linoleic acid, which helps to intensely moisturize and hydrate the skin.
Additionally, Rosehip Oil contains properties that help it penetrate into the deeper skin layers. This helps to effective hydrate the skin and provides a plumping effect to the complexion that can help smooth out fine lines, wrinkles, and other visible signs of aging.
Part of our Botanical Collection, Rosehip Seed Oil can be used alone by massaging a few drops on cleansed skin.
It is an effective base oil to use with a facial roller or gua sha stone, giving these facial tools the ability to glide across the skin and further help push in all those skin-loving benefits of the oil.
Enhance the hydration of your favorite moisturizer or mask by layering them on top of a generous application of Rosehip Oil.
For a hydrated, well-rested look in the eye area, gently pat on a little Cucumber Rose Eye Cream, concentrating on areas around the eye prone to puffiness.
Cucumber Rose Eye Cream has a healthy dose of Rosehip seed oil to help brighten the ender eye area and diminish the look of under-eye circles.
2. Supports the Skin's Regenerative Efforts
Thanks to a high concentration of EFA's (Essential Fatty Acids), Rosehip Seed Oil can help reduce the appearance of stretch marks and scarring.
With beta carotene and Vitamin E, it also helps to improve the skin barrier function, essential for locking in essential moisture, and protecting the skin from environmental stressors.
Our Immacule Elixir (French for Spotless) is a natural alternative to help diminish the look of scarring, stretch marks, and other skin imperfections.
For stretch marks, apply 4-5 drops, twice daily, to areas of concern. To improve the look of scars, massage 2-3 drops directly to scarred skin, up to three times daily.
3. Improves the Appearance of Uneven Skin Tone
Vitamin C is a powerful antioxidant, excellent at combatting free-radical. It also can help promote a brighter complexion and can combat the appearance of hyperpigmentation.
Rosehip oil is rich in Vitamin C, which is a must-have ingredient if you are looking to maintain an even skin tone, as well as a healthy glow.
Our hard-working Luminous Infusion contains a powerful combination of Rosehip Seed and Prickly Pear Oils to help you achieve radiant, smooth-looking skin.
After cleansing and toning, mix 4-7 drops of the Luminous Infusion with 7 sprays of Sea Tonic and massage into face, neck, and under eye area.
Finish with your favorite Source Vital moisturizer, and during the day don't forget sunscreen to prevent further hyperpigmentation!
About Source Vitál Apothecary's Rosehip Seed Botanical Oil
With the botanical name rosa mosquito, Source Vitál Apothecary's Rosehip Seed Oil is sourced from Chile and is organic, unrefined and cold pressed to retain the maximum concentration of its beneficial properties.
It is 100% pure and natural and does not contain any chemical pesticides, synthetic perfumes, fillers or other carrier oils.
Rosehip Seed Oil has a bright golden color and a slight green scent.
Used for centuries in Chile, this oil gained popularity in the 1980s when a study revealed its propensity to aid in the regeneration of the skin, soften, and improve the look and feel of scar tissue.
 ABOUT THE AUTHOR
Tr
acey Ellis is a beauty enthusiast with over a decade of experience in the beauty industry. You can find her in the lab, manufacturing Source Vitál Products. Tracey is a New Yorker living in Texas and spends her time cooking and spoiling her miniature husky, Tabasco.
Shop Rosehip Seed Oil
---