Splash into Summer Savings: Source Vital's Prime Day Sale is Here!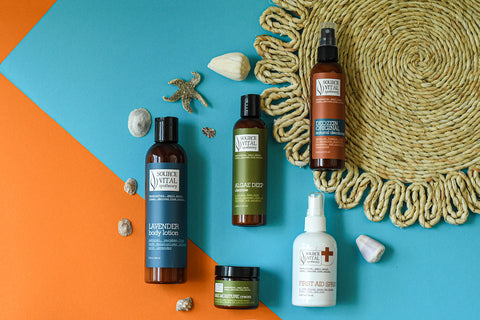 Are you ready to save and splash with amazing deals on your favorite Source Vitál Apothecary products? Get ready to dive into Source Vital's Prime Day Sale from July 11th and 12th. This sizzling event is your ticket to discovering the ultimate summer must-haves that will have you feeling refreshed, rejuvenated, and ready to seize the sunny days ahead.
Enter discount code: SVPRIME2023 at checkout when you shop from July 11th through July 12th to save 25% off your order! It's our biggest Amazon Prime Day Sale ever. 
Here are 7 must-haves from Source Vitál Apothecary that will elevate your summer self-care to new heights.
7 Must-Haves to Add To Your Prime Day Shopping Cart
Lemongrass Mani/Pedi Cream
Summertime is the perfect occasion to pay extra attention to the needs of your hands and feet. Exposed to the elements, our hands and feet deserve some tender loving care. Let our Lemongrass Mani/Pedi Cream be your go-to solution for maintaining healthy, beautiful skin throughout the season.
This indulgent cream is a true powerhouse, packed with ingredients like Shea Butter, Cocoa Butter, Organic Hemp Seed and Avocado Oils, Turmeric, mineral-rich algae extracts, prebiotics, and pure essential oils. Unleash the hydrating power of this luxurious cream as it deeply nourishes and replenishes your skin. Its clean and fresh scent of Lemongrass provides an instant pick-me-up, making it the perfect companion for everyday use.
Marigold Barrier Serum
Celebrate the beauty of summer with skin that radiates strength and resilience. Marigold Barrier Serum enhances your skin's natural beauty, leaving you with a vibrant and healthy-looking complexion. Embrace the warmth of the season while knowing your skin is fortified and protected. Make Marigold Barrier Serum an essential part of your summer skincare regimen and embrace the confidence that comes with nourished, glowing skin.
Calendula, also known as Marigold, has long been celebrated for its soothing properties, providing a calming effect for damaged skin. Complemented by Borage and Arnica, this dynamic duo works to reduce the appearance of redness and inflammation, ensuring your skin looks and feels its best. Meanwhile, Witch Hazel and Laminaria Digitata step in to provide essential hydration and nourishment, replenishing your skin's moisture levels.
Matcha Cool Mask
Embrace the summertime as an opportunity to pamper yourself with our natural leave-on Matcha Cool Mask (especially if you spent a little too much time in the sun!) Let the cool, refreshing sensation of this facial mask transport you to a place of tranquility and calm while giving your irritated and sensitive skin the soothing comfort it craves. As you enjoy its benefits, not only will your skin feel rejuvenated, but your mind and spirit will be uplifted as well.
Our revitalizing leave-on facial mask is carefully crafted to provide the ultimate comfort to your skin. Enriched with skin-calming Matcha, nourishing Algae Extracts, and Hyaluronic Acids that lock in essential moisture, this mask is a treat for your senses. It features a botanical blend including Aloe Vera, Elder Flower, Ginseng, and organic Marula Oil, all of which work together to nourish and soothe your skin.
Deozein
Gear up for a fresh and odor-free summertime with our range of natural deodorants, available in both spray and roll-on options. Say goodbye to chemical-laden antiperspirant deodorants and embrace the power of Deozein, our best-selling natural deodorant that truly delivers. Designed for those seeking a clean and safe alternative, Deozein offers a reliable solution without compromising on effectiveness.
The secret lies in our unique blend of pure essential oils, natural mineral salts, and seaweed extract. Together, they work harmoniously to combat the bacteria that cause body odor, all while allowing your body to naturally expel toxins and regulate temperature. With a pH balance of 4.5, this non-irritating formula keeps unpleasant odors at bay without disrupting your body's natural biome. Thanks to the absence of heavy surfactants, baking soda, and other harsh ingredients, Deozein is the perfect natural deodorant. Choose from an array of captivating scents that capture the essence of the season, including our Original with an earthy/patchouli aroma, Zest with a refreshing citrus clean scent, Fresh with a crisp floral fragrance, Cedrus with a woody/evergreen allure, and Spirit with an exotic and rich aroma.
SV23
This summer, let SV23 be your go-to secret for achieving radiant, youthful-looking skin. Embrace the beauty of nature's botanicals and their remarkable ability to nourish and transform. Elevate your skincare experience with this luxurious formula, and unlock the radiant potential that lies within. Trust in the power of plant-based ingredients to enhance your natural beauty and embrace the season with a renewed sense of confidence.
SV23 works its magic to protect against premature aging. Experience a plumped, youthful-looking complexion that exudes vitality. Shield your skin from the damaging effects of pollution and environmental stressors, while soothing redness and inflammation. Watch as dark spots, scars, and discoloration gradually fade, revealing a more even-toned complexion. The velvety texture of this serum instantly softens the skin, leaving it irresistibly smooth.
First Aid Oil
Get ready to tackle summer mishaps with our naturally soothing First Aid Oil, designed to provide relief for burns, bruises, cuts, scrapes, and even pesky insect bites. This undiluted, pure essential oil blend is a game-changer when it comes to soothing, calming, and cooling the skin. Prepare to be amazed at the remarkable effectiveness of this oil for various skin irritations that can arise during the summer season!
Our essential oil blend combines the powers of Lavender, Peppermint, Tea Tree, Blue Tansy, and Helichrysum. Lavender calms, soothes, and cleanses the skin. Peppermint purifies and stimulates the skin, offering a refreshing and cooling sensation to irritated areas. Tea Tree boosts the body's natural ability to heal wounds, purifying and supporting the skin's recovery process. Blue Tansy calms and soothes the skin, helping to alleviate discomfort and promote relaxation. Helichrysum provides soothing relief and supports the body's natural healing abilities, aiding in the recovery of minor skin irritations. With our naturally soothing First Aid Oil by your side, you can confidently embrace the joys of summer without letting minor mishaps slow you down. 
From the Lemongrass Mani/Pedi Cream to Deozein natural deodorant, and SV23 serum, elevate your self-care routine. Also, don't forget the First Aid Oil for soothing minor skin irritations. Refresh, rejuvenate, and seize the sunny days ahead with Source Vitál Apothecary.
Join us for Source Vital's Prime Day Sale on July 11th and 12th for amazing deals on summer must-haves. Don't forget to use our code SVPRIMEDAY2023 at checkout! 
---