New Product Alert: New Beauty Oils for Face, Body and Hair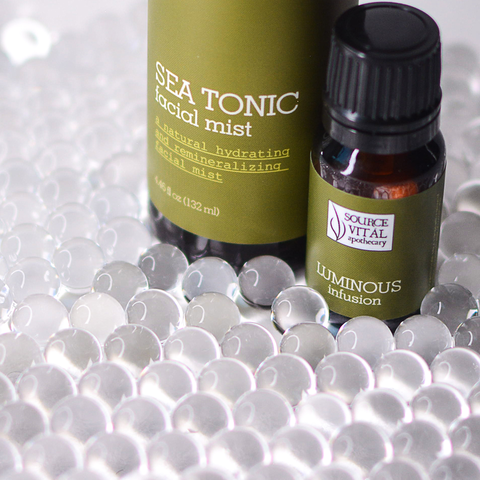 Now Available - New Hair & Scalp Elixir, Natural Solutions for Scars and Stretch Marks, Luminous Skin Serum Concentrate, and Prickly Pear Botanical Oil
This set of new additions work head-to-toe to improve the look of the skin, hair and body. Made from 100% pure essential oils and high-quality botanical oils, these blends are a safe, clean and effective addition to your daily grooming routines.
The newest addition to our line of face oil infusions is all about promoting a glowing, even-looking complexion by improving the look of dark spots, hyperpigmentation, sun damage and even acne scarring.
Packed with powerful botanical oils like Organic Prickly Pear Oil, Carrot Seed Oil, Japanese Shikon Extract and Frankincense Essential Oil, Luminous works hard to reveal bright youthful skin.
Pair with one of our other botanical serum concentrates to create a customized skin regimen or use with our fabulous Algae Serum for a boost of hydration and antioxidants. 
It's true one of the very best natural beauty elixirs comes from a cactus!
Prickly Pear oil contains the highest amount of Vitamin E than any other botanical oil - including Argan. Paired with Vitamin K for brightening and nourishing fatty acids, Prickly Pear deserves a special spot in your beauty cabinet.
To enhance the amazing benefits of Prickly Pear, we've added Organic Grape Seed Oil, Apricot Kernel and Sunflower Oils.
Regular use will diminish the look of dark spots, make pores seem to disappear and protect the skin from the signs of aging. 
Prickly Pear is also safe to use on the lips and as an under eye treatment to improve the look of dark circles.
Known as the "Eastern Botox" Gua Sha and facial rolling are Traditional Chinese Medicine treatments that have been used for centuries for holistic wellness and to enhance beauty.
These elegant skin care tools are said to improve nearly any skin complaint, from improving lymphatic drainage, to diminishing the look of fine lines and wrinkles and clearing up the appearance of acne. 
Upgrade your beauty ritual with our lovely Facial Roller and Gua Sha duo today. 
For the body, Immacule combines some of our most powerful botanical oils and essential oils with known benefits for smoothing the look of scars, stretch marks and other skin imperfections.
French for "spotless," the natural properties in this elixir work to strengthen the skin by supporting collagen and elastin production, enhance the skin's ability to heal, and protects from further damage with the help of powerful antioxidants.
A great product for pregnant women to use throughout their pregnancy to prevent the look of stretch marks!
Great hair starts with a healthy scalp. Hydrate, nourish and support healthy hair follicles for hair that looks and feels thicker, more shiny and free from dry, brittle strands and embarrassing dandruff.
Also, great to use for a relaxing scalp massage!
We hope you will love these new products as we do. If you have any questions about how to include any of these into your daily personal care, let us know. Add a comment below or email us at sales@sourcevital.com.
---