Here's 5 New Starter Kits to Introduce You To Source Vitál & Natural Skin Care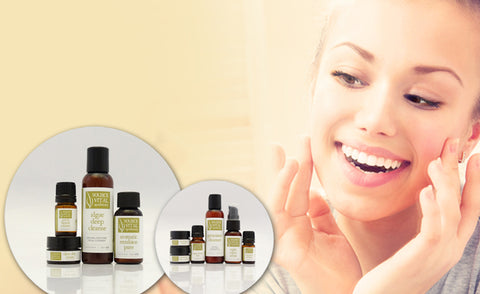 The Secret to Good Skin
Developing a healthy skin care routine - and sticking to it - is probably the most important step in having great-looking skin. Of course, with that comes finding the right products for your particular skin type. The good news, we've done all the work for you with our new skin care starter kits.
Natural Skin Care Starter Sets
Each set has been hand picked by our team with all the products needed to jump start your complexion. Trying new products can be a bit scary, especially for anyone with problematic skin, but this kit has been specially designed to be gentle and effective.
Many kits contain products with harsh ingredients that can be more damaging than helpful to skin in need of rescue. Ours is free of all synthetics and handmade in small batches using only the highest quality whole plant botanicals, seaweed extracts and 100% pure essential oils. Ingredients sourced from the earth and its oceans are made up of the same elements as the human body. This allows these products to easily be assimilated within our bodies.
No matter if your skin is oily, dry, aging or even normal, balance is the key. Our natural and gentle approach to skin is all about achieving harmony. Balanced skin is healthy skin. There are no dry patches, redness, excessive shine or breakouts, just smooth, glowing, hydrated skin.
Get Started
Now is the perfect time to get started down the road to healthy, happy skin. Our starter kits are all conveniently priced and contain enough product to last several weeks or more - enough time to begin to feel and see a difference.
Choose from:
Each set includes a cleanser, sea tonic mist, face oil infusion (to correct or protect) and moisturizer. The ageless set also includes an eye cream and our luxurious night cream. 
We use a prescriptive approach to our product line. Each product is made to positively benefit the skin, body and mind. To get the best results it is important to use the right set of products for your individual skin.
If you need some help deciding your personal skin type, check out our recent blog post to help you determine what's best for you.
How to Use
Simple is the name of the game for these starter kits. No fancy face massages or tools needed. They all follow a general skin care regimen of cleanse, tone, correct/protect and moisturize. 
What's different about these kits versus other starter sets is our face oil infusions. These all-natural blends contain 100% pure essential oils and nutritive botanical oils. Each set contains a face infusion specific to that skin type.
These oils are basically an intensive serum that provides powerful nutrients to care for the skin. Yes, even oily and acne-prone skin needs oils - as long as they are the right kinds of oils.
There is no right our wrong way to use these. We like to mix together a skin care cocktail by adding 4-7 drops of the face infusion with 4-5 sprays of Sea Tonic into the palm of our hands and pat into the face and neck. You can also mist your face with the Sea Tonic and then pat on 4-7 drops of the oil. Play around to see what suits you best!   
Great for Travel & Gifts
Another great feature of these products are the size. Even if you already have your skin care routine down pat, complete with masks, eye creams and serums, you don't always want to lug it with you when traveling. Our kits contain all the essentials you need to keep your skin looking healthy and beautiful while you are on the go. Plus, they easily fit into any travel bag and can pass through TSA security.
Or give them as a gift. Christmas, birthday, a thank you, these are a perfect way to give the gift of natural, safe skin care. Our packaging and natural scents are also popular with men. Men need to pamper their skin too! 
---