Masterful Matcha: Why You Should Be Reaching for This Skincare Superfood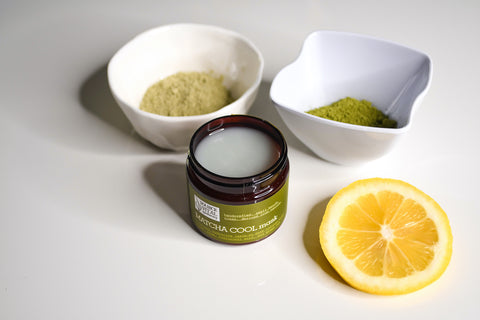 If you're like the majority of the adult population, you probably feel like if it wasn't for caffeine, we'd have much more difficulty getting through our day. That being said, over the past few years, many people have been trading their morning coffee for a cup of bright green matcha.  
Matcha has become so mainstream, that much like coffee shops, there are even dedicated matcha shops!
Besides the gorgeous color, matcha is more gentle on the stomach and offers a more gradual caffeine fix. There are also numerous health benefits to consuming matcha regularly, and even more, research indicates that matcha can have incredible impacts on our skin. Intrigued yet? Here are some of the benefits of including matcha in your beauty routine. 
What is Matcha?
Matcha is a green tea powder made from the leaves of the Camellia Sinensis plant. It is a staple in the Japanese tea-drinking culture but is different from regular green tea. Although matcha seems to be increasing in popularity, it's not new, by any means. The origins of matcha can be traced all the way back to the Tang Dynasty in China, which was from the 7th-10th centuries! 
Green tea is cultivated under the sun, while matcha tea is shade-grown in the three weeks before it is harvested. This shade-growing causes the leaves to produce more chlorophyll, which gives matcha its vibrant green color. Once it is harvested, the green tea leaves are dried and ground into a fine powder. When you sip matcha, you're consuming the whole leaf, giving you three times the antioxidants of green tea.
The Benefits of Matcha in Skincare
Rich in Antioxidants
Matcha contains a compound called epigallocatechin-3-gallate ( EGCG,) which serves as a  powerful antioxidant. These antioxidants neutralize free radicals caused by sun damage and environmental factors that lead to premature aging and DNA damage. When you use a product with antioxidants, such as matcha, they fight the free radicals, which can help slow down the aging process and minimize the appearance of wrinkles and fine lines.
For a gentle, yet, hardworking antioxidant powerhouse, consider implementing MerGel into your skincare ritual. MerGel is a multipurpose facial product that acts as an effective, lightweight moisturizer that can also double as a nourishing serum, and even a leave-on mask. Along with matcha, you'll find aloe vera, green tea extract, and chlorella oil, leaving you with fresh, healthy-looking, skin. 
Calming and Nourishing
Because matcha is chock-full of antioxidants, it's also great at combatting inflammation. In terms of skin health, reduced inflammation means less redness, clearer pores, and a brighter complexion. Additionally, these antioxidant properties promote smoother and more supple skin due to their ability to help rejuvenate skin cells and support skin structure.
There are times when skin needs soothing comfort. Whether it's too much time in the sun, post-facial treatment redness, or when skin is irritated and upset, it is the ideal time to pamper yourself with high-quality, refreshing ingredients. Enter: Matcha Cool Mask. Our Matcha Cool Mask is an incredibly comforting, lightweight gel that immediately cools inflamed or irritated skin on contact. Apply a thin layer to your face and neck at night or whenever your skin needs some extra TLC. For even more soothing benefits, keep this in the refrigerator. 
Promotes Clearer-Looking Skin
As we stated above, matcha contains EGCG, which has antimicrobial and antibiotic properties, which can help you fight acne and the bacteria that causes it, called P.Acnes bacteria. Additionally, it can help prevent the extra sebum produced, making products with matcha a great choice for people with oily skin.
Our Lemon Gel Cleanser was created specifically for oily, combination, and acne-prone skin types. This cleanser is the first step to getting and keeping the complexion free from the appearance of blemishes, spots, and enlarged pores. Lemon Gel Cleanser contains skin-loving ingredients such as Elder Flower extract, Turmeric Root Powder, USDA Matcha Powder, Copaiba Balsam Oil, and Yarrow Oil amplify the cleanser's ability to soothe and improve the look of oily, acne-prone skin.   
Have you used matcha before? Let us know in the comments!
---