Make Your Own Essential Oil Blends for Fall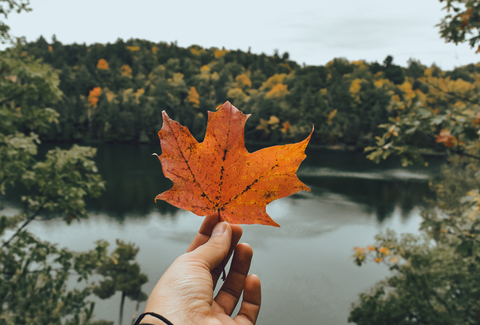 Fall is the perfect season to enjoy essential oils. With back-to-school, work projects, time changes and preparing for the holidays, our batteries can start to run a bit low. 
Use the amazing aromatherapy properties of these oils to help you make the most of the fall season – mind, body and spirit! 
Fall Scents to Enjoy Right Now

Sweet and Spicy
Because of the popularity of PSL (pumpkin spice lattes), the fall season now has a signature scent. When you think about the predominate holidays of the season, Halloween and Thanksgiving, this sweet-yet-spicy scent makes a lot of sense. 
From an aromatherapy angle, many of these spicy scents may be just what you need, emotionally and physically during the autumn. Just be careful – many of the spicy oils such as Cinnamon, Ginger and Clove Bud are very potent and can burn the skin or irritate the eyes and mucus membranes if not properly diluted. 
Cinnamon Essential Oil
One of the most recognizable scents, cinnamon is warm and spicy, with just a hint of sweet. The tenacious scent makes you think of celebrations and happy times.
It's a great oil to alleviate sadness and provide a mental boost when fatigued.

Clove Bud Essential Oil
Did you know Clove Bud is considered an aphrodisiac in some cultures? The alluring aroma can promote an energized feeling but can also put you to sleep if used in large doses.
Soothing and cozy, Clove Bud is quite potent! Enjoy the spicy, slightly fruity aroma to get you into the fall spirit.
Cardamom Essential Oil
As a member of the ginger family, Cardamom is most known as a kitchen spice. Similar to Cinnamon and Clove Bud, Cardamom oil is uplifting to the mind and offers benefits to sharpen the mind and memory.
Use it to create special memories this season.
Mandarin Essential Oil
To balance and cool down the spice oils mentioned above, we think Mandarin is the perfect companion. Mandarin has a bright, fruity aroma that's sweet without being too sugary. 
For the mind and spirit, Mandarin offers a soothing, calming feeling. 
Use these sweet and spicy oils to create a delightful blend that will warm, soothe and encourage you to enjoy the fall.
Not-so-Basic Pumpkin Spice Diffuser Blend
10 drops Mandarin Essential Oil
3 drops Cinnamon Essential Oil
3 drops Cardamom Essential Oil
2 drops Clove Bud Essential Oil
Use in an electronic aromatherapy diffuser or tea light diffuser to disperse through the air.
Not too keen on creating your own aromatherapy blend? Try our proprietary Seasons Essential Oil blend. It smells like being home for the holidays. Warm, cozy and full of love. 
The Great Outdoors
The Source Vitál Apothecary headquarters are located in Houston, Texas, which means the fall can often feel like an extended summer. Of course, it can also get pretty chilly too - you can never tell. 
However, after a long, hot summer we look forward to the cooler crisp autumn weather. This means enjoying the outdoors and getting back in synch with nature. 
And, if it happens to be a wet, rainy or cold fall, these following oils will help bring the sensations of the outdoors inside.
Cedarwood Texas Essential Oil 
We love this soft, fragrant evergreen oil. Super versatile, it blends well and gives depth to many other essential oils.
For the mind and spirit, Cedarwood is soothing and relaxing – something we can all use in today's on-the-go, always-on world.
Cypress Essential Oil
This essential oil inspires the sensation of taking a hike through the woods next to a stream or river on a cool autumn day. Bright, green and fresh.
Cypress oil makes you want to take a deep breath, and just like that river, reminds you to go with the flow.
Clary Sage Essential Oil
Our delicious Clary Sage oil adds a slightly sweet aroma to these other "outdoor" oils. Still herbal and woody, it smells like walking past a fragrant herb garden.
Clary Sage has properties that refresh and relax, promoting a release for built-up tension and grounding you when you are feeling a bit scattered.
Lavender Essential Oil
Universally loved with endless benefits for the mind, body and spirit, we couldn't pass up adding Lavender to the list.
It is a bit unexpected in a round up of fall scents but Lavender is always a good idea! When used with these other oils it enhances the feeling of peace and calm while energizing the spirit. Sort of like that feeling after a brisk walk. 
Fall Nature Hike Diffuser Blend
13 drops of Cedarwood Texas Essential Oil
10 drops Lavender Essential Oil
6 drops Clary Sage Essential Oil
2 drops Cypress Essential Oil
For a softer fragrance switch out Cedarwood Texas for Cedarwood Himalayan. Play with the number of drops from each oil you use to customize this blend to your liking.
Use in an electronic aromatherapy diffuser or tea light diffuser to disperse through the air. Or use this blend to make your own bath oil by mixing  with about two ounces of your favorite botanical carrier oil such as Jojoba Gold.
Tell us, what are some of your favorite fall scents? We love to hear the unique and creative ways others use essential oils to enhance their life.  
---