How to Keep Cool This Summer, Naturally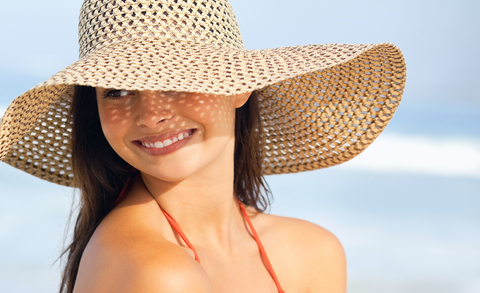 The joys of summertime don't come without their downfalls, unfortunately. One of those downfalls is the sticky, sweaty perspiration that comes with the rising temperatures. 
 
Rather than hiding in your air-conditioned home all summer, we have tips on keeping cool when you're outside soaking up the sun. 
Reach for Cooling Essential Oils
Beat the heat by using essential oils that contain menthol. Menthol is known for its cooling properties- you can find it in candy, teas, and medicine. Essential oils such as Peppermint Essential Oil or Spearmint Essential Oil are excellent options for keeping cool. 
Our After Workout Spray contains both spearmint and peppermint essential oils to keep you feeling cool. This multipurpose spray can also be used on tired, achy feet, sweaty gym clothes, and even in the air. If you'd prefer to use pure essential oils, just make sure to dilute them first with a carrier oil of your choice- we love Safflower Oil.
Put it On Ice
For an instant-gratification-worthy way to keep cool, look no further than your fridge (or portable cooler.) Keeping your beauty products chilled can not only give your skin a serious cooling sensation but also may extend the shelf life of your skincare routine. (Just ensure to leave your facial oils, oil-based creams, and clay products out of the fridge.)
If your body needs an all-over way to keep cool, ensure you're keeping our Algae and Aloe Cool Gel on ice. This product is also a must-have post-sun exposure, as it will also keep skin hydrated, and help take the heat out of skin irritations. Our Matcha Cool Mask is also great if you're looking for a similar sensation on the face. Can't get enough of your Facial Rollers and Gua Sha Stones? Toss those in the fridge as well- the cool stone on your face first thing in the morning is a heavenly sensation. 
Spritz Away!
We've all been there. It's a hot summer day and you feel like your face is melting off. If only there was a way to refresh your skin. Keeping cool on the go can be tough, but incorporating a facial mist into your handbag or beach bag can help!
Our Blue Tansy and Rose Toning Essences will help to give your face a must-needed burst of cool on the warmest days. Best of all, these toning essences are magical multitaskers and work as makeup setting sprays, act as facial toners, and feed vital skin nutrients. Try these on ice too!
What are some of your favorite tips to keep cool? Let us know in the comments!
---