Ingredient Spotlight: Turmeric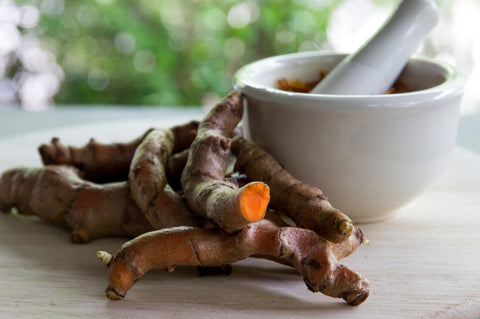 With springtime in reach, you may be looking to shake up your skincare routine. One can't miss ingredient that needs to be on your radar is turmeric. 
Although you may have seen this delicious spice used in the culinary world, you may not know that this superfood can be beneficial for your skin as well! 
What is Turmeric?
This brightly-colored spice is derived from a plant in the ginger family, and is native to Southeast Asia. For thousands of years, turmeric has been used in Ayurvedic medicine to boost the immune system, as well as treat other ailments. Additionally, this fragrant, earthy, spice is used in cooking, and has become popular to consume in beverages such as a golden milk latte. 
The active ingredient in turmeric is called curcumin, which gives the ground spice it's vibrant orange-yellow color, but also what makes it a powerful anti-inflammatory ingredient.
Note: When using turmeric powder or essential oil, ensure to take care due to potential staining properties. 
Benefits of Turmeric in Skincare
Improves Skin's Texture
As stated above, turmeric's active ingredient, curcumin has many anti-inflammatory properties. It can be beneficial in reducing redness in the skin, soothing skin conditions, and even help to improve skin's texture and hydration.  
As we are emerging from cooler, dryer weather, you should absolutely consider using turmeric-infused products in your body care ritual. Start with our
Lemongrass Body Scrub
in the shower once or twice per week to reveal softer and smoother skin. Follow up with a generous application of our
Lemongrass Mani Pedi Cream
to cracked hands and feet for more hydrated and youthful-looking skin. 
Anti-Bacterial Properties
Turmeric is also shown to have numerous anti-bacterial and antiseptic properties, making it an ingredient that may be beneficial in reducing the appearance and feel of acne, as well as helping to prevent future breakouts.
For the ultimate acne-fighting routine, consider using our
Lemon Gel Cleanser
to wash your face. This golden-hued cleanser contains turmeric, elderflower extract, lemon and copaiba balsam essential oils, all which help to soothe and improve the look and feel of acne. Follow up with our
Clear Skin Cream
, which leaves skin feeling calmer, hydrated, with a soft, matte finish. 
Protects Against Free Radicals
Once again, curcumin comes to center stage, this time as a very powerful antioxidant. Turmeric can help protect against damaging free-radicals (such as pollution) and the visible signs of aging.  When applied to the skin, it can aid in addressing skin texture concerns, such as fine lines, and can help the skin retain moisture, which may help to counteract age-related dryness.
If you're looking to improve the appearance of aging skin, look no further than our
SV23 botanical serum
. Not only does this powerhouse contain turmeric essential oil, but 22 additional natural actives and essential oils. This oil can be applied to the skin alone, or combined with your favorite facial moisturizer. The result? A glowing complexion, and plumper-looking, hydrated, and more youthful skin. 
About Source Vital's Turmeric
With the botanical name Curcuma Longa, Source Vitál Apothecary's Turmeric is sourced from India and is comprised of 95% curcumin. Our Organic
Turmeric Essential Oil
is 100% pure and natural.
This Turmeric oil is extracted from the plant's rhizomes, using the CO2 process.
Our tumeric essential oil is bright, vibrant, yellow-green color. Its texture is somewhere between an oil and water. It also possesses a grassy, green, and earthy scent. 
Turmeric is somewhere between a top and middle note. It mixes well with other spice oils, such as Clove, Cardamom, Birch, Peppermint, Thyme, Rosemary, Cedarwood, Lavender, Ginger, Plai and Cinnamon.
Have you tried using turmeric in your skincare routine? Let us know in the comments!
---