How to Soothe Dry, Cracked Hands from Over Washing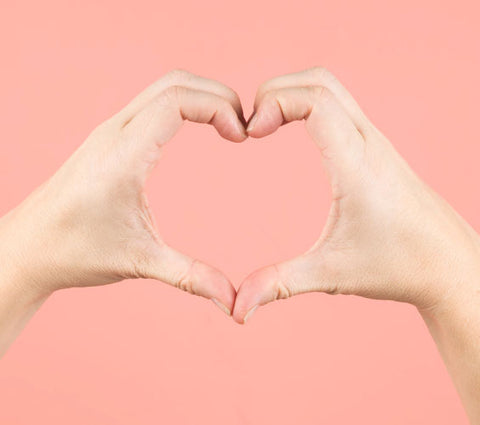 3 Hand Treatments to Care for Dry, Cracked Hands and Nails
By now if you haven't found your favorite 20-second song to sing while you practice good hand washing hygiene, then you need to stop reading now and go wash your hands. Seriously, go wash those hands – and make sure you lather up for at least 20 seconds and thoroughly wash in between your fingers.
Clean hands? Good! Dry, cracking hands? No thank you!
According to the CDC, one of the most effective ways to protect yourself from getting sick is to regular wash your hands with soap and water. However, frequent hand washing and use of alcohol-based hand sanitizers can leave hands and nails dry, red and irritated.
The good news, you can keep yourself healthy without sacrificing touchably soft hands. We've put together some hand care options that are perfect to try while your favorite manicurist is safely practicing social distancing. 
Three-Step Hand Facial
Most skin care treatments for your face will also work for the hands. Just stick with the hydrating and nourishing products to restore vitality.
This three-step hand facial is something that you can do once a week or as-needed to comfort drying hands. The best part, you can use products that you already have in your beauty cabinet.
Step 1: Exfoliate
Gently buff away dry skin and stimulate the skin's regenerative processes with an exfoliant that features some kind of scrubbing particles. You can use scrubs formulated for the face or the body. Keep in mind that body scrubs are typically more aggressive than those made for the face.
Apply the scrub to the back of hands and massage using light circular motions. Pay careful attention to nail beds and cuticles, which are most susceptible to dryness.
Remember, your hands aren't frying pans, there is no need to furiously scrub!
Product Recommendations:
Step 2: Mask
Facial masks aren't just for your face. Skip the purifying and resurfacing masks and choose your most creamy, moisturizing formulas.
Apply a generous helping of the mask to the top of your hands, concentrating on knuckles and nail beds. Let the mask sink into the skin for 15-20 minutes and then wipe away any excess with a hot towel or tissue. If possible, avoid rinsing the product away with water.
Product Recommendations:
Step 3: Lock-In Moisture
The final step in any good facial is moisturizer. For the hands you want to use a rich moisturizing cream that can seal in moisture by creating a physical black against moisture loss.
Coat hands with a thick hand cream, body butter or other moisturizer made for dry or ultra-dry skin. For a special, luxurious treat, warm the cream before applying and take the time giving yourself a relaxing hand massage.
Product Recommendations:
DIY Moisturizing Hand Treatment
Don't have a facial mask on hand that fits the bill? Try making your own, using a lot of common household ingredients.
This DIY hand treatment will keep your digits looking and feeling supple with a fun and effective homemade mask.

How to Make Your Own Hydrating Hand Mask
What you'll need:
Using the mixing bowl, mash up ¼ of the avocado and combine with 1 Tablespoon hand cream, 2 drops Tea Tree oil and 4 drops of your favorite essential oil. You want this to be thick but can add in a teaspoon of your carrier oil to make it more spreadable.
Slather mixture onto the top of your hands, and cover with disposable gloves to let the mask work its magic while you relax.
*Instead of disposable gloves you can use socks or plastic wrap.
This hand treatment is featured in our blog, Five At-Home Spa Treatments Your Body Will Love. Check it out for other self-care ideas.
Ageless Hands Ritual
This third treatment comes straight out of the spa and is inspired by our full body wrap protocol.
Using a poultice made from a concentrated blend of algae and other plant-based materials high in vitamin, minerals and skin-loving properties, this treatment is especially beneficial for inflamed skin in need of a healthy boost.
For the purpose of this blog we are addressing dryness, but the truth is our hands can show the same, if not more signs of age. Many of the best protocols for addressing the signs of aging on the hands will also positively benefit dry, cracked hands. 
When the hands are dry, the sloughing away of dead skin is slow, circulation is minimal, and the youthful appearance is gone. The poultice will infuse the hands with nourishing essential trace elements, minerals, vitamins, and amino acids for the ultimate remineralizing treat.
The results of this ritual are immediate – smoother, hydrated hands. Even better, a series of these treatments, once a week for six weeks will further rejuvenate the skin, improve the look of aging and allow the hands to better withstand abuse.
Since everyone is cooped up indoors, we love the idea of making this into an at-home spa day.
In a spa setting, before a service begins there is typically a time for centering. Try giving this the feeling of a sacred ritual by adding in a few special touches.
Begin by anointing your pulse points with your favorite essential oil blend, like our Euphoria Natural Elixir, which comes in an easy-to-use rollerball.
Then, continue to enhance your environment by lighting some candles, diffusing your favorite essential oils, and playing on some calming music.
Take a moment to breathe in the lovely aromas, leave all your worries behind and focus on YOU.
How to Make the Poultice Mask
What you'll need:
Preparing the Poultice:
Add 2-3 rounded Tablespoons of Algae Powder Blend into a bowl. Add hot water, one Tablespoon at a time until you get a thin pancake batter consistency. Mix in 8 drops of Restorative and 8 drops of Toning Infusions. Make sure mixture cools down to a comfortable temperature before using on the skin.
Applying your poultice can be a bit messy, getting in the bathtub or shower makes for easier clean up.
Using your hands, apply the mask over the hands, wrists and forearms. Do not rub the poultice into the skin, you want it to sit on top like a facial mask.
Cover hands and forearms with the plastic wrap and then apply gloves or mitts. Sit back and relax for about 20 minutes.
Use warm damp towels to remove the poultice after resting. Avoid washing hands with soap and water, as that will stop the absorption of the nutrients.
Complete the ritual by massaging in a hydrating and nourishing serum like our Algae Serum and finish with a hydrating moisturizer.
Another option is to use our Create Your Own Facial Mask for your hands. The algae-based mask is similar to the poultice mentioned above. Choose the most hydrating ingredients for the best results. The kit should make anywhere from 4-8 hand masks. Just add water and gloves.
Daily Hand Care and Maintenance
Here are a few other daily care tips you can use keep hands and nails healthy.
Enjoy your soft, healthy hands – but not matter how hard it might be, try not to touch your face!
---