How to Live a More Holistic Life with Health & Wellness Guru Hello Natural Maven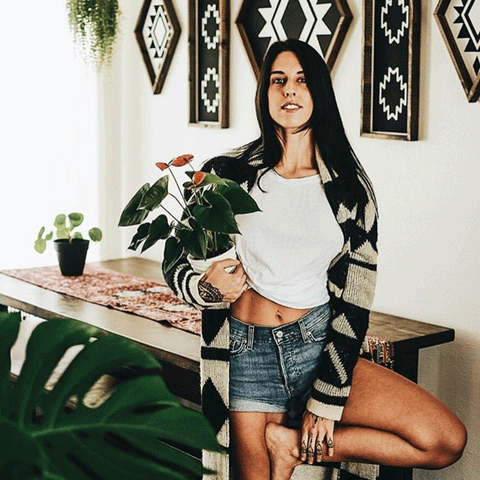 New Year's resolutions can be a love-hate kind of thing.
Love, for the chance to start over, and set goals to better yourself, your work, your relationships, your health, etc.
Hate, because those resolutions can start to feel overwhelming after just a few weeks in. It's hard to do everything at once! 
Instead of trying to undo all those "bad" habits in one go it's much easier to set small, manageable goals, then add to them once you start making progress.
One area we think is a great place to start is trying to live a more holistic life. That means taking care of the physical body – inside and out – as well as nurturing the mind and spirit.
We don't mean you need to revamp your entire lifestyle, just add a few things that get you on a path to overall wellness. 
To help you out with a few ideas, we're bringing in our resident holistic living guru Samantha from @hellonaturalmaven who took over our Instagram back in August to share a day in her life with us.       
Healthy Morning Rituals



#1 Start the Day Off with Some Gratitude
"Today I am grateful for _____!"
To get your day going with some positive vibes, begin by taking a few moments to meditate about the things you are most thankful for. It's doesn't have to be super deep stuff either.
When starting new rituals, it's best to not over think it – keep it simple like Samantha does here.
#2 Tea Time
After giving thanks, Samantha kick-starts her system with an ayurvedic tea, known as CCF Tea.
The CCF stands for Coriander, Cumin and Fennel. These three savory spices are most commonly used in the kitchen to add flavoring, but for the purposes of this tea they lend amazing digestive benefits as well as properties that help with mental clarity.
The taste can take a little getting used to, but the holistic benefits are worth it. Here's more about CCF Tea, plus a recipe from Wellness Mamma.
However, if you aren't quite ready to take on CCF Tea, try drinking warm lemon water on an empty stomach when you get up in the morning.
Benefits of warm lemon water include everything from balancing the pH levels in the body to fighting infections, cleansing the liver and supporting healthy weight.
#3 Wash the Sleep Off Your Face
We've mentioned it often on this blog. If there is nothing else you do for your skin – cleansing is a must! As a part of your morning ritual it helps to also wake up the mind and senses.
Samantha uses Lemon Gel Cleanser followed by Liposome Serum.
Lemon Gel Cleanser is great for removing any oily residue that has built up overnight without stripping the skin from essential moisture. A must-have for anyone with oily, acne-prone skin.
We also love using Algae Deep Cleanse first-thing in the morning for a holistic wake-up call. The combination of Peppermint, Clary Sage and active seaweed cools and tingles to stimulate the skin and the mind.
Samantha then uses Liposome Serum to hydrate and protect her skin from environmental damage.
The key to keeping the skin looking healthy and youthful is starting early with products designed to strengthen the skin and fight free radical damage that can cause lines, wrinkles and age spots.
The liposomes in this serum are able to penetrate deep into the skin, giving cells lots of nutrients and vitamins they need to perform at their best. It also helps your other skin care products to be absorbed and put to use. 
#4 Fight the Little Frustrations with a Calming Morning Meditation Session
In today's fast-moving world, it can be easy to get overwhelmed by all your to-dos.
Set the mood of the day with some calming moments before work, family and other responsibilities get in the way. Maybe it is anointing yourself with your favorite aromatherapy scents or even a short 5-10 minute meditation session.
Taking this moment for yourself is one of the best self-care techniques you can incorporate into your daily life to help you deal with those little frustrations that pop up during the day and get you mentally prepared to take on that looming to-do list.
See how Samantha creates a calm environment and uses deep breathing exercises to keep her centered.
For deep breathing, start by taking in a deep breathe for four seconds, starting from the stomach and imagine the air rising through the abdomen into the throat, then releasing that breath for four seconds, imaging the air going back down through the throat and into the lower abdomen.
Do several cycles of this deep breathing exercise over several minutes to calm and relax the mind and body. It'a also a great tool to use when you're at the office or in any stressful situation and need a reset.
#5 Hydrate
And … don't forget to hydrate! Like Samantha points out, staying hydrated helps to:
Improve your complexion
Flush toxins from the body
Promote weight loss
Increase energy levels
and allow the body's cells and organs to function at their highest levels
Shoot for drinking about half your weight in fluid ounces of water each day.
For example, someone who weights 150 pounds, should drink about 75 ounces of water a day. If you are exercising and sweating a lot, we recommend upping that amount to accommodate for any moisture loss.
Gym Time - Get Moving
If getting active is a part of your plan for a new you there are a lot of ways to get moving.
You don't have to be a total fitness buff to be active. Take a 30-minute walk, park at the back of the parking lot to get in a few more steps, take a gentle yoga class, and build up your fitness regimen from there. 
However you decide to get your blood moving make sure to practice good hygiene (you can read about the good and bad of sweating here), always warm up your muscles and bones and stretch out at the end of your workout when everything is loose and warm.
These tips will keep injuries at bay and allow you to get the most of your workout.
Get an inside look at Samantha's workout regimen here, and visit www.hellonaturalmaven.com for workout videos and more holistic fitness tips.
Healthy Afternoon Pick-Me-Up
"Invest in yourself and always listen to your body," is the motto Samantha lives by. One of the ways she does this is by keeping her gut healthy. Many health issues start with stomach issues and inflammation. 
Try Samantha's Anti Inflammatory Turmeric Mylk for an afternoon pick-me-up that will be gentle and supportive of a healthy digestive system. 
Ingredients:
Cashew Mylk
Cinnamon
Turmeric
Cardamom
Stevia
Black Pepper
Healthy Evening Ritual
#1 Wind Down with Essential Oils
We started the day with calm and gratitude and we will end the day with a similar ritual.
Using essential oils to create a bedtime routine sends signals to the brain that it is time for the body and mind to rest. With good sleep our bodies can start the regenerative processes that keep us healthy and youthful.
There are so many distractions that keep us wound up throughout the day, removing some of that stimuli (like your cell phone) can help you go to sleep faster and sleep more sound throughout the night. 
Samantha begins her nightly wind down by diffusing the Tranquil Essential Oil Blend from Source Vitál Apothecary.
This beautiful blend of Lavender, Clary Sage, Rosewood, Marjoram, Sandalwood, Patchouli, Palmarosa, Geranium and Jasmine puts the mind at ease and helps you to start releasing any tension that's built up during the day.
#2 Nighttime Beauty Protocol
Samantha's evening beauty ritual has a few more steps than in the morning.
These are designed to cleanse, smooth, balance, hydrate and protect the skin from showing the signs of aging. A truly effective skin care program will reflect the needs of your specific skin type as well as your lifestyle.
Skin care can only be effective if you use it!
Step 1: Micellar Cleansing Water to swipe away makeup, dirt and oil, without drying out the skin. 
Step 2: Nourishing mask like Active Silt Mask that hydrates, exfoliates and protects the skin from the signs of aging.
Step 3: Tone, purify and restore the look and feel of balance to the skin with Pure Toning Essence.
 Step 4: Hydrate and nourish the skin with Age Defying Day & Night Cream.
#3 End the Day with Gratitude


It's time to end the day with more positive vibes.
Re-evaluate what you are grateful for and keep these thoughts in your heart as you head off to dreamland. Nighty-night!
---