How to Keep Your Skin Hydrated and Healthy in Cold Weather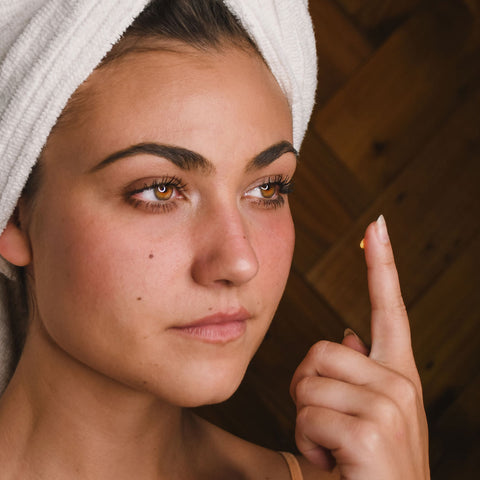 Your Moisturization Dos and Dont's for the Fall and Winter Months
What are the Benefits of Moisturizer
Selecting the Right Moisturizer for My Skin Type
How Much Moisturizer Do I Need?
The most important thing you can do to keep your skin healthy when the temperatures drop is to properly moisturize your skin.
No matter your skin type, adding on an extra layer of moisture during the winter and cooler autumn months reinforces your skin barrier and provides a physical shield against moisture loss and environmental damage.
Read on for some tips and tricks to keep your skin hydrated, plumped and in tip-top-shape.
What Are the Benefits of Moisturizing?
When you skin becomes dehydrated or dry, it not only can feel tight and uncomfortable, and look dull and flaky, it can weaken the skin, allowing other bad things to occur.
Itching, redness, dry patches and other irritation are just a few other ill effects of ultra-dry skin. 
Healthy skin that looks and feels great is appropriately hydrated skin. Other benefits of moisturizing include:
Protecting the skin from irritations. Moisture helps your skin remain balanced, which can help lower the chances of acne and other issues.
Diffuses the look of blemishes and other imperfections.The sheen of healthy, hydrated skin often means that fine lines, wrinkles and minor blemishes are less noticeable.
Skin looks younger. According to the British Journal of Dermatology, when skin is appropriately moisturized, it can take on a firmer, more plumped appearance that reduces the look of wrinkles and make the complexion appear younger.
Finding the Right Moisturizers to Match Your Skin Type
Moisturizers are typically marketed for specific types of skin. Look for creams or other products that match your skin type.
Here's a quick rundown of the types of skin moisturizers are typically formulated to treat.
Dry Skin. You regularly have patchy, itchy areas or dry, flaky areas that are not attributed to a rash or other ailment.
Normal Skin. You may still have dry patches at seasonal times, but they are limited to problem areas like elbows or knees and your skin is otherwise fairly balanced.
Oily Skin. Skin often feels thicker, your pores are visible and you have frequent breakouts.
Combination skin. You may have normal or dry areas of skin and have oily spots in problem areas such as the T-zone.
Mature skin. You're starting to notice some wrinkles or fine lines, and skin may be sagging. You may also have discoloration or dark spots in some areas.
Sensitive skin. Your skin is easily irritated and inflamed.
When it comes to formulas and textures, moisturizers can very from lightweight gels to "dry" face oils, to creams, heavy-duty serums and ultra-moisturizing balms.
Dry skin, mature skin and sensitive skin types usually need a more substantial cream or face oil made with heavier, hydrating oils such as Avocado oil. It's also a great idea to layer moisturizing products such as a face oil with a heavier cream on top.
Normal skin, depending on climate may opt for a nice hydrating face serum or a lighter weight cream, since normal skin tends to not need a lot of help.
Combination and oily skin types will find fluid gels and lotions a bit more comfortable - especially during the summer. During the colder months try to replenish the skin with a nourishing and hydrating night cream.
How Much Moisturizer Should You Use?
 When you've found the right moisturizer, you shouldn't have to pile it on like you are trying to frost a cake. 
In fact, overdoing it can clog pores and lead to breakouts. On the other hand, not enough can leave the skin open to moisture loss and premature aging.
The right amount will also depend on the type of moisturizer you are using on your skin, as well as your skin type. A nickle-sized dollop of a lightweight lotion may need to be layered with a few drops of face oil, whereas a thicker, more emollient face cream may only require a dime size amount to cover and protect the entire face.
Do be mindful of sensitive areas, like around the eyes. This is an area where you really don't want to overdo it. The heat of the skin will help melt eye creams into the delicate skin. Only a pea size drop or even smaller should get the job done when moisturizing the skin around the eyes.
See the instruction on your specific product to ensure you are using the right amount and do a bit of trial and error on your skin to figure out how much you need. Everyone's skin is different so customize to your skin's condition, climate and lifestyle needs.
These tips are a great start to keeping your skin hydrated and healthy.
For more moisturizing dos and don'ts click here to read our Ultimate Guide to Hydration Moisturizing Guideline and visit our Knowledge Center for more articles all about caring for the skin, body and spirit.
More articles like this:
---