5 Reasons to Change Up Your Skin Care Routine in the Fall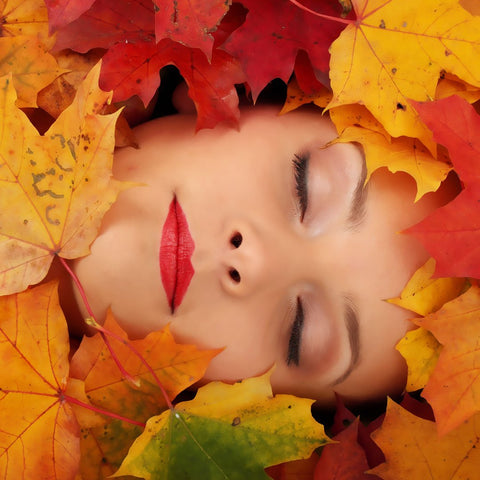 How to Make Seasonal Changes to Your Skin Care
Protect Skin Barrier from Drying Out as the Temperature Drops
Pamper Yourself with Luxurious Creams and Serums
Prepare for Seasonal Allergies
Treat Your Skin to Something New
A few of our favorite things for fall include cool crisp evenings, warm comforting spices, spooky Halloween vibes and of course, fall skin care. After long, lazy summers of sun, sea and sand, it's time to give your neglected skin some attention.
Fall skin care is all about exfoliating, brightening and hydrating. Read on for tips about the right ingredients, products and treatments to have your skin in tip-top shape all pumpkin spice season - and beyond.
Do You Really Need to Make Seasonal Changes to Your Skin Care?
The short answer is, YES! It may seem like a marketing ploy to keep you selecting that "add to cart" button, but the skin is your body's first line of defense and is quite sensitive to seasonal environmental changes.
Even if you live in a place where the seasons don't seem to change much (hello Houston!) there are lifestyle changes that can impact your skin care routine. Like spending time outdoors in the summer, to the cold, drier air in the fall and winter, to pollen and allergies in the springtime.
You may not need to overhaul your entire skin care routine, but small changes will keep your skin healthy and free from the stress that can lead to premature aging and inflammation.
Lighten Dark Spots and Tackle Other Hard-to-Threat Skin Conditions
There are lots of great outdoor activities in the fall, but the truth is, as the leaves start to fall, we spend more and more time inside. Many of the treatments (home, spa or dermatologist) that are designed to even out the skin and improve the appearance of age spots, sunspots and other forms of hyperpigmentation can leave the skin sensitive to UV exposure.
This makes autumn a great opportunity to take on some of the more difficult skin issues without fear of irritation or compromising your skin.
Exfoliation
To reveal a brighter, more radiant complexion start by first shedding the outer layers of the skin. Think of it as sloughing away summertime damage to make room for new, healthy skin.
Exfoliation is an effective way to promote the regeneration of new cells and stimulate collagen production. It also allows your skin care products to penetrate deeper into the skin for better results.
In the fall, try upping your weekly exfoliation routine to twice a week (or even three times if you have thicker, oily skin) and consider using a combination of "chemical" exfoliants such as a peel, paired with physical exfoliants like a scrub. Avoid using more than one scrub in any particular day. Over exfoliating is not the goal.
Choose two days a week to exfoliate and try to stick with those. For example, Sunday and Wednesday. On Sunday use a chemical or enzyme exfoliant and on Wednesday use your manual scrubs.
We recommend using Aroma Peel, a gentle yet effective alternative to glycolic peels, once a week for six weeks to dissolve the glue that holds onto older, dull-looking skin cells.
Our blend of Lemon, Grapefruit, Lavender, Ylang Ylang, Geranium and Rose essential oils will instantly leave your skin looking radiant and healthy without any of the downtime you would experience with a more aggressive chemical peel.
Aroma Peel is also effective at eliminating the look of congested pores and works like a magic potion when used as a spot treatment on blemishes.
Other facial treatments that are popular in the fall include microneedling and microdermabrasion. Used to stimulate collagen and resurface the skin, it is important to go to a trusted and well-educated esthetician for the best results.
These treatments are used to correct sun damage, age spots, scarring, melasma and to improve the look of lines and wrinkles.
For an at-home treatment, Fango Facial Scrub is an effective, noninvasive option to physically improve the top layer of the skin.
Made with micro-exfoliating scrub particles, and purifying Kaolin Clay Mad, Fango Facial gently polishes away the look of imperfections in the skin without leaving the skin feeling raw or irritated. Remember, when "scrubbing" use light, delicate circular motions – we are not scrubbing pots and pans!
For those who need immediate gratification from their skin care, exfoliation is for you. Using these techniques your skin will feel smoother and appear to have a revitalized, rosey glow. With time, spots will appear to diminish, fine lines and wrinkles will look less prominent, and skin tone, clarity and texture will improve.
Upping your exfoliation routine will also help keep the skin from looking dry and flaky as the temperature starts to drop.
To shop our full line of natural facial exfoliants click here.
Brightening Ingredients
After you have buffed away dry, dull skin, work at brightening the complexion with botanical oils that are high in Vitamins C and E.
Vitamin C slows down free radical damage and is effective at diminishing the look of hyperpigmentation and uneven skin. Vitamin E works to repair damaged cells and is used to smooth scars, lines and wrinkles, and protect the skin from inflammation. 
Organic Rosehip Seed Oil is packed with Vitamins C and E, beta carotene and essential fatty acids, it is effective at supporting the body's natural regenerative efforts. It is especially helpful in repairing the appearance of uneven skin tone, age spot, sun damage and other signs of premature aging.
Another great addition to your fall skin care arsenal is our new Luminous Facial Infusion and Pricky Pear botanical oil.
Luminous Infusion is a concentrated serum made with organic rosehip seed oil, organic prickly pear oil, Japanese Shikon extract and other powerful botanical oils that are known for brightening the skin. 
Protect Skin Barrier from Drying Out as the Temperature Drops
As fall creeps closer to winter, there is less humidity in the air which can dry and dehydrate the skin. To protect the skin from drying out it is a good idea to opt for skin care products that will help to replace that moisture loss.
In the summer hot, humid temperatures lead to an increase in sweat and increased oil production in the skin. To avoid clogged pores and breakouts our skin care routine calls for light weight products that cleanse and purify the skin.
To promote a dewy, glowing complexion in the fall those same products used in the summer can strip the skin from essential moisture and compromise the skin barrier.
Layers of Moisture
Creamy, milky cleansers will keep the skin feeling comforted, even in chilly weather.
An effective way to lock in moisture after cleansing the skin is to mist the face with a hydrating toner such as our Aromatic Emulsion Balance.
This product works more like a hydrating essence or light-weight lotion on the skin which promotes a feeling of balance and calm – even when the weather seems to change by the minute.
While the skin is still damp layer on your other skin care products. The toner will help your other products penetrate deeper for more nourishment and protection of the skin barrier.
It's also time to add in a layer of facial oil or switch to a richer moisturizer. If a face cream still feels too heavy to wear during the day, pack on the moisture at night with a hydrating sleeping mask.
Apply a generous portion of a hydrating facial mask at night, like the Chlorella Hydra-Facial Mask. Instead of rinsing it off after 10-15 minutes, gently massage in any remaining product and allow it to work its magic overnight.
You can also make your own sleeping mask by applying a face oil to the skin followed by a facial lotion that contains a high percentage of antioxidants. This combination will hydrate and feed the skin with vitamins and minerals and fatty acids.
We love pairing Organic Rosehip Seed Oil with MerGel Multipurpose Facial Lotion for a double dose of free radical busting antioxidants and hyaluronic acid from the MerGel to protect from moisture loss.
Ingredients to Lock-In Moisture
Since fall can swing wildly between warm and cool, choose products that keep skin feeling quenched without being too heavy.
Hyaluronic Acid is a great ingredient to look for. It is super light on the skin but has the ability to hold 1,000 times it's weight in water. For your skin that means it will act as more of a "hydrator" rather than a moisturizer. Moisturizing is more about adding a physical barrier on the top of the skin while hydration goes deeper.
Think of it like a sponge absorbing and holding in water, Hyaluronic Acid helps to keep that water from escaping.. Skin that is well hydrator will have a plumped, supple appearance. It also helps to smooth out the look of fine lines and some wrinkles.
To keep your skin barrier protected look for products made with ingredients that are high in essential fatty acids like Evening Primrose Oil, Avocado Oil, Marula Oil, Mango Seed Butter and Shea Butter.
Even if you opt to only use incorporate these ingredients as a part of your nighttime skin program it will go a long way to keeping the skin protected against the elements.
To further protect your skin avoid anything "astringent" and ditch the hot baths and showers, which can be drying.
Pamper Yourself with Luxurious Creams and Serums
Remember that free radical damage we talked about earlier? If not, free radicals like smoke, UV rays, pollution weaken your skin and can lead to premature aging.
Summer is particularly hard on the skin as sun exposure can deplete it from the collagen that keeps the skin looking bouncy and youthful. Show your skin some love by replenishing it during the fall (and winter) months with skin care products that offer a heaping dose of good-for-you ingredients and luxurious textures.
Masking Miracles
An easy way to give you skin a quick shot of nourishment is with a nourishing facial mask. The ritual of masking is simultaneously relaxing and super satisfying because the results can be felt and seen as soon as you apply the mask.
Masks offer a variety of benefits such as exfoliation, brightening, hydrating and purifying, which all fall perfectly in line with the best fall skin care regimens. 
For a masking sesh that feels extra luxurious we recommend trying out the Ageless Algae Mask. Inspired by the advanced facial treatments offered at some of the best day spas in the country, this gorgeous green mask is loaded with remineralizing algae extracts, Hyaluronic Acid to lock in essential moisture and a powerful combination of skin-loving botanicals like Aloe Vera, Cucumber and Ginseng.
After 20 minutes with this active mask the skin will be re-energized, plumped and look like you just got back from a super-relaxing getaway. To really wake up you skin and senses, chill the mask in the refridgerator before applying. The cool temperature of the mask will stimulate blood flow to help kick start cellular rejuvenation and give your skin a healthy flush of color.
If you have extra dry skin, first apply a thin layer of our Restorative Infusion before your mask to moisturize the skin and pack on more vitamins, minerals and essential oils chosen to improve the appearance of lackluster skin. Caution: This combo of Evening Primrose, Rosehip, Avocado, Camellia, Patchouli and Frankincense oils is addictive!
Prepare for Seasonal Allergies
Changes in the weather can often bring on seasonal allergies. Watery eyes, dark circles, runny nose, congestion – the symptoms can be difficult on the skin, body and spirit. Aggressive over the counter medicines used to treat these symptoms can often lead to other frustrating side effects such as dry, flaky skin and drowsiness.
When possible, we like to use holistic solutions to survive seasonal allergies. Our collection of Natural Elixirs are packed with essential oils such as Eucalyptus, Pine and Peppermint to encourage deep breathing, and the magical Inula Graveolens (Elecampane) essential oil to ease the feeling of mucus congestion and support healthy immune functions.

These offer safe and natural alternatives to ease the discomfort of symptoms, without the drying, jittery, irritating side effects from conventional remedies.
Must-haves include the Respiratory Essential Oil Blend, Spiracle Natural Elixir for chronic throat and upper respiratory issues and Breathe Easy Natural Elixir for stuffiness.
Also try taking a relaxing aromatherapy bath with Eucalyptus Essential Oil and Dead Sea Salts to open up nasal passages and stimulate the body's natural healing functions.
The Renew Bath & Body Oil is also helpful to use in a bath and topically on the skin during cold and flu season to naturally kick-start your immunity system.
Dark Circle and Puffiness
To battle dark circles dab on a few drops of Prickly Pear Botanical Oil under the eyes at night and mix in with a little concealer during the day.
With the congestion and lack of sleep that comes with allergies, cold or flu, the skin can look puffy and feel uncomfortable due to the pressure from inflamed nasal passages. This is the perfect time to take out that Jade or Rose Quartz Facial Roller.
Use the small end of the facial roller for under eye puffiness and the larger end for the full face. Always roll from the center of the face outward, toward the hair line. The rolling will stimulate blood flow and promote healthy lymphatic drainage that can lessen the discomfort you may be feeling.
For even better results chill your facial roller in the fridge before using for cooling relief.
Treat Your Skin to Something New
Our last fall recommendation is to take an inventory of your skin and body care products. Is there anything that's old, smells a little funny, has a change in color or texture? If so, throw it out and restock.
Most products have a shelf life of two years, but you would be surprised how quickly those products in the back of your cabinet can age.
If you are wanting to try new formulas, especially if it's a lovely facial cream, nourishing serum or facial exfoliant, now is the time to try something new. You don't need to overhaul your entire routine just make a few tweaks to keep you and your skin interested in your daily beauty routine.
How do you tweak your skin care for fall? Let us know in the comments section.
More articles like this:
---