Why Holistic Health is Important for Your Well-Being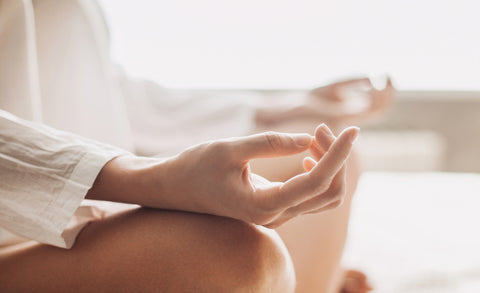 When you think of the term holistic health, what comes to mind? If images of a room filled with incense, mindful meditation, and oodles of crystals come to mind, you're not alone. Holistic health has been incredibly sensationalized over the past decade, it's not quite as "woo-woo" as you might think. 
Although Holistic health blends alternative healthcare practices with western medicine, a holistic health approach to healthcare focuses on wellness and prevention, rather than just treating symptoms and diseases. Let's dive into what holistic health actually encompasses, nd some tips for incorporating such remedies into your everyday routine. 
So, What is Holistic Health?
Holistic health, (sometimes called holistic healing) is defined as a form of healing that looks at the whole person: body, mind, and spirit. The belief with holistic health is that a person isn't fully well unless they're well in every area of life — not simply just physical health. 
Holistic healing often involves multiple alternative healthcare practices that can overlap with modern-day medicine. This can include practices such as chiropractic medicine, aromatherapy, energy work (reiki,) acupuncture, yoga, meditation, and nutrition. When these therapies come together, they can encourage a person to experience a deeper level of wellness.
Why is Holistic Health Important?
In Western societies, health is understood as simply the absence of illness or disease. Compared to even fifty years ago, humans are living longer lives, but are also experiencing much higher levels of stress, fatigue, processed foods, chemicals in the air, and some of the products are exposed to daily. What does all of this mean? Holistic health is needed now more than ever. 

Holistic health allows us to create a more personalized approach to our wellness, and additionally takes into account external factors that may be impacting how we feel, such as the environment. It also views our bodies as a whole, allowing us to find more long-term solutions, leading to better overall health. 


How Can You Include Holistic Healing in Your Life?
As stated above, holistic health encompasses the healing of a whole person. There are many pillars of holistic health, but don't worry if that sounds daunting!  The truth is you're likely taking care of some of these aspects already! Here are 5 holistic health pillars, and some tips on each, so you can better take care of yourself.
Physical 
Physical wellness is more than just hitting the gym on a regular basis. Although getting up and moving is an important part of this pillar, there's so much more. This pillar also encompasses getting an adequate amount of sleep per night, and ensuring that you prioritize your physical hygiene daily, such as brushing your teeth twice daily. 
Try: Build up your physical pillar of wellness by taking good care of your hands. Ensure you're taking good care of your nails, and washing your hands thoroughly. Make your experience more indulgent with our Cleaner Hands Wash. This gentle, foaming wash will leave your hands feeling soft, clean, and comforted. 
Nutritional
Although nutrition can be tied to physical health, it is rather deserving of its own pillar. This is particularly true because our nutritional needs vary based on our age, gender, body chemistry, and how active we are. Ensuring that your plates contain the appropriate amounts of each food group will help you gain the necessary nutrients for things like energy, muscle growth and recovery, and other important bodily processes. 
Try: Add more fruits and vegetables to your plate, or replace refined grains with their whole counterparts, allowing more fiber into your diet. Additionally, try to ensure you're taking an appropriate supplement to ensure you're receiving maximum nutrition. 
Emotional 
Our emotional wellness pillar encompasses how we feel, understand those feelings, and convey them to others. Although often overlooked, our emotional health is crucial to take care of, because it can impact our physical health. The ups and downs we experience can take us on an emotional rollercoaster, but if we are better in tune with these emotions, it can make the ride much less bumpy. 
Try: Journaling is a great way to process your feelings and emotions, especially if you feel that you have difficulty expressing them to others. It's also an excellent way to measure your progress or growth. For particularly emotional time periods, consider using our Transition Natural Elixir to help take the edge off the emotions that come along with tougher life events. Try wearing it as a fragrance on your pulse points, or applying a few drops on your air conditioning filter to scent your home. 
Social
Our social wellness pillar is all about our connections with others and the relationships that come from those connections. Having deep connections with our social network can help us overcome life's struggles. Technological advancements have allowed us to stay connected, especially with those who live further away, but those virtual connections don't necessarily provide us with the same bonds we feel in person. So try to make time to see those you love in person! 
Try: Set boundaries with people in your life that may increase stress or bring about toxic energy. If you're having difficulty expressing yourself or communicating, try diffusing our Chakra 5 Essential Oil to help balance your throat chakra. When our throat chakra is out of balance, we may feel unable to listen to others, feel out of control, and have trouble speaking. 
Spiritual 
Our spiritual wellness pillar is can look different for everyone, simply because it's incredibly personal. Spirituality is commonly viewed as seeking a sense of purpose and meaning in our lives. Maintaining your spiritual wellness will look different for everyone, as it's not necessarily about a specific religion or belief system. Many people choose to channel their spirituality through meditation, prayer, or other activities that foster a connection to nature or a higher power.

Try: Dedicate a small chunk of time each day to yourself. Make this time a priority, free of distractions, interruptions, and major activities. This time can be used to relax, reflect, meditate, or pray. Practicing mindfulness during this time can help you check in with yourself. Scent your space with our Meditate Multispray, which can help clear the mind and encourage your mindfulness practice. 

How do you practice holistic wellness? Let us know in the comments!
---