Unleash Dad's Inner Superhero: The Source Vitál Father's Day Gift Guide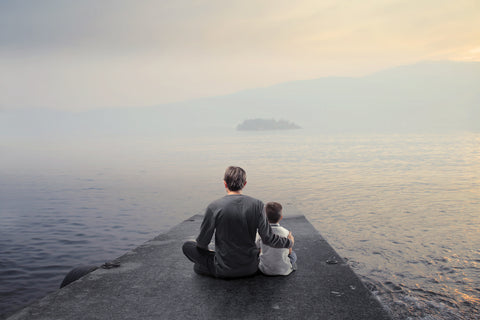 Every dad has a hidden superpower - the ability to care for his loved ones with unwavering strength and love. This Father's Day, it's time to celebrate and empower the superhero within every dad (and dad-like figures!)
We've curated a collection of invigorating and nurturing products that will help dads feel their best, so they can continue to save the day, one small victory at a time. Join us as we unveil our Father's Day Gift Guide, designed to enhance his self-care routine and elevate his superhuman abilities.
Supercharged Skincare for the Everyday Hero
Maintaining healthy skin is a must for the everyday superhero. To keep Dad's skin fresh and energized, give him the gift of our Sir Vital Cleanse. He will experience the tingling sensation with this revitalizing facial cleanser designed specifically for men, utilizing the power of seaweed. The rich and velvety texture effortlessly removes dirt and excess oil while ensuring the skin remains hydrated. 
After cleansing, have Dad follow up with our Sir Vital Soothe. Relieve and moisturize skin irritations after shaving, including ingrown hairs, using this lightweight yet powerful post-shave lotion. Not only does it protect against redness, but it also shields his skin from environmental factors, allowing him to confidently tackle the day with comfort.
Elevate the Beard: From Ordinary to Extraordinary
For those dads with the mightiest of facial manes, give them the gift of grooming products. If he sports a beard, mustache, or any other form of facial hair, he must utilize beard oil. This is crucial to maintain the well-being of his whiskers, nurturing the skin beneath, and ensuring a stylish appearance. With the Custom Beard Oil, you have the opportunity to craft a personalized blend that perfectly suits both him and his facial hair.
Prefer to have a pre-blended option? We offer three different beard oils, suited for his different grooming needs. Choose our Sir Vital Condition for those suffering from "beardruff" or in need of nourishment, Sir Vital Tame for those who need to tame that unruly facial hair, and Sir Vital Thrive to promote healthier, and stronger facial hair. 
Aromatherapy Arsenal: Unlocking Inner Calm and Balance
We believe that one of the most powerful tools that Dad needs in his arsenal is the power of aromatherapy. Transport Dad to a cozy space in front of a roaring fireplace at a cabin in the woods with our Sir Vital Evolve Natural Cologne. It features an irresistible blend of Spruce, Patchouli, Cedarwood, Frankincense, and Vetiver, along with our secret proprietary oils to promote balance and spiritual renewal. Love the scent? Try our Sir Vital Manifest Natural Deodorant. We offer it in a spray or roll-on.
Help Dad relax this Father's Day with our Serene Bath and Body Oil or Serene Bath Salts. (Hey, even dads can use a calming soak every once in a while!) He'll surely be ready to embark on a journey into a tranquil space and leave behind the burdens of the day, aided by the soothing essences of Lavender, Sage, and Petitgrain Bigarade. He'll truly feel that he's indulging in a nice glass of wine (or a pour of his favorite bourbon,) helping him to unwind at the end of a long, busy, day. 
Recharge and Rejuvenate: Wellness for the Super-powered Dad
Self-care is important for everyone, but especially for the dads that tirelessly give it their all each day. Whether they're busy in the gym, playing catch with the kids, or giving the world's best piggyback rides, it's likely that his muscles are tired, and need some rejuvenation. Leave behind the over-the-counter sports creams, abundant in artificial components. Our Sports Balm serves as the solution to rejuvenate fatigued and achy muscles, restoring them to excellent condition using ingredients like natural Menthol, Arnica, Ginseng, and essential oils such as Eucalyptus, Wintergreen, and Peppermint. 
Dads are expert multitaskers, so give him the gift of a product with just as many limitless possibilities.
Crafted with a blend of 100% pure Spearmint and Peppermint essential oils, our versatile After Workout Multispray provides optimal rejuvenation post-exercise, intense physical exertion, or whenever he needs a revitalizing boost. The aromatic therapy advantages and delightful, minty fragrance make it a cherished choice for individuals leading an active lifestyle.
This Father's Day, let's honor the unsung superheroes in our lives. At Source Vitál Apothecary,  we believe in empowering our dads (and dad-like figures) to embrace their superhuman abilities and continue to be the incredible role models they are. Together, let's celebrate their strength, resilience, and unwavering love. Happy Father's Day to all the remarkable dads out there!
---