5 Essential Oils to Help Sharpen Your Focus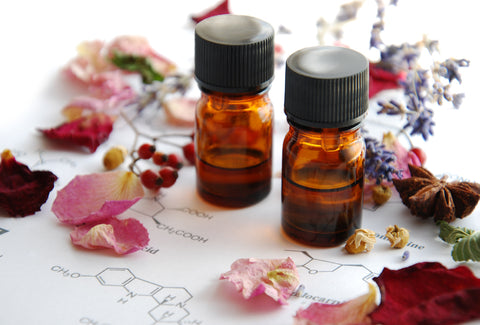 We've all been there- you have a seemingly never-ending list of tasks to do. You feel as though there are not enough hours in the day. Perhaps you've become well-acquainted with the dreaded 3 pm slump?
Being unable to concentrate or being unable to focus can derail your day. Rather than reach for (yet another) cup of coffee, an energy drink, or a power nap, consider reaching for essential oils. Here are 5 of our favorite essential oils to help you refocus.
Peppermint
Peppermint Essential Oil has numerous uses, making it a must-have in your medicine cabinet. Along with the ability to help soothe sore muscles, reduce the feeling of congestion, and ease a queasy tummy, Peppermint Essential Oil may also help improve your concentration. It's important to note that Peppermint Essential Oil is highly concentrated, and although it can be applied topically, we highly suggest it should be diluted so with a carrier oil, like Safflower Oil.
To increase alertness, rub a drop of our Peppermint Essential Oil Roll-On underneath your nose. You can also use it on your temples, or the back of the neck. This roll-on is already diluted and portable, allowing you to carry it with you anywhere! In addition to using it topically, you can diffuse it at your desk or inhale it from the bottle pre- or post-workout. You will want to use pure Peppermint Essential Oil in your diffusers for diffusion.
Frankincense
Frankincense Essential Oil can help reduce stress levels, encourage deep relaxation, and help to boost your mood. In addition to those benefits, Frankincense Essential Oil may help bring the scattered thoughts we often experience into a state of calmness. Frankincense Essential Oil can also help increase focus and concentration, promoting a better mindset through reduced stress and anxiety levels.
If you're feeling in a fog, consider using our Mental Clarity Natural Elixir, which contains Frankincense Essential Oil. Wear it as a perfume, and apply it to pulse points, or the crown of the head to help clear the mind. Consider leaving our Mental Clarity Roll-On at your desk or carrying it in your bag for a more portable option.
Rosemary
One of Rosemary Essential Oil's primary benefits is to help boost feelings of alertness. It is well known to help boost memory and brain function. Rosemary may help you think more clearly, and help you to focus on the task at hand. This oil may also help to enhance memory and your ability to remember things, although more scientific research needs to be done.
Starting a big task that requires you to be completely focused? Try diffusing Rosemary Essential Oil in the air while completing it. Massage our Invigorating Bath and Body Oil on your arms and chest to get going, or add a few drops to a cotton ball to release the aromas in the shower.
Lemon
Citrus essential oils such as Lemon Essential Oil are well-known for their fresh aromas and potential mood-boosting effects. But did you know that Lemon Essential Oil can also be useful to help for helping elevate energy levels, revitalize concentration levels, and calm feelings of anxiety and stress?
Create a stimulating environment by diffusing Lemon Essential Oil in the air, or an essential oil blend that contains lemon, such as our Fresh Essential Oil Blend. For an afternoon pick-me-up, try refreshing your skin by spraying our Blue Tansy Toning Essence on your face, which also contains invigorating Lemon Essential Oil. 
Basil Sweet
When we think of Basil, we generally think of the flavorful herb used in cooking, but Basil Sweet Essential Oil has a variety of uses that may also benefit the mind and body. Basil Sweet Essential Oil can be helpful while studying or completing a complicated task. It's also helpful in an energizing oil blend and can provide an instant pick-me-up, and help promote the brain boost you need.
Along with diffusing Basil Essential Oil in the air, you can apply a few drops on a cotton ball (or pair it with another essential oil, like Rosemary) and inhale whenever you need a brain boost. For an extra motivating boost, try our Success Essential Oil Roll On. You'll find Basil in this blend. It was chosen for its elements that appear to lessen mental fatigue and depression and sharpen perception.
What are your favorite ways to sharpen your focus with essential oils? Let us know in the comments!
---