Discover Deozein Cedrus - Our Newest Natural Deodorant Scent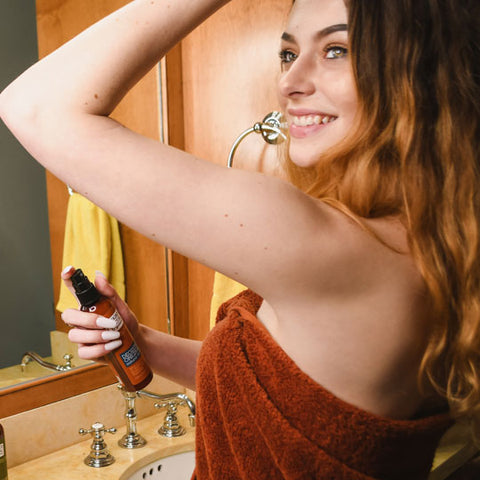 Join us in welcoming Deozein Cedrus to our collection of best-selling natural deodorants. 
Our first new scent in more than two years, Cedrus offers a woodsy aroma that evokes the smells and feelings of taking a walk in an evergreen forest or snuggling in a cozy cabin in the woods.
It has a slightly masculine smell that is also soft enough to work great for both men and women. Additionally, Cedrus is made with the same effective formula as our other Deozein Natural Deodorants, and comes in an easy-to-us spray and roll-on.
Benefits of Deozein Cedrus Natural Deodorant
100% clean and natural
Non-irritating, pH-balanced formula 
Does not contain potentially dangerous aluminums  
Protects against body odor - even after exercise and manual labor 
Our special formula keeps you feeling fresh and clean all day long
Safe to use on underarms, hands, feet, and as a body spray
Refreshing woodsy scent is good for the mind and body
Cruelty free. Never tested on animals, free of GMOs. SLS. artificial colors and fragrance
Deozein has been our top-selling product for more than two decades - why? Because it really works. 
Our special blend combines natural mineral salts, Babasu Oil, seaweed extract, pure essential oils, and Dead Sea Salts that work together to inhibit the bacteria that causes body odor. And while Deozein is not an antiperspirant it will keep you feeling clean and fresh all day long.
Deozein Cedrus like our other natural deodorants does not contain any potentially dangerous aluminums such as aluminum chlorohydrate, aluminum zirconium or aluminum chloride. It also is free from other harsh, irritating ingredients like baking soda.
If our Original Deozein has a bit too much Patchouli for your liking and you want a softer option than Deozein Zest, and Fresh is too light, Deozein Cedrus will be a great fit for you.
Never tried a natural deodorant before? Now is the time to make the switch!
Natural deodorants won't interfere with your body's natural ability to expel toxins and regulate temperature. Typically the switch is pretty easy, and well-worth the health benefits to your body.
If you want to know what to expect when making the switch to a natural deodorant, click here for all the details. 
And, we've made it easier for you to never run out of your favorite natural products by offering subscriptions. Choose how often you want to get it and you will save 15% off your first subscription and 10% on reorders. 
Give Cedrus a try today, and we are pretty confident that you will swear off conventional deodorants for good.
Shop Deozein Cedrus Natural Deodorant
---