What to Expect When Switching to a Natural Deodorant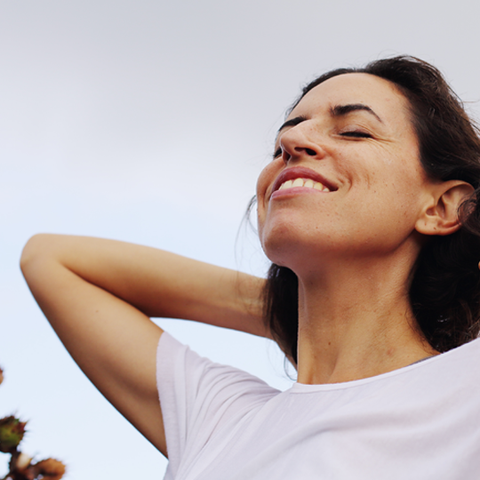 Natural Deodorant Detox: A Love Story
It's no secret – natural deodorants aren't just for hippies anymore. For years natural deodorants have been on the rise – trending among skincare novices, wellness advocates and beauty gurus alike.
Navigating the world of natural deodorants can be tricky. Once you get past the different formula options – deodorant sticks, pastes, sprays, and roll-ons, as well as selecting your perfect scent – you might think you're good to go, right? Not so fast.
The first thing to remember when switching to a natural deodorant is that it works differently than the conventional antiperspirant you may be used to. That means your body may need some time to adjust.
Read on to better understand the detox process and learn what you can do to keep yourself feeling fresh and clean during the transition.
The (Potentially Stinky) Truth-The Breakup
Now that you've ditched your aluminum-laden antiperspirant for a natural alternative, you may be wondering how soon you'll feel the benefits of your health-conscious decision.
Here's the truth: It can take up to 30 days to fully reap the benefits, but it truly depends on your body chemistry. Unlike just changing brands or scents, natural deodorants take a little longer.
At first, you may not notice a difference at all – in fact, you may still be experiencing residual effects from your antiperspirant. Aluminum, found in most antiperspirants, causes a "plug" to be formed that tightens the pores in your underarms. This prevents the feeling of underarm wetness and perspiration.
Around two weeks in is when things can get a little smelly. Now that the unnatural "plug" from your antiperspirant is gone, your body will feel like it is sweating more than normal. In some cases, your body may be triggered to begin producing more sweat now that it isn't being blocked.
Remember, your body was made to sweat. This is your body's way of ridding itself of toxins and regulate body temperature. When you decide to stop using a product that inhibits this natural process, your body will try to regain balance, hence the increased sweating.
That dreaded B-O can happen when this extra moisture mixes with the bacteria that is present on all of our bodies.
The good news, typically 3-4 weeks in your body starts to realign towards balance. Moisture levels in the underarm area will decrease and odor-causing bacteria will subside.
Trial & Error-The Dating Game
With so many options of the market currently, it can be daunting to find the right natural deodorant for your body. Patience is crucial when selecting a natural deodorant, as there are many variables in body chemistry that can delay finding "the one.
Just like dating, you hear a bunch of people claim the right one isn't out there. Most of the time when a natural deodorant "doesn't work" it is more about the body adjusting.
To make the trial and error period less stinky, here are a few things you can try.
#1 Deep Clean Your Pits
Yes, using a deep cleaning skin care product can help keep you smelling fresh when switching to a natural deodorant.
Try using that Charcoal Clay Mask that's a part of your facial ritual on your underarms. Activated charcoal and clay help to draw out impurities into the skin. This can help to reduce the amount of odor-causing bacteria in the under arm area.
Start by thoroughly cleansing with your normal body wash or you can even try a deep pore facial cleanser like our Algae Deep Cleanse. This algae paste is packed with ingredients that cleanse and purify the skin without irritating your skin's pH balance.
Then, apply a thick layer of the charcoal clay mask to your underarms and let it penetrate for 15-20 minutes. Rinse clean and then apply a healthy dose of your natural deodorant.
#2 Drink Lots of Water
Water helps to flush your system of impurities so be sure to get in your daily recommended amount. A good rule of thumb is to drink half your body weight in ounces of water each day.
For example, if you weight 150 pounds, drink 75 ounces, or about 9 cups of water a day.
Some claim adding chlorophyll drops to your water. Chlorophyll is a detoxifying supplement that can help you prevent body odor by absorbing the impurities that can contribute to getting smelly.
Another nutritional tip is to take a daily probiotic, which will help your skin's natural flora to flourish while preventing the bacteria that can cause odor.
As always, consult your doctor before taking any supplements!
#3 Acceptance -  The Work From Home Detox
If you're afraid of body odor and increased sweating, right now is the perfect time to make a switch while so many are working from home due to COVID-19.
Most of us have ditched "hard pants" or any pants at all, so ditch that antiperspirant too. Let your pits breathe freely. You won't have to worry about accosting your coworkers with any embarrassing sweat stains or stink.
Before you know it. you'll get through that detox period and will start loving the feel of your natural deodorant.
Make the Commitment-True Love
When you've found the one you will know! While it may not be love at first sight it will be a love that lasts. That's why some of the most dedicated Source Vitál Apothecary customers are those who have fallen in love with our Deozein Natural Deodorant.
Deozein Natural Deodorant is one of the products that has shaped the legacy of the Source Vital brand. We have nearly 23 years of natural deodorant development under our belt, and we continue to re-evaluate and ensure that our clients have the best product possible.
Plus, Deozein is formulated and tested by our friends, family and professional partners in hot, humid Houston, Texas. If it works here, it works anywhere!
Choose Your Perfect Deozein Natural Deodorant
We've also tried to simplify the process of selecting the perfect natural deodorant by offering two formulations (a spray and a roll-on) and 4 scents - our 4th scent is launching soon!
We recommend our spray formula for anyone seeking a quick, multi-tasking product. Two or three sprays on the underarm area after showering or bathing is ideal. There is a convenient travel size for usage on-the-go as well. The best part – Deozein spray can be used on feet, hands, smelly shoes, or as a body spray.
For a more traditional deodorant experience, our roll-on formulation is a perfect way to transition. A few swipes on the underarms, a minute to dry, and you're set to go.
Once you've selected the formulation that's right for you, it's on to scent.
Choose our Deozein Original formula for a woodsy-Patchouli experience, Deozein Fresh formula for crisp, clean floral scent, Deozein Zest for an invigorating, citrus feeling, and coming soon, Deozein Cedrus for a grounding outdoorsy scent.
Don't be afraid to change up the scent, or switch to another formula. Just like with any skin care or wellness ritual, everyone is different. There's a perfect Deozein match for everyone!
Still not convinced? Here are some additional benefits your experience by switching to a natural deodorant
Natural deodorants allow you to sweat. Our bodies sweat to release toxins and regulate body temperature!
No painful discomfort or redness. Sweat buildup leads to bumpy, irritated skin. If you shave or wax your underarms, consider making the switch!
No more stained clothing. Aluminum can interact with bacteria and cause those pesky yellow sweat stains that can ruin your mood, and your outfit.
Benefits to your health: Antiperspirants and deodorants are products that we apply daily on skin near major organs and lymph nodes. We know that the ingredients in the products we use can accumulate in our body, so switching to a clean, natural, non-toxic formulation is bound to have positive effects on the body. 
Stay the Course-Together Forever
As we said before, the body can take about a month to regulate itself and get fully adjusted to a natural deodorant. Too often, people get frustrated halfway through and give up on their natural deodorant journey.
Though some of the detox symptoms can be annoying at first, your effort will surely be rewarded in the end.
Congratulations on making such a health-conscious decision for your body and well-being!
We'd love to hear your story on making the switch to Deozein! Share your journey to natural deodorant below!
 ABOUT THE AUTHOR
Tr
acey Ellis is a beauty enthusiast with over a decade of experience in the beauty industry. You can find her in the lab, manufacturing Source Vitál Products. Tracey is a New Yorker living in Texas and spends her time cooking and spoiling her miniature husky, Tabasco.
Shop Natural Deodorants Now
---