Customize Your Bath for How You Want to Feel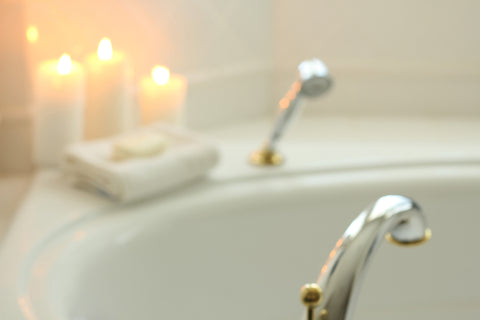 Make Your Home a Spa Get-Away
Creating a spa-like experience in your home is easier than you may think. Really, all you need are some essential oils and a bath tub. Taking the personal time to soak can have similar relaxing benefits, but without the time and money commitment.
We recently outlined some of the holistic benefits of aromatherapy bathing. Visit our blog for more on how a bath can reset your day. Today we are going a step further by looking at ways to customize your bath to impact your mood.
And remember, baths are not just for women. They are also for men and children of all ages – they are for everyone!
We aren't talking about old fashioned bubble baths here. Often those bubbles can dry out skin and cause irritations that weaken skin. We are talking about creating a bathing ritual that includes high quality therapeutic products that naturally support the mind, body and spirit.
For a relaxing and beneficial aromatherapy bath you will need:
Once you get a few supplies you can begin to mix and match to create a customized spa experience based on how you want to feel. Want to relax, get a good night's sleep, purify your body from toxins, soothe aches and pains or add some pep in your step? There is a bathing option that fits your needs.
Tip: You just need to soak for about 20 minutes, 1-3 times a week, to make a profound difference in your well-being. Try to soak in neutral warm – not hot – water for optimum benefits.
Also, always dilute essential oils in a carrier oil like Safflower or Apricot Kernel. Undiluted oils will float on the surface of the water and can be too potent.
Ritual Bathing Recipes
Here are some DIY recipes to help you enjoy the benefits of ritual bathing. These can be mixed and matched to suit your own personal preferences.
Tip: To supercharge your bath and the effects of these oil blends, try massaging them into the body before getting into the water. This method allows for deeper penetration of the oils. Plus, your body will feel like it is wrapped in a protective blanket.
To Encourage Sleep – Quiet the mind chatter & bring on the yawns
Good Night
Neroli            2 drops
Clary Sage    8 drops
Carrier Oil    1 oz.
Add some sage leaves (steeped in hot water) to the bath for an extra special bath
Lavender & Geranium Rose Bath
Geranium            3 drops
Lavender             3 drops
Carrier Oil           1 oz.
Dead Sea Salts   ½ cup

Swirl in Dead Sea Salts and essential oil blend into bath water. Light a candle and let yourself float away from the challenges of the day.
Destress & Let it Go – After a long, stressful day
Lavender 7 Marjoram Bath
Marjoram       6 drops
Lavender         6 drops
Carrier Oil       1 oz.

Steep some fresh Marjoram and Lavender in warm water for 15 minutes and then add herbs to bath water. Add oil blend, light a candle and feel renewed.
To Relieve Sluggishness – When you are feeling down after a cold or allergies or need a healthy boost
Healing, Healthful Blend
Niaouli                7 drops
Eucalyptus         4 drops
Fir Siberian        3 drops
Carrier Oil          1 oz.
Dead Sea Salts  ½ cup
Add Dead Sea Salts and essential oil blend to bath water. Breathe in the aromas as you soak.   
Enhance & Invigorate – Need a pick-me-up before an event or anytime you need a natural energy bolt
Enhancing, Ecstatic Bath
Spearmint          5 drops
Peppermint       5 drops
Lime                    5 drops
Carrier Oil           1 oz.
Dead Sea Salts   ½ cup
Add 5 slices of lime, Dead Sea Salts and essential oil blend to bath water. While you soak, visualize an energetic adventure; walking on a mountain, jogging or whatever makes you feel alive. Have a glass of sparking water and feel revived.
To Feel Loved & Supported – Inspire a feeling of happiness, euphoria and romance
Where There is Love
Jasmine         1 drop
Ylang Ylang   6 drops
Palmarosa     5 drops
Lavender       3 drops
Geranium     2 drops
Carrier Oil     1 oz.
Swirl in the essential oil blend to bath water, light some candles and put on some soft music to set the mood. Pink Himalayan Salts would be a perfect match for this lovely bath.
For Encouragement – Inspire yourself to push past your limits and unleash your inner power
Empowerment
Patchouli         3 drops
Black Pepper  3 drops
Peppermint    1 drop
Ginger             1 drop
Orange            1 drop
Carrier Oil       1 oz.
Soak in this encouraging blend and imagine your own potential!
Bath & Body Oils
Not into mixing your own bath oils? That's ok, there are lots of premixed bath oils on the market. We offer 6 Bath & Body Oil blends that are specially formulated to benefit nearly any skin, body or emotional issue. These blends can be used topically, straight from the bottle or added to the bath – or both!
Tip: If you want even more skin-loving benefits to your bath include a micronized algae powder to the water. Mineral-rich and super nourishing, algae can help to hydrate the skin and encourage a feeling of detoxification and purity in the body.
We offer several types of algae powders and blends. Visit our Bath Salts & Soaks page for more details.
Happy Bathing! What are your favorite ways to enjoy an aromatherapy bath? Let us know in the comments below.
---