3 Reasons to Add Clary Sage Essential Oil Into Your Wellness Routine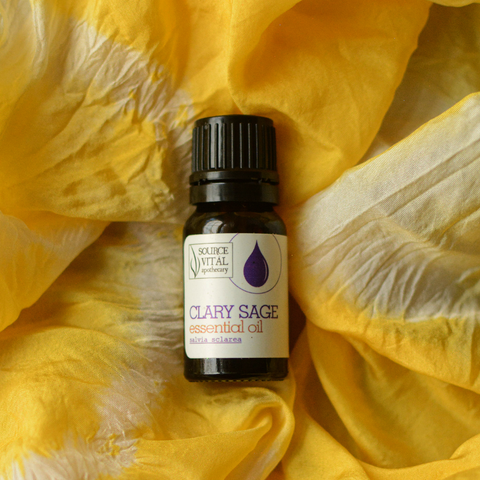 How to Use Clary Sage Essential Oil to Improve the Skin, Mind, Body & Spirit
Contrary to its name, the Clary Sage plant is far different from the traditional Sage leaf.
The delicate white and pink blooms are native to the Mediterranean, and are steam distilled to extract the beneficial properties, and warm, balancing scent that make it such an amazing essential oil. 
The English name for Clary Sage can be derived from the Latin word, "claris," meaning clear. This is likely a reference to the plant being touted as a cleansing remedy for the eyes. (NOTE: We do not recommend this ancient method, consult an ophthalmologist before using any substances.) 
Clary Sage has been documented as being used as early as 4 BC by Greek philosophers for medicinal and culinary use. In the past, it has also been used to flavor vermouth, liquor, and wine. 
More recently, Clary sage can be found in fragrance and skin care, used for its therapeutic benefits and lovely herbal scent. 
Below, learn more about how to enjoy Clary Sage as a part of your daily holistic wellness rituals.
1. Support Female Health
Clary Sage Essential Oil has received the nickname "The Women's Oil" due to its benefits on easing the symptoms associated with menstruation and menopause. 
One of the main components of Clary Sage is an ester called linalyl acetate, which research has shown contains analgesic and anti-inflammatory properties. 
For easing of cramps, consider combining a few drops of Clary Sage Essential Oil with your favorite unscented lotion or carrier oil, like Safflower Oil, and massage on your lower abdomen or other achy areas to soothe the discomfort.
For symptoms of menopause, such as excessive sweating, bloating, and emotional imbalance, our Hot Flash Essential Oil Roll-On is a handy tool to combat the physical manifestations of "going through the change." 
This blend includes Clary Sage to help promote a feeling of balance when experiencing sudden fluctuations in body temperature, Geranium to help ease emotional ups and downs, and Peppermint to physically cool the skin. Roll on your pulse points, or on the back of your neck, for a quick cool down. 
2. Cleanse & Clarify the Skin
Many balancing properties can be found within Clary Sage Oil, making it ideal for those with oily or acne-prone skin types. 
Clary Sage can help support the body's ability to stabilize oil production occurring in the skin. By promoting a sense of harmony for those with oily skin types.
Clary Sage also has a lot of purifying properties that may help to neutralize the inflammation-causing bacteria can cause acne breakouts or irritation.
This ability to cleanse and lend a sense of balance to the skin is why we've selected Clary Sage one of the essential oils in our best-selling Algae Deep Cleanse. This oil combines with other powerful botanicals to improve the appearance of the skin's texture and promote a look of clarify. 
For those suffering from hormonal acne, or just seeking balance for the skin, consider utilizing MerGel, our multipurpose treatment and moisturizer, to finish off your skincare routine or to create a harmonious overnight sleeping mask. 
3. Calm the Mind
Additionally, Clary Sage Essential Oil is revered for its relaxing benefits and ability to quiet an overactive mind.  
Thanks to its natural sedative properties, Clary Sage can be utilized to promote a calming, peaceful sensation which can be helpful for those who struggle with insomnia and getting a good night's rest.
Before bedtime or anytime you need a bit of peace, give our Tranquil Essential Oil Blend or Tranquil MultiSpray a try. Featuring Clary Sage Essential Oil along with other calming oils, Tranquil Is a fantastic way to impart some calm into your mind, body, and environment. 
Tranquil Bedtime Ritual
Use the Tranquil oil blend as a part of your nighttime ritual by diffusing in a water-based aromatherapy diffuser anywhere from an hour to 30 minutes before bed.
Then just before settling in combine a few drops of the oil with your favorite unscented cream or lotion and massage into your upper chest, and then finish your wind down routine by spraying your pajamas and bed linens with the Tranquil MultiSpray.
The aromas will help calm the mind and inspire a feeling of zen.    
And for on-to-go chill you can take along the Tranquil Aromatherapy Inhaler.
About Source Vitál Apothecary Clary Sage Essential Oil
With the botanical name salvia sclarea, Source Vitál Clary Sage Oil is sourced from Russia and is extracted by steam distillation of the flowering tops and leaves of the plant.
Source Vitál Clary Sage oil is 100% pure and natural and is free of any filler, carrier oils, synthetic perfumes, pesticides and other chemicals.
Popular in perfume blends, Clary Sage has a warm herbal, slightly floral aroma with some hints of camphor, musk and spice. Our high-quality Clary Sage Oil has a pale yellow-green color.
Considered a middle note, Clary Sage blends well with: Juniper, Lavender, Coriander, Cardamom, Geranium, Sandalwood, Pine, Jasmine, Frankincense, Bergamot, citrus oils and many other oils.
Clary Sage is a powerful oil and should make up no more than three to five percent of aromatherapy blends.
Pure Clary Sage Oil is very concentrated and should always be diluted with a carrier oil or lotion before applying topically on the skin.
Cautions
As with all essential oils, it is a good idea to patch test before using and to consult your doctor if you have any underlying medical conditions. Using Clary Sage should be avoided during pregnancy, especially during the first and second trimesters.
Because of the various properties in this oil do not use while drinking alcohol as it can exaggerate the effect of drunkenness.
Have you tried using Clary Sage Oil? Let us know in the comments!
 ABOUT THE AUTHOR
Tr
acey Ellis is a beauty enthusiast with over a decade of experience in the beauty industry. You can find her in the lab, manufacturing Source Vitál Products. Tracey is a New Yorker living in Texas and spends her time cooking and spoiling her miniature husky, Tabasco.
Shop Clary Sage Essential Oil
---
1 comment
---
---