No Garden? No Problem! Use Essential Oils to Celebrate National Gardening Month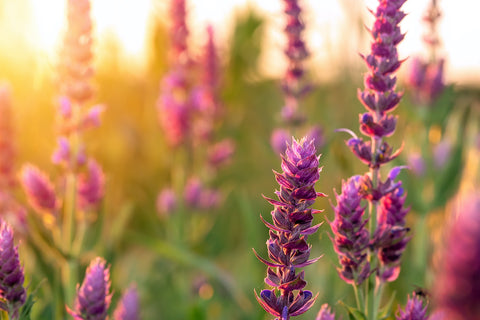 As the warmth of Spring arrives, so does the perfect opportunity to get your hands dirty and connect with Mother Earth. April is National Gardening Month, a time when gardening enthusiasts, novice gardeners, and even those who have never picked up a trowel before, celebrate the joys and benefits of gardening.
Gardening can provide a wealth of benefits for the mind and body, such as lowering stress levels and boosting mood. But what if you don't have a green thumb? Not to worry, you can still reap the benefits of gardening by using essential oils in your daily life. Here are a few of our favorite herbaceous and floral essential oils, sure to transport you to a lush, fragrant garden.
Our Favorite "Green Thumb Approved" Essential Oils
Rosemary
Imagine the refreshing scent of rosemary wafting through the air, bringing with it a sense of calm and clarity. Rosemary Essential Oil possesses a strong and refreshing scent that is both revitalizing and energizing. This versatile oil can help boost your focus, reduce stress, stimulate the scalp, and help relieve aches and pains. For a bit of Rosemary freshness, try our Hair & Scalp Natural Elixir to soothe an itchy scalp, or our Analgesic Bath and Body Oil for tired, sore, muscles.
Basil Sweet
Basil Essential Oil is a highly valued natural remedy derived from the Basil plant's leaves. This essential oil is known for its fresh, and herbaceous scent that is invigorating and spicy-sweet. Basil can be calming, promote restful sleep, sharpen senses, reduce stress, and is useful in meditation. It is an essential oil that encourages happiness and peace while stimulating the conscious mind. You can find Basil Sweet Essential Oil in our Success Essential Oil Roll-On, to lessen mental fatigue and depression, and in our Stress Relief Body Wash to help put your mind at ease while in the shower.
Sage Common
Sage, and the practice of burning sage, has its roots in Native American culture. Sage is used in their spiritual practices for clearing and cleansing energies in a space. In aromatherapy, Sage Common Essential Oil is often used to promote relaxation and reduce stress and anxiety. It is also believed to improve mental clarity and memory and encourages strength, courage, perseverance, grounding, and protection. You will find Sage Common Essential Oil in our Clearing Essential Oil Roll-On, to help protect you from negative energies, and in our Serene Essential Oil Blend to provide you with a restful night's sleep.
Peppermint
Peppermint Essential Oil is derived from the leaves of the Peppermint plant and has a refreshing and minty aroma. For centuries, It has been widely used for its therapeutic properties, including its ability to help relieve the pain of headaches, reduce feelings of nausea, and soothe sore muscles. When applied topically with a carrier oil, Peppermint oil can also help alleviate skin irritation symptoms, such as itching and redness. Peppermint Essential Oil is in our First Aid Collection, perfect for scrapes, cuts, burns, and bruises. Allevia Natural Elixir makes use of Peppermint to reduce the feelings of a queasy stomach and a pounding headache.
Lavender
Picture yourself strolling through a lush, blooming lavender field on a warm summer day, breathing in the sweet, calming scent of this fragrant herb. That same scent may be captured and bottled as Lavender Essential Oil, renowned for its many therapeutic benefits. With its soothing, floral aroma, Lavender has the power to transport your mind to a peaceful state, melting away stress and anxiety. Lavender is also used to promote the look and feel of healthy skin, reducing potential irritation. Lavender Essential Oil is such a versatile oil, that you'll find it in a variety of our products, from skincare, body care, and in essential oils blends. Our Lavender Body Scrub is a gentle way to buff away rough skin texture, and our Tranquil Multispray is a great way to set your mind at ease prior to bedtime.
If you don't happen to have a green thumb, do not worry! You can still enjoy National Gardening Month without having to get your hands dirty. Let the herbaceous, green, and floral scents transport you to a lush garden without even stepping foot outside your door.
How will you celebrate National Gardening Month? Let us know in the comments!
---