How To Gift On A Budget This 2022 Holiday Season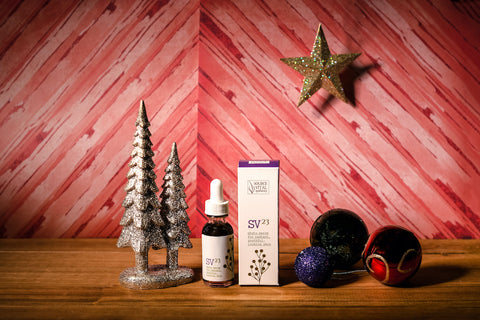 The holidays are officially here! If you're like most people, the rising cost of goods is probably on your list of worries for this year. Combined with the already chaotic holiday season, the idea of starting your holiday gift list can be extra daunting. 
This year, we're providing you with our Source Vitál Holiday Gift Guide, while being mindful of your wallet. We're here to help you check off everyone on your list with both thoughtful and beautiful gifts. Here's how to gift on a budget this holiday season. 
Shop Early
If you consider yourself to be a procrastinator when it comes to your holiday gifting, you may want to re-think your strategy this year! Generally, the best deals happen around Black Friday, and Source Vitál's are no different. If you've had your eye on SV23, Algae Deep Cleanse, or Nourishing Body Cream, now is the time to buy!
This year we are EXTENDING our biggest sale of the year. Starting November 21st through November 28th, we're offering 33% off* our entire Source Vital and Sir Vital collection of skincare, bath and body, aromatherapy, and personal wellness products. Best of all, you'll enjoy free shipping on orders over $25. 
To enjoy 33% off* enter discount code: CYBER2022 at checkout. Click here to start shopping now.
Get Personal
One of the best ways to make an impact on a budget? Get personal! There's no better feeling than giving a gift you know the recipient will love, so just imagine how they'll feel when they see their name on it. To view all of our customized products, click here.
Do you have someone on your list that can't get enough #selfcare? Treat them to a luxe bathing experience with our Make Your Own Bath Salts. (Starting at $19.99)
For the skincare aficionado, give them the gift of our Make Your Own Facial Mask Kit! They'll be able to use their DIY skills to make 4 face masks! (Starting at $24.99)
Got a gentleman in your life that's sporting facial hair? He'll need our Make Your Own Beard Oil.
Divide and Conquer
Do you have to buy many small gifts for quite a few people? We have a great way to help you check off your list. A fun way to give everyone a little dose of aromatherapy is to divide up our larger gifts into smaller bundles.
Our Merry Masking Facial Mask Trio ($39.99) contains three different facial masks and may be divided into three separate gifts, making it just over $13 per person. Combine that with our 7-packs of essential oil roll-ons ($79.99) or our Bath Oil 5-Pack ($24.99), making them just over $11 and $5 per person. Using this strategy can help you create a gift that will please multiple people for under $30 per person!
Reach for Value Sets
The holidays are a great time of year to seek out value sets, as they give you the most bang for your buck while creating a magical impression. Our Shop Till You Drop Kit contains many best-selling products, from skincare to personal and body care. ($24.99) Or take a look at our cozy Spa At Home Holiday Relaxation Tower, which contains a facial mask, body cream, and bath salts. ($29.99) Both are show-stopping gifts that will still fit into your budget. 
Do you have any other budget-friendly gift-giving ideas? Let us know in the comments!
---