Unveiling the Hidden Wonders of Copaiba Balsam Essential Oil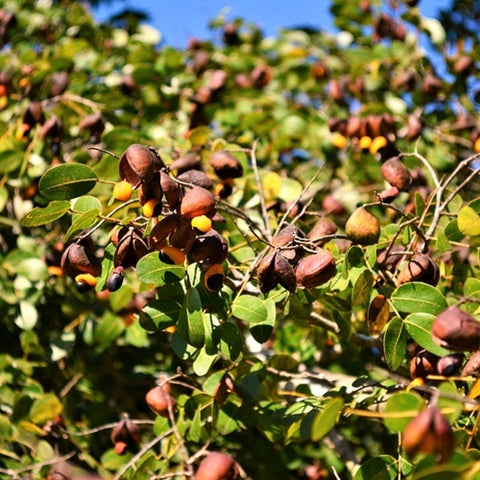 When it comes to essential oils that should be in your medicine cabinet, Copaiba Balsam probably doesn't make the top ten. As a matter of fact, it is only starting to be more well-known in the world of aromatherapy. Although Copaiba Balsam has been around for centuries, it has only recently emerged in Western aromatherapy practices. 
Copaiba Balsam (Copaifera Officinalis) is native to the Amazon rainforest and has been used for hundreds of years by the people of the Amazon to treat a variety of ailments. The Copaiba tree is evergreen and can grow up to 100 feet tall! Copaiba has a slightly sweet, green, balsamic aroma and is steam distilled from the thick, sticky, oleoresin from the tree. 
Curious about Copaiba Balsam and its many benefits? Read on to learn more.
Benefits of Copaiba Balsam
Calming and Soothing
One of the major components of Copaiba Balsam is called beta-caryophyllene, which helps reduce the appearance of inflammation in the skin. Add a few drops of Copaiba Balsam Essential Oil to a carrier oil and apply to the skin to help reduce the look of redness, the feeling of itchiness, and dryness often associated with sensitive skin. You'll also find Copaiba as a shot option in our Custom Facial Cocktail, which effectively hydrates and balances the skin, leaving you with a glowing complexion. 
Improve the Appearance of Acne and Blemishes
Copaiba Balsam can help improve the look and feel of acne on the skin, thanks to its antimicrobial and antibacterial properties found in the chemical components of this oil. It can also help to reduce the appearance of acne scarring that can occur post-treatment. Our Lemon Gel Cleanser and Clear Skin Cream both contain Copaiba Balsam, which are the perfect companions for anyone dealing with oily or acne-prone skin.  
Promotes Healthier Looking Hair
Copaiba Balsam has the ability to help soften and add shine to your luscious locks. Additionally, the balancing properties of Copaiba may also help to reduce the symptoms associated with excessive oiliness or dryness on the scalp. Try adding a few drops of Copaiba Balsam essential oil to Argan Oil to help tame frizz and add shine. We've also included Copaiba in our Sir Vitál Thrive Beard Oil to help soften and promote the look of healthy facial hair.
Boost Your Mood
Copaiba Balsam is often used in aromatherapy to improve the mood and lighten the spirits. Add a few drops to a diffuser to reduce anxiety and stress, boost joy, and calm the mind. You can also inhale the oil straight from the bottle, or add a few drops to a carrier oil, such as Safflower Oil. Wear it as a fragrance on your pulse points anytime you need a mood boost. 
Have you used Copaiba Balsam Essential Oil before? Let us know in the comments!
---