Aromatherapy Awareness Week June 6th-June 12th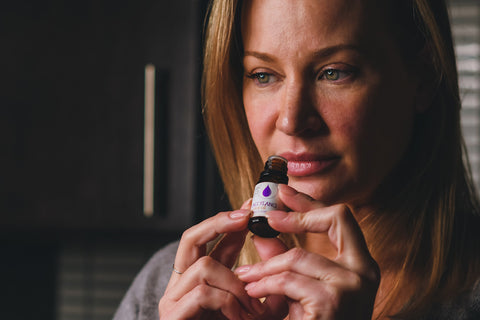 At Source Vitál Apothecary, we look to nature as the inspiration for our skincare, body care, and aromatherapy solutions. We begin with three main elements: marine algae, 100% pure essential oils, and whole plant botanicals. While seaweed is the heart of our holistic philosophy, essential oils are the soul.
Although we celebrate the beauty of aromatherapy every day, Aromatherapy Awareness Week gives us a chance to put an extra special spotlight on the essential oils we love so much. The International Federation of Aromatherapists (IFA) registered Aromatherapy Awareness Week from June 6th to 12th and aimed to bring more recognition to the benefits of Aromatherapy and its role in the health and well-being of the nation. 
What is Aromatherapy?
Aromatherapy, or essential oil therapy, is the art and science of using essential oils for therapeutic uses. For hundreds and even thousands of years, essential oils have been used in traditional remedies, and religious ceremonies and enjoyed for their aromas. Aromatherapy, through the use of essential oils, is where we can truly connect the body with the mind and spirit. This is the primary pursuit of any holistic wellness program.
Source Vitál is proud to offer our complimentary E-Book here. You'll be able to find information regarding:
How to use essential oils in your everyday life
DIY recipes for using essential oils in your home
How to tell if your essential oils have expired
How to use essential oils in your skincare routine
Which Essential Oil Should I Choose?
Selecting the right essential oils for you can be a bit overwhelming. At Source Vitál, we have simplified the process by breaking down our essential oil categories based on scent or function. 
Our scent families are broken down into the following categories: floral, citrus, mint, herbal, woodsy, spicy, and precious. You can also choose to shop for essential oils by their function. We offer categories such as cleansing and cleaning, easy breathing, pregnancy-safe, sleep, invigorating, relaxation, meditation, and energy work. 
Essential oils allow you to express your more creative side. Try experimenting with your favorite essential oils. Not sure where to start? Discover our Essential Oils Starter Kit, which contains 6 or 10 of our best-selling essential oils. 
Find our favorite DIY summertime blends here. 
Not into DIY? Not to worry. We have a collection of perfectly pre-made essential oil blends, so you'll surely find something your love. Some of our most popular blends are our Tranquil Essential Oil, Stress Relief Essential Oil, and our Millennium Essential Oil Blends.
Stay tuned for our follow-up blogs on how to incorporate essential oils into your everyday life, as well as how to care for your essential oil diffuser!
---