Five Summer-Inspired Essential Oil Blends You'll Love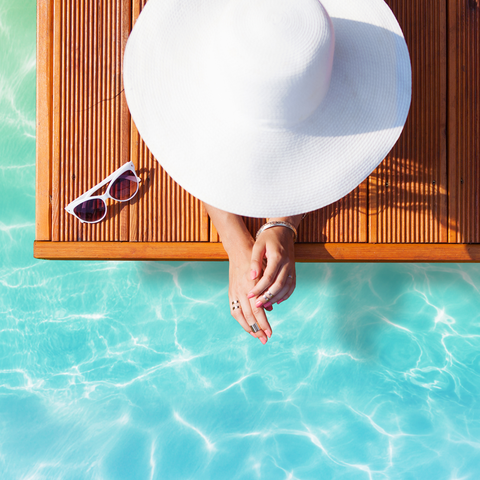 Ah! That summer feeling. Happy, relaxed and carefree.
It makes you feel good just thinking about it. To help you re-create that summer feeling all year long … or when you are stuck at work rather than the beach, we've rounded up some lovely summer-inspired essential oil blends.
Bright and refreshing, these are good for the mind, body and spirit. Use to life up your environment by diffusing, adding to your favorite body lotion or add to a bath to transport yourself to an exotic getaway.
Beach Blend
Bring the ocean to you with this sea-scented blend. You'll feel like you're on vacation all summer long – without any gritty sand to clean up!
3 drops Blood Orange Essential Oil
1 drop Eucalyptus Lemon Essential Oil
1 drop Bergamot Essential Oil
Summer Sunset
Diffuse this DIY essential oil blend to capture that summer sunset forever. This blend would also make for an exotic and romantic aromatherapy bath!
2 drops Ylang Ylang Essential Oil
1 drop Orange Essential Oil
1 drop Patchouli Essential Oil
1 drop Sandalwood Essential Oil
A Midsummer's Night Dream
Brighten up those summer soirees under the stars. The Citronella oil will also help keep mosquitos and other pests away.
2 drops Citronella Essential Oil
1 drop Lemongrass Essential Oil
1 drop Tea Tree Essential Oil
1 drop Geranium Essential Oil*
If you would prefer a more floral blend, add a few more drops of Geranium.
Summer Garden
Keep going, keep growing with this invigorating herb garden inspired essential oil blend. Try it in an unscented shower gel to create a refreshing, uplifting bathing experience.
2 drops Rosemary Essential Oil
1 drop Basil Essential Oil
1 drop Lemongrass Essential Oil
1 drop Cilantro Essential Oil
Afternoon Rain
Wish you could create that fresh post-rain feeling all the time? Try mixing these oils to capture that whimsical fresh rain smell.
2 drops Cedarwood Essential Oil
1 drop Fir Needle Essential Oil
1 drop Frankincense Essential Oil
1 drop Ylang Ylang Essential Oil
We hope you enjoy these five summer-inspired essential oil blends. Use these recipes as a starting point but feel free to tweak, mix and match to make your own lovely scents.
How to Dilute Essential Oils
Remember, if you want to use them topically, dilute with a carrier oil before applying. A one percent dilution is usually a good place to start. You will want to aim for 6 teaspons of carrier oil per 6 drops of essential oils.
For bath blends, a five percent dilution is best. It is quite strong but the bathwater will help to dilute it further. Blend 6 teaspoons of carrier oil with 30 drops of essential oils.
---