Treat Yourself!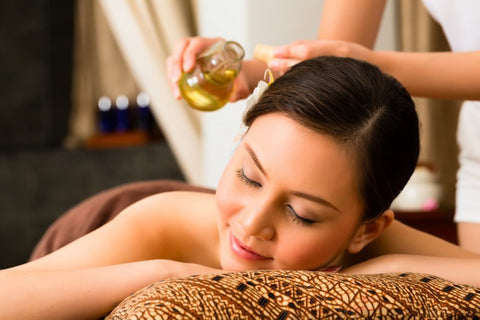 We live in a culture that demands our constant attention. As we strive to be engaged parents, loving friends, and passionate employees, we must also manage buzzing phones and social media. This environment often places stress on our well-being, and we are left feeling irritated and exhausted. Time to replenish has never been more necessary (or more rewarding)! That's why we created a line of massage products to relax the body and clear space in the mind.
Chamomile and Lavender Massage Oil
This light massage oil works well with all massage modalities. Lavender and chamomile calm the senses without overpowering them, and ingredients like vitamin E soften and hydrate skin for a renewing experience.
Sports Balm
Our Sports Balm is specifically designed to alleviate the pain caused by sore muscles and joints, as well as arthritis. With aromatherapeutic elements and natural menthol, this balm is the perfect choice to soothe the body post-workout.
Massage Oil Simple
If you have an extremely sensitive sense of smell or prefer to add your own essential oils, our Simple Massage Oil fits your needs. It contains many of the powerful, relaxing ingredients used in our traditional massage oils, but forgoes added scents.
Nourishing Body Cream
Seaweed is one of nature's most powerful skincare resources. This ultra-hydrating cream makes use of this emollient ingredient, as well as other sources of hydration like beeswax and shea butter. Mental and physical rest are a crucial part of a balanced life.
We hope these mixtures encourage you to take time for yourself or give one to a friend or family member who you think needs to take a breather. Check out our full line of massage products, and feel free to contact us on Twitter at @SourceVital if you have any comments or questions!
---