Essential Oil Showcase: Rose Absolute with a Cool Ice Cream Recipe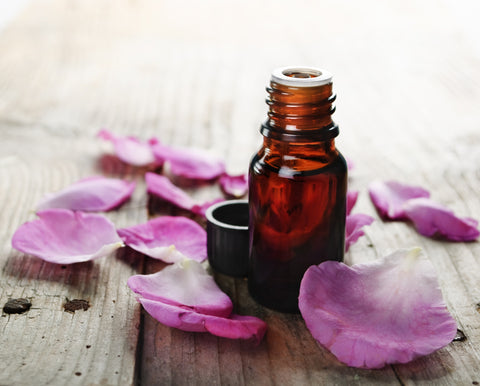 Throughout history no flower has been so loved, or famous as the rose. Fossils were discovered all over the world, dating the rose to be over 35 million years old. Remains of roses have been found in Egyptian tombs. Romans scattered rose petals during their celebrations and wore garlands of roses on their heads to combat drunkenness. Legend has it that Cleopatra doused herself in rose oil to capture Mark Antony's love at their first meeting. Throughout the Middle Ages European plague doctors would wear a beaked mask containing a rag soaked in essential oils such as rose to protect them from sickness.
Rose is used for hormonal balance in women, grief, confidence and bolsters self esteem. The rose is known to have aphrodisiac properties and is heart healing. It is no accident women want to be given roses. The rose continues to be a symbol of love and purity. It takes hundreds of pounds of rose petals to create one ounce of oil. Our Rose is an absolute. It is made through a solvent process and is considered precious (expensive).
Rose is a middle note and blends well with most oils because it rounds off blends. We carry many products containing rose absolute: Algae Serum Rose, Aroma Peel, Chakra 4, Fortifying Infusion, Millennium Diffusion Blend, Transition, and as a single essential oils.
Recipe ALERT:
 ½ gallon of Vanilla Ice Cream (what ever kind you want…dairy free works well too)
1-3 drops of rose absolute depending on how strong you want it
Fresh basil to garnish
Mix rose into ice cream. We suggest you use an ice cream machine for best results. If you don't have an ice cream machine make sure you mix it well so it's not perfumey. Let it freeze for 2 hours. Garnish with basil. Serve. Enjoy.
---