Got Stretch Marks?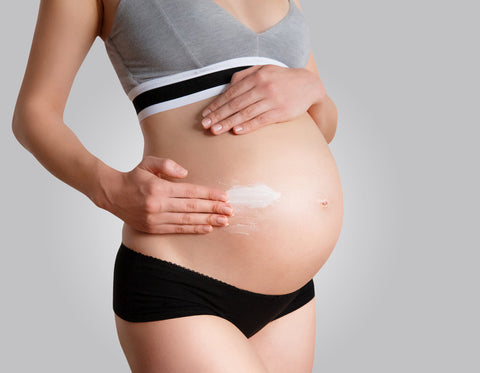 Whether pregnant or gaining weight for another reason, stretch marks are a concern for many of us.
Our answer to preventing stretch marks, is the duet of Aromatic Algae and Nourishing Body Cream.  Aromatic Algae is a seaweed extract mist and Nourishing Body Cream is our most emollient body cream. This combination of products prevents stretch marks by improving the elasticity of the skin.
Alginic acid, which remineralizes the skin and provides greater elasticity, is found in our Laminaria Digitata and Fucus Vesiculosis algae. Aromatic Algae and Nourishing Body Cream have a high content of these algae in their formulas.
An easy way to visualize how alginic acid works is to take a piece of paper in your hands. Bend and roll it. Even when creased, it does not break. The reason for the paper's malleability is alginic acid. Paper mills use alginic acid during the production of paper to give it elasticity.
Of course, we are using the highest quality algae powders and liquids, unlike paper mills. The premise is the same, however. These algins are much more compatible to human tissue than to tree pulp. If alginic acid can give a piece of paper elasticity, imagine what it can do for your skin!
Shea butter is a major ingredient of Nourishing Body Cream, lending its legendary emolliency and moisturization. Along with Fucus Vesiculosis and Shea Butter, this cream has a complex blend of essential oils. Among these oils are Lavandin, Rosemary, Peppermint, Thyme, and Niaouli. For specific properties of these oils, check out our single oil information on our website under Aromatherapy.
Aromatic Algae is heavy in Laminaria Digitata. The essential oils in Aromatic Algae are Lavender and Basil. Lavender is a well know healer of skin issues. Basil is added for its anti-infectious properties. Both of these products support cell regeneration and healing. Aromatic Algae and Nourishing Body Cream will also improve the appearance and integrity of the tissue of existing stretch marks.
There is no right or wrong way to apply the products. Some mist the body with Aromatic Algae, put a small amount of Nourishing Body Cream in their hands, and massage away. Some choose to mix a couple of sprays of the Aromatic Algae in their hands with a dab of the cream before massaging into arms, legs, hips, stomachs, breasts- wherever you expect stretch marks. You do not use a lot of product. The cream is very emollient and a little goes a long way.  For best results, apply twice daily.
You may purchase these products separately. We also offer Stretch Mark Kits.
---