5 Ways Body Cream is Different Than Body Lotion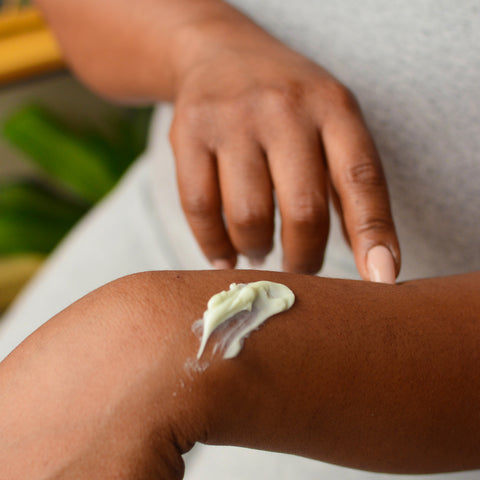 How to Choose the Right Body Moisturizer for You
In order to maintain a healthy lifestyle, we know the basics: eat right, get enough exercise, and sleep a full 8 hours per night. But have you considered that our skin requires the same amount of time and care?
One way to ensure your skin stay healthy and protected is by using a body cream or lotion. There are many benefits that these products provide to create a nourished look and feel to your skin.
Both creams and lotions reduce the effect of dryness, which can produce imbalances in the skin such as texture, tone, and overall hydration. Taking the time to nourish your skin is not just about making it softer but will help maintain a daily habit that will affect your overall well-being, and give you healthier, younger looking skin.
Below, we will break down the differences between body lotions and creams, and help you find the best fit for your lifestyle and skin type.
1. Product Texture
One of the most obvious differences between lotions and creams is the texture. Both formulations share common ingredients but those ingredients are used in different ratios.
Creams tend to have a richer, more emollient consistency thanks to containing higher amounts of oil-based ingredients such as cocoa butter. These oils can create a physical barrier that prevents moisture loss and feels more present on the skin.
Lotions may have a lighter hydrating texture that absorbs quickly into the skin.
2. Skin Benefits
Both creams and lotions will help the skin retain adequate moisture levels and soften the texture of the skin.

Lotions will offer a subtle, hydrated glow to the skin, and are an excellent choice if you need quick moisture quickly, as they are easy to apply and absorb faster than creams.
Creams are a better option for tackling more challenging skin conditions such as ultra dry, cracked skin, sagging skin that has lost tone and elasticity, and stretch marks.
The thicker consistency takes longer to massage into the skin and creates a physical barrier to seal in moisture.

Additionally, both lotions and creams can be a great way to add subtle fragrancing into the daily personal care routine for those who don't like wearing perfume.

For those who do enjoy wearing perfume, lotions and creams can help enhance the scent through what's known as scent layering, which can extend the longevity of your fragrance.

Our Camellia Rose Body Lotion is a fantastic option to wear alone or to layer with your favorite floral scent. Also, it is believed the texture of creams and lotions allows perfume fragrances to stick to the skin for longer amounts of time.

The season can also play a role in the benefits you want to get out of a body moisturizer.

Spring and Summer may be more ideal seasons for lotions, as they are more lightweight, while Fall and Winter may require the help of a cream to deeply nourish and protect the skin from harsh weather conditions.
3. Skin Type
One of the biggest factors determining whether you chose to use a lotion or cream is skin type.

Those with oilier skin types (and those with acne-prone skin) probably don't need a whole lot of extra moisture as their skin already produces a healthy amount of sebum.

Lotions are a good option to keep the skin soft without leading to congestion.

For dry to ultra-dry skin types, creams will likely be your go-to, as your skin needs a little more help retaining healthy moisture levels. The richer texture of the body creams will be a relief for those with dry skin lacking moisture.

Additionally, those with sensitive, easily irritated skin can look for unscented options such as our Body Lotion Unscented, or our Body Cream Unscented to soothe dry skin without any added fragrance.
4. Application
For best results, we recommend applying your lotion or cream after showering or bathing. Like a sponge, our skin is ready to receive more moisture when slightly damp.

Just like skin care routines for the face, having a morning and evening routine can help you get the best out of your body lotions and creams.

A lighter weight lotion may feel more comfortable to wear during the day, while slathering on a thick, comforting body cream at night is a great way to nourish and support the body's regenerating efforts while you sleep.

Applying an uplifting scent like our Lemongrass Body Lotion is a fantastic way to help energize your mind for the day, while offering a quick dose of moisture to the body.

Our Lavender Body Cream is an excellent option to add to your nightly wind down ritual because it not only offers moisture, but also helps soothe the mind, lulling you to dream land.

For massages, slipping is less likely to happen when using cream rather than lotion, particularly in deep tissue massage. It also will stay on the skin longer, allowing the skin to glide along with the massage.
5. Treatment Area
There are certain parts of the body that require more moisture than others, such as the hands and feet. They are often the most used throughout the day and can become dry and damaged - particularly with frequent hand-washing.

A great option for dry hands and feet is our Lemongrass Mani/Pedi Cream. This velvety soft cream increases hydration, and helps soften rough skin textures such as cracked hands or heels.
Lemongrass Mani/Pedi also contains a special blend of purifying essential oils that help protect the skin from a variety of skin conditions and irritations.

You can choose to use body cream to spot-treat other areas on the skin that are more prone to dryness, such as elbows or knees. Our Nourishing Body Cream improves the appearance of dry, cracked skin, and helps skin look plumped, and healthy.

If you are looking to hydrate all over, applying lotion may be the best option for you. For a mouthwatering treat, our Vanilla Orange Body Lotion to provide all-over-hydration with a yummy scent.

If you are at the beginning stages of learning to moisturize, here are some tips to help begin your journey:
Use tepid water (not hot) when showering or bathing
Exfoliate no more than 2 times weekly to rid the skin of dead cells
When drying off, pat, don't rub
Moisturize directly after showering when skin is still moist
If you need help finding the right moisturizer for your skin reach out to one of our skin and body care care experts at sales@sourcevital.com.
About the Author
Tatiana Tyler-Addison was a digital marketing intern at Source Vitál who recently graduated with a Bachelor's degree from Bethune–Cookman University, a HBCU in Daytona Beach, Florida. We wish her the best in her future endeavors!
Shop Body Moisturizers
---