5 Incredible Uses for Patchouli Essential Oil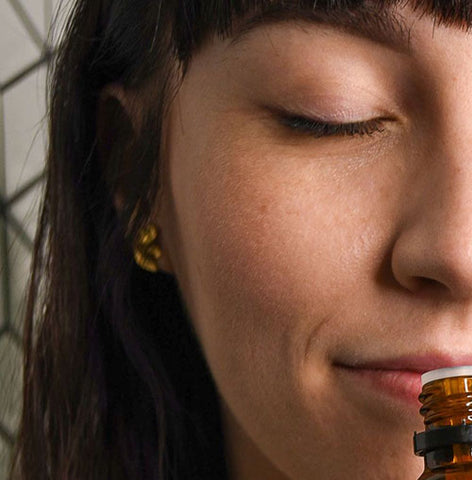 Simple Ways to Enjoy the Benefits of Patchouli Essential Oil 
For most people, the scent of Patchouli Essential Oil is synonymous with the flower children of the 1960s and 1970s and can often be very polarizing – many people really love it, while others can't tolerate it.
Patchouli has a fascinating history that dates back thousands of years. It is said King Tut was buried with 10 gallons of it in his tomb! In the 1800s, this precious oil likely traveled along the Silk Road and made its way to Europe. There, it was embraced by the very wealthy to perfume themselves and their homes.
A resurgence of Patchouli occurred in the 1960s, when it again became popular to wear as fragrance. And the love for Patchouli remains – Madonna scented the packaging for her "Like a Prayer" album with patchouli!
More recently, this earthy-smelling oil has been touted for its many incredible benefits for the skin, body, and even the mind. 
Despite any preconceived notions about Patchouli as the go-to oil of the Hippies, there are many reasons to embrace Patchouli as one of the most versatile in essential oils in aromatherapy.
Here are some of our favorite ways to enjoy the very best Patchouli oil has to offer.
1. Soothe Skin
Patchouli Oil has many calming properties, which make it good for diminishing redness and improving the look and feel of inflamed skin condition such as eczema, dermatitis and even acne. 
It may also help boost hydration in drier skin types and smooth the appearance of fine lines and wrinkles in aging skin.
Patchouli is a featured natural ingredient in Max Moisture Cream, Soothing Cream, Restorative and Soothing Infusions, and the Ageless Algae Mask. 
2. Uplift Mood
The earthy, warm and slightly exotic fragrance of Patchouli lends itself to aiding in improving your mindset. Patchouli is especially good at helping to ease a nervous mind and increase confidence. 
Our Patchouli Essential Oil Roll-On is an excellent way to boost feelings of creativity, while helping reduce the feelings of stress and anxiety. Try using this portable oil blend it on your chest and breathe deep for some relief!
It is also considered an aphrodisiac and is a good oil to use for increasing sexual energy.
Try this massage oil blend from Jennie Harding's The Essential Oils Handbook to awaken a low libido.
3. Fight Odor
Patchouli also contains many cleansing and purifying properties, which is why it has been used in the East for wound healing and other natural remedies.
The aroma matched with Patchouli's ability to promote a clean feeling on the skin, is an important part of what makes our best-selling Deozein Original Natural Deodorant so effective. The Patchouli Oil helps to neutralize underarm bacteria that causes unpleasant body odors.
4. Improve Skin Texture
This precious oil may also help support the body's natural ability to regenerate and make new skin cells. Efficient cellular turnover is important in speeding up healing processes and improving the appearance of imperfections.
In our Immacule Elixir, Patchouli Essential Oil works to diminish the look of scars, and rough skin textures. This oil blend is safe to use during pregnancy and can help prevent the damage that causes visible stretch marks.
5. Find your Zen
A must-have for meditation, Patchouli Oil is very grounding and helps one make the connection between their physical body and inner self. It also helps you to focus, quieting mental chatter and the feeling of anxiousness that can keep you from finding your moment of Zen. 
Try diffusing our Millennium Essential Oil Blend or spritz Meditate MultiSpray in the air or on your yoga mat/blanket/poof to take your meditation session to the next level.
About Source Vitál Apothecary Patchouli Essential Oil
With the botanical name pogostemon cablin, Source Vitál Patchouli Oil is sourced from Indonesia and is extracted by steam distillation of dried leaves from the aromatic patchouli herb.
As its popularity indicates, Patchouli has a powerful warm and earthy aroma that improves with age. Our high-quality Patchouli Oil has a rich, dark amber color. 
While skeptics may claim Patchouli oil smells like dirt, it adds a lot of complexity in oil blends that helps to ground and round out the fragrance. Considered a middle note, Patchouli blends well with all of the "precious" essential oils as well as other herbaceous oils, florals and vibrant green-smelling oils. 
Some of the most common oils that pair well with Patchouli include: Vetiver, Sandalwood, Cedarwood, Geranium, Clove, Lavender, Rose, Neroli, Bergamot, Myrrh, and Clary Sage.
Pure Patchouli Oil is very concentrated and should always be diluted with a carrier oil or lotion before applying topically on the skin. 
As with all essential oils, it is a good idea to patch test before using and to consult your doctor if you have any underlying medical conditions. Patchouli Oil is believed to be safe for use by babies, children and pregnant women.
What are your favorite ways to use Patchouli Essential Oil? Let us know in the comments!
 ABOUT THE AUTHOR
Tr
acey Ellis is a beauty enthusiast with over a decade of experience in the beauty industry. You can find her in the lab, manufacturing Source Vitál Products. Tracey is a New Yorker living in Texas and spends her time cooking and spoiling her miniature husky, Tabasco.
Shop Patchouli Essential Oil Now
---