4-Step Summer Skincare Routine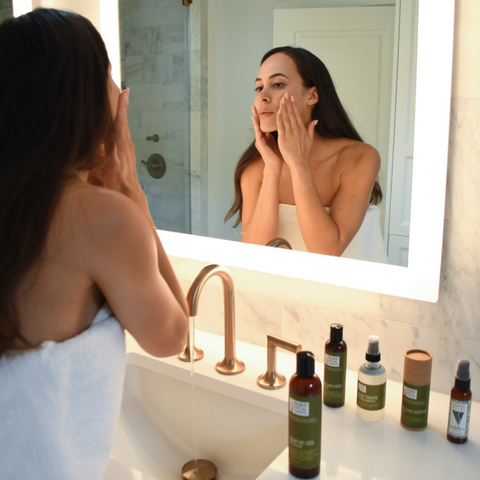 Summer is here, which means that it's time to switch up your skin care routine! Now that you're out and about, you may not have as much time to put towards your skincare but you still need to protect yourself from UVA/UVB rays and other environmental pollutants. 
Here are our suggestions for a simple, summer skincare routine.
1. Wash Your Face
Start your day off by washing your face with our light and airy, Lemon Gel Cleanser. This cleanser is excellent for use in hot, high humidity climates, making it a great choice for summer. 
The cleanser is made specifically for people with oily, congested, and acne-prone skin in mind. It promotes the look and feel of balance, won't clog pores and improves the look of inflammation. 
For those with dry and sensitive skin, our Lavender Cleanser is an excellent alternative.
2. Facial Cocktail
After cleansing, use a custom Facial Cocktail made just for you. This will allow you to address all your skin concerns in one go. 
You can either make your own  summer concoction or subscribe to get a monthly customized Facial Cocktail based on your year-round skincare priorities.
3. Moisturize
Apply your favorite moisturizer. 
For those with oily, combination, acne-prone, and congested skin, Clear Skin Cream is a lovely lightweight moisturizer that protects the skin from extra shine and unwanted breakouts. 
Another option is MerGel, an all in one moisturizer, mask, and serum that protects your skin from free radicals that can damage and irritate the skin. This moisturizer is well suited for all skin types.
4. Lather Up with Sunscreen
UVA rays are associated with skin aging and UVB rays are associated with sunburns, wear sunscreen to protect against both. Beauty by Earth produces both facial (SPF 20) and body (SPF 25) sunscreen for everyday use, made with environmentally-friendly ingredients.
The Sun Protection Factor (SPF) measures how effective a sunscreen is in filtering harmful UV rays. A sunscreen with an SPF of 20 means it would take 20 times longer for your skin to burn than it would when not wearing any sunscreen at all. Continue to seek shade and make sure to reapply sunscreen every hour.
Nighttime Variation
For the evening, it is important to thoroughly cleanse the skin from all traces of dirt, oil and sunscreen. You can follow the same routine as above but omit the last step.
A great addition to your nighttime skin care routine is Micellar Cleansing Water. It is an easy-to-use rinse-free formula to gently cleanse the skin without upsetting the skin's pH balance. 
Micellar Cleansing Water is also handy to take along on any summer trips as it can serve as a facial cleanser and makeup remover in one. Plus, it works great on all skin types, including men's skin. 
 ABOUT THE AUTHOR
Clarissa Ramos is interning as a digital marketing assistant for Source Vitál. She is a high school student based in Silicon Valley. They love biking, writing, and learning new things.
---