25% Off - It's Better Than Tax Free Sale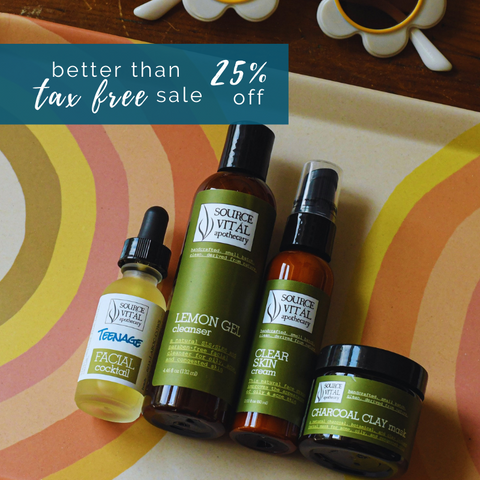 Take 25% Off* Our Entire Line August 11-13
Many states run special sales tax holidays, waiving sales tax on essential back-to-school items such as school supplies, clothes, shoes and backpacks.
Our version of tax free weekend gives you 25% off* our full line of skin care, bath and body, personal care, grooming and aromatherapy products. While we can't waive sales tax, our discount offers more than triple the savings.
Plus, you'll get free shipping on all orders over $25. Shop now, and don't forget to enter discount code: BETTER2023 at checkout to enjoy 25% off.
Back to School Shopping Guide
Our goal is to ensure a happy and healthy classroom experience for teachers, students, parents and anyone looking to make a fresh start.
This back-to-school guide includes clean, safe and natural products that will support the mind body and spirit. Read on for recommendations we think you'll love.
Teachers
First of all, we want to offer gratitude to all the teachers out there. Thank you for everything you do and for sticking it out during the difficult months of COVID.
Wake Up Call - Algae Deep Cleanse
Like a morning cup of coffee Algae Deep Cleanse wakes up the skin and senses without any gitters.
Featuring cooling Peppermint Essential Oil, algae extract and a blend of good-for-you botanical ingredients, our cult classic deep pore cleanser is a shower must-have to get you going after an early wake up call.
For those teachers who still mask up in the classroom, Algae Deep Cleanse will also help avoid the dreaded "maskne" (mask acne) breakouts and irritations that masks can cause.
Classroom Ready - Cleaner Hands Spray
With more students back in the classroom, Cleaner Hands Spray is a quick, easy and safe way to clean little grubby hands and wipe down hard surfaces like desks and classroom supplies.
Made with the CDC recommended alcohol concentration to avoid the spread of germs and our healthy immunity blend of essential oils, this spray will keep you and your environment clean and smelling like a relaxing spa retreat! 
Cleaner Hands Spray comes in a handy travel size and a larger refill that's perfect to keep in the classroom.
Relief for Sore Feet - Merecul MultiLotion + Fluid Reduction Bath & Body Oil
A full day of teaching on your feet is no easy task! Treat sore, tired achy feet and ankles with a duo of Merecul MultiLotion and Fluid Reduction Bath & Body Oil for a feeling of quick relief. 
Start by massaging in the Fluid Reduction oil on the tops and bottoms of your feet and ankles then follow with Merecul and put on some comfy socks. 
Fluid Reduction is a special blend of essential oils that improve the feeling of bloating, swelling and fluid retention by encouraging the healthy movement of fluids by the body.
Merecul, a play on the word miracle, lives up to its name because it is versatile in helping to ease the discomfort or lots of bodily issues from headaches to menstrual cramps to sore feet. This lotion is made with soothing arnica, cooling menthol and a similar blend of oils found in Fluid Reduction Bath & Body Oil.  
On particularly stressful days use Merecul on the back of the neck and shoulders to diminish the feeling of stress and improve the discomfort of tension headaches.   
Students
Focus is a big issues for students of all walks. With digital learning and changes in learning environments it can be easy for students to become overwhelmed and distracted.
Our back-to-school guide for students is focused on, well focus, and providing a calming foundation to study, sleep and succeed.
Homework Done - Mental Clarity
Incorporating some strategic aromatherapy into learning can help your student establish study skills to help them at every level of education.
Mental Clarity Natural Elixir or essential oil rollerball are a tools they can use to settle into their studies, help clear brain fog, and complete their assignments.
It helps give them some control when they are feeling anxious or unable to focus on a task.
Our special Mental Clarity blend is safe for school age children and is also great for parents and teachers to stay focused while working from home.
Wild-crafted Frankincense leads you into a focused meditative state, Peppermint invigorates, and Helichrysum (also known as Immortelle) is calming and grounding for the mind.
A Good Night's Sleep - Lavender & Sweet Dreams
Sleep is crucial for learning, and good rest starts with a good bedtime routine. 
And when we think about sleep, we think Lavender Essential Oil. Calming, soothing and relaxing, it's safe for kids of all ages, and is a scent that is generally liked by everyone.
To create a tranquil bedtime routine start with a shower or bath with the Lavender Body Wash (made from 90% organic ingredients), then protect the skin with our dreamy silky-soft Lavender Body Lotion and finish with a few rolls of the Sweet Dreams Essential Oil Roll-On to the upper chest, wrists and other pulse points.
For those who use aromatherapy diffusers, try diffusing the Tranquil Essential Oil Blend about an hour before bed to help wind down. Many diffusers come with soft soothing light settings that can double as a calm-inducing night light.
Also try to limit your child's (and your own) screen time an hour before bed to avoid disrupting their natural circadian rhythm. 
Best Face Forward - Teen Skin Kit
Confidence is another big factor in a student's success. While no products can take away the awkwardness of adolescence you can work with your child to establish grooming practices that can feed into healthy self-esteem.
The Teen Skin Kit is a hit because it is a simple skin care routine that works for nearly any skin type and only takes minutes.
Featuring our popular Lemon Gel Cleanser that washes away the day's dirt and grime while preventing the look of breakouts, a specially-blended Teenage Skin facial serum and toner duo, Clear Skin Cream moisturizer, and a once-a-week mask treatment, this kit covers all the bases for teen and pre-teen skin care.
Finish off the morning routine with a few sprays or roll of Deozein, our popular natural deodorant, and your student can start each day off looking and smelling great - without any synthetic dyes, perfumes or potentially toxic ingredients!  
Parents
After a long summer parents deserve some time to relax and recharge. Use these products to pamper the mind, body and spirit.
Headache Relief - Allevia Natural Elixir
Getting your kids to school on time, helping with homework, dinner, bedtime - back-to-school can be a literal headache for parents.
Give your throbbing head a natural feeling of relief with Allevia Natural Elixir.
This 100% natural blend of essential oils like Peppermint, Fennel, Lemon and Vanilla oils helps to comfort the discomfort of headaches by cooling the skin and encouraging a return to balance in the body.
Many headaches are tied to digestion, so Allevia is also a great product to use for nervous, upset stomachs. 
Just place a few drops to the back of your neck, on the upper chest and massage into the abdomen for a grumbly tummy, and deeply inhale the sweet, uplifting aroma from the palm of your hands.
We also have this formula available in a convenient rollerball for on-the-go headache care.
Quick & Simple Skin Care - Micellar Cleansing Water + Custom Facial Serum
Time is a premium always, and especially at the start of a new school year. But that doesn't mean it's ok to skip your nightly face cleansing.
Luckily, Micellar Cleansing Water is here for quick and easy maintenance. The gentle, no rinse formula works for all skin types, won't dry out or irritate the skin and even works at removing stubborn eye makeup.
For the days when the energy tank is really low, keep a bottle and a few cotton rounds next to the bed for a quick swipe and clean before hitting the hay.
For those who can stand adding one more step into their skin care routine the Customized Facial Cocktail is a must. It is three products in one that work as a toner, serum and light weight hydrator. 
About 7-10 drops is all you need to help promote a feeling of balance, hydrate, nourish, and protect the skin from the signs of aging.
What makes it even better is you get to hand pick a customized formula that's a perfect match for your skin and lifestyle needs. Click here to get tips for making your own personalized facial serum.
Take Some Me-Time - Spa At Home Relaxation Tower
The Spa At Home Relaxation Tower is just the thing for head-to-toe pampering.
This trio comes with Renew Bath Salts for a luxurious aromatherapy bath, a hydrating facial mask to smooth out the appearance of fine lines, and our buttery soft body cream made with precious Rose Absolute oil.
Add to the spa at home experience by lighting one of our sustainable coconut wax candles scented with our proprietary essential oil blends.
Millennium has a rich exotic scent that encouraged a meditative experience while the Tranquil blend is soft and calming. 
Lifelong Learners (Everyone)
Back-to-school is a great time for new beginnings whether or not you are a teacher, parent or student headed back to the classroom.
Here's a few products that will enhance your current routine or serve as a starting point for a new ritual you will love.
Treat Yourself - SV23 Phyto Serum
Ever tried a product that you instantly fall in love with? That's the normal reaction to our luxurious SV23 Phyto Serum.
Made with 23 of our very best botanical ingredients like Chlorella, Turmeric, Saffron, Rose, Jasmine, and Sea Buckthorn oils, SV23 reveals a softer, smoother more radiant complexion for most skin types. 
It's the cherry on top on any skin care routine.
Don't just take it from us - read what one of our customers has to say about SV23:
"Worth Every Penny. [SV23] is the best product I have ever put on my face. My skin has never felt or looked better. I can't say enough good things about this product and this company. Telling all my friends." 
- Source Vitál Customer, HDP
Don't miss out on 25% off plus free shipping on orders over $25 from August 11-13 when you use discount code: BETTER2023.
DM us on Instagram @source_vital or give us a call at 800.880.6457 if you need more personalized recommendations.
*Better Than Tax Free Promotion does not remove applicable sales tax from your order, however, it does provide a discount of more than triple most sales tax rates. Discount is not applicable for non-Source Vitál branded products, gift cards/
certificates, starter kits, equipment, or accessories. This promotion is applicable to retail sales only.
---