Yoga Bag Essentials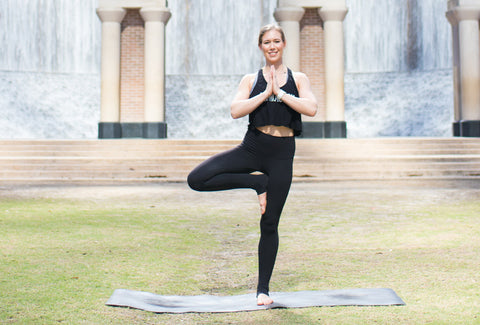 What's in my yoga bag?
I spend a lot of time on the go. As a young professional who doubles as a yoga teacher, I pretty much live in my stretchy pants and rely on whatever is in my gym bag to get me through the day.

I usually start my day with a 6:30 am class and I don't get home until 9 pm. In between client meetings and strategy sessions, I'll hit the studio to flow or the trail for a run. Staying (and smelling) fresh is pretty important, especially when you throw Houston's hot, humid weather into the mix.
Thanks to some of my gym bag essentials, I'm able to head from the studio to the street and wherever I need to be in between.
This miracle lotion is key for me to recover quickly. After a tough run or when I'm just feeling a little sore, I use this product to soothe my achy muscles and joints. It isn't oily and doesn't leave me smelling like chemicals, in fact, it smells great! I keep the travel sized bottle in my yoga bag, and the bigger size at home. There's also a new roll-on version that's especially handy to get you all that Sports Balms power, right where you need it.
Water Bottle
I don't know what I would do without my reusable water bottle. Carrying a bottle around reminds me to drink which keeps me well hydrated and ready to take on whatever I have coming next. Bonus? Water is everywhere, so having a bottle on hand saves me a few bucks at the studio.
Houston is hot, which means sweaty. And, to add fuel (or sweat) to that fire, I also teach in a heated studio. I rely on having a bottle of Deozein handy to spritz myself post-class. My preference is the citrusy "Zest" version, but try the original too and see which one you like best.
Unlike traditional deodorants, I spritz this on more spots than just under my arms to help me feel and smell fresh as I move into my day. It's versatility really makes this spray a must-have.
Change of Clothes
The Deozein keeps me smelling fresh, but with Houston's heat I need backup. I always keep an extra set of clothes (including a pair or two of socks) in my gym bag and running shoes in my car. That way, I'm always prepared to teach or have a last minute sweat date!
I love Source Vitál Apothecary's all-natural multisprays for use at home, but I keep the Fresh MultiSpray in my yoga bag as a natural yoga mat cleaner as well. The fresh scent leaves my mat smelling crisp, clean and ready for my next practice!
Your yoga teacher should always be calm and composed, right? Well, sometimes I'm not. That's where my Stress Relief Roll-On comes in. This 100 percent pure essential and carrier oil blend is the perfect pick me up for any stressful day. I like to roll it onto my pulse points or onto my palms so I can deeply breathe in the beneficial scents of lavender and basil.
I don't wear a ton of makeup, especially during the week when I'm teaching and working out a ton. With that said, I rely on keeping my skin clean and clear of breakouts. After morning classes, I wash my face with the Algae Deep Cleanse. The tingling peppermint sensation wakes me up (totally necessary) and the combination of natural ingredients keeps my pores clear. When I have a few minutes to spare, I keep it on my face for a little longer, more like a mask.
Like I mentioned above, I don't enjoy wearing a ton of makeup. Luckily, Source Vitál now carries an organic certified lip balm in three flavors — peppermint, citrus, and vanilla. It's totally natural, keeps my lips hydrated all day and doesn't take up much space my bag. And, for those days when I'm feeling a little sassier, this lip balm acts as the perfect base for a statement lipstick or lip stain.
A Healthy Snack
I get hungry pretty much every 30 minutes. So, if you're like me, packing some snacks on busy days is the best way to go. For packaged bars, I love Lara Bars and RX Bars. Both are packed with nutrients and are really filling! Raw almonds, dried fruit and trail mix are also some of my go-tos, plus they're easy to snack on in the car.
What are your gym bag essentials? Let us know in the comments below or share a photo of your essentials on Instagram using the hashtag #SourceVital.
---
1 comment
---
---