Why Shea Butter is Such an Essential Skin Care Ingredient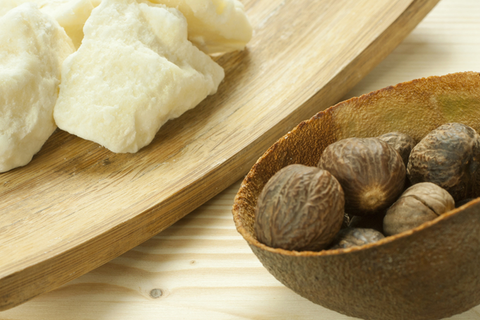 When it comes to natural products that can protect, nourish and moisturize the skin, Shea Butter is a must!
Packed with high concentrations of fatty acids and vitamins A, E and F, Shea Butter is a skin superfood that offers countless benefits.
Uses of Shea Butter in Skin Care
Shea Butter has been used in skin and personal care rituals across cultures for hundreds of years – and for good reasons. It's safe, easily accessible, and highly effective.
The main benefits of Shea Butter in skin care products include:
Rich Moisturizing Properties
Ability to Soothe Irritations
Collagen Support 
The thick, emollient texture makes Shea Butter an important ingredient for reinforcing the surface of the skin by creating a physical barrier that guards against dehydration, free radical damage and sensitivity caused by external factors.
With uses for all skin types, Shea Butter is especially helpful at moisturizing super dry skin and treating topical skin irritations. A 2010 study found a compound in Shea Butter, lupeol cinnamate, to be effective at soothing the look and feel of inflammation such as eczema, psoriasis and dermatitis.
Shea butter melts easily into the skin and absorbs quickly, leaving the skin feeling soft, smooth and healthy. It is said this natural ingredient can help the body boost the production of collagen and improve the skin's elasticity, which is essential in fighting the signs of aging.
A good rule of thumb for those with oily and acne-prone skin types is to avoid using heavy face creams made with high percentages of Shea Butter. However, for body treatments, Shea Butter is a great option for nearly everyone.
Shea Butter as a Sun Protector
A little-known fact about Shea Butter is that it provides the skin with a minor dose of UV protection. With a natural sun protection factor (SPF) between 4 and 6, it is a great option to use with your sunscreen, but used alone, Shea Butter isn't enough to provide adequate sun protection. Keep packing on that sunblock (with SPF 30 or higher!).
Shea Butter is a true gift of Mother Nature!
Visit our Knowledge Center for more information about what makes Shea Butter such an amazing natural ingredient and learn ways that you can use Shea Butter to improve the look and feel of your skin.
Source Vitál Apothecary Products with Shea Butter
Moisturizers and Eye Creams:

Body Products:

Natural Elixirs and Personal Care:

---