What are the Summer Skin Care Essentials I Should Have in My Beach Bag?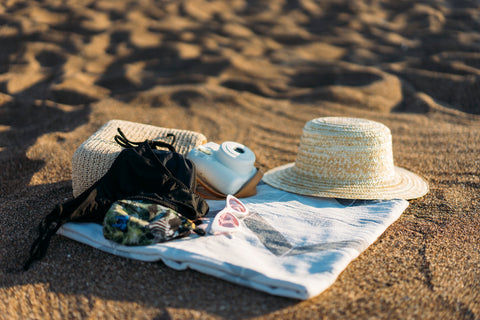 Assemble a Bodacious Batch of Beach Beauty Products
What's summertime without at least one trip to the beach? Surf, sand and sun are good for lifting the spirit but can also be a bit rough on the skin and body.
Along with your towels, swimsuit, sandals, sunglasses, and ice chest, no beach trip is complete without a few of our beauty essentials in your beach bag (or lake or river)! Make the most out of your outdoor summer adventures with our lineup of beach-friendly summer products.   
This day and age there is zero excuse for skipping the sunscreen. With formulas packed with good-for-you ingredients, skin protection is clean, safe and easier than ever. 
Protect your skin and keep nasty sunburns at bay with our natural and effective Sunshade 30. Formulated with moisturizing Shea Butter, Aloe Vera, Coconut Oil, Zinc Oxide and Titanium Dioxide, this SPF 30-rated sunscreen physically shields your skin from damaging UVA and UVB rays of the sun.
In addition to providing safe, natural broad-spectrum protection, Sunshade is also reef safe, which means it's also safe for the environment.
It's a tale as old as time. Whether you got too caught up having fun in the waves or you fell asleep in your beach chair, you forgot to reapply your sunscreen. 
Soothe red, inflamed skin with gentle and cooling Algae & Aloe Cool Gel. Our proprietary blend of Lavender, Geranium, Lemon, and Tanacetum Annum help take the heat out of your burn while Aloe Vera helps impart moisture to sun-parched skin. Think of it as a liquid Band-Aid!
Even if you are extra vigilant with the sunscreen, Algae & Aloe Cool Gel is great to apply at the end of a long day out in the elements. The lovely fresh scent and gel texture restore hydration and gives the skin a shot of antioxidant-rich comfort.
Beach days can get hot and sweaty. Even if you applied deodorant in the morning, you'll be a little smelly after a day spent in the sun and sea. It's ok, it happens!
Throw a bottle of Deozein Natural Deodorant spray or roll-on in your beach bag for easy reapplication throughout the day. It makes for easy transition from beach to grabbing a quick bite to eat – without smelling like you've been out all day. The best part about a spray deodorant? You can share with your beach buddies (if you're feeling so inclined!)
Feeling flushed or overheated? Keep our Sea Tonic spray on hand for a quick cooling burst when your skin starts to feel sun-parched. Formulated with nutrient-rich Dead Sea Salts, moisturizing Aloe Vera, and hydrating seaweed, a few mists of this spray revives the skin and replace lost nutrients!
Sea Tonic I also a great way to refresh makeup after a long, hot day. Simply mist on the skin (avoiding the eyes) and gently pat into the skin. This will remove any creasing and give the skin a subtle glow. But come one, if you are at the beach, skip the makeup!
Nothing is worse than dry lips with no relief in sight! Protect the delicate skin of your lips from drying ocean spray, sun, and wind with a natural Organic Lip Balm. Available in a variety of flavors to suit every preference, these balms lock in moisture while soothing skin that's already irritated. 
Remember, the skin around the lips is thinner and more delicate than the rest of the face, lip balm is a good way to build up their protective layer and preserve the skin underneath from tightness and the look of aging. 
We believe, the most important factor of looking good in your swimsuit is feeling good. It's all about confidence! But sometimes we need a little confidence boost, and that's exactly what our Active Silhouette lotion can help you achieve. 
Smooth and firm the look of dimply skin by adopting a consistent cellulite maintenance program. Start with applying a small amount of Active Silhouette Lotion topically on "problem" areas.
This product will cause you to experience a flushing of the skin and a warming sensation, don't worry – that means it's working! Follow with a vigorous massage using a hand-held wooden roller or cellulite massage brush. The combination of adding the warming product plus massage will help to encourage the body's natural process of flushing toxins from the body and promote a smooth, firm appearance.
From the waves of Waikiki to the shores of South Padre Island, and every beach in between, these beach bag essentials will see you through the sand and sun of summer. Now, it's time to enjoy the soothing sounds of the ocean, relish in the feeling of sand between your toes, make a few memories, and simply relax. 
---