Upgrade Your Shower Routine with All-Natural Body Washes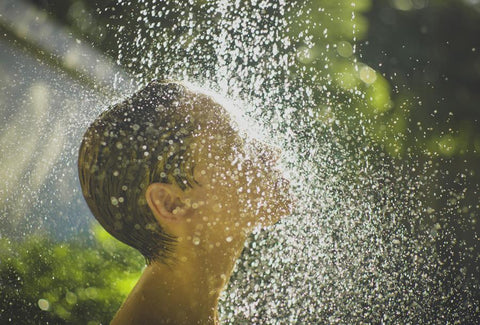 Bring the Power of Aromatherapy into Your Shower
Whether you prefer your showers bright and early in the morning, or you prefer to save your suds until evening, we can all agree that the "clean" feeling you get after a shower is one of life's simple joys.
With our fast-paced lifestyles, our bodies work and play hard, so taking advantage of those small moments to care for yourself and your senses is important. We also believe that your shower shouldn't just get you clean – it should be a place of refuge where you can relax and feel your best. With our line of aromatherapeutic body washes, Source Vitál Apothecary aims to do just that.
Beneficial Body Washes
These plant-based, natural bath products are gentle, yet cleansing. The added seaweed extracts and essential oils will hydrate your skin and create feelings of wellness. It also helps that all our body washes are SLS/SLES free and 90% organic – no nasties here!
Formulated with a variety of essential oil blends, we have a body wash for every mood and occasion.
Formulated with stimulating Eucalyptus, Pine Scotch, and Rosemary Essential Oils, this bath and shower gel is like a cup of coffee for your body! Our Invigorating Body Wash is best used in the morning when you need to feel awake, focused, and ready to take on the day. But if you have evening plans and you're feeling sluggish, this wash can also help you reach your second wind.
If you're feeling stressed, tense, or overworked, you're not alone. That's why it's no surprise that the Stress Relief Essential Oil Blend is one of our most popular products. And now you can get that same feeling of anxiety-soothing relief in the shower! Made with soothing Lavender, calming Petitgrain Bigarade, and uplifting Marjoram Essential Oils, this wash is ideal for relaxing after a long, stressful day. Breathe in the scent and feel your shoulders start to loosen up!
With a refreshing combination of essential oils that combats the discomfort and symptoms of respiratory congestion, the powerful lineup in our Respiratory Body Wash packs a serious punch. The product blends together Eucalyptus, Ravensara Leaf, Peppermint, Pine Scotch, Lavender, Myrtle, Inula Graveolens, Myrrh, and Niaouli True MQV Essential Oils. Whether you're feeling stuffy from seasonal allergies, a head cold, or the flu, our Respiratory Body Wash will help you to breathe a little bit easier. 
Ready to be refreshed? Our Peppermint Body Wash is just the ticket. This minty-fresh bath and shower gel uses a variety of essential oils - including Peppermint, Eucalyptus, Juniper Leaf, and Sage - to help deliver a cooling, refreshing burst. We recommend using this body wash in the morning to help wake you up, after a workout to help cool down, or after a long, hot day spent outdoors.  
Long, stressful day? Lavender and Lavandin Essential Oils work in tandem to help comfort, soothe, and put your mind at ease. We especially encourage you to use this body wash in the evening to whisk away your worries and prepare your mind for sleep. Then again, while Lavender is typically used in aromatherapy before bed or to wind down, we love this scent all the time.
Whether it's a fresh start to a new day, or last thing you do before you rest, upgrading your daily bathing routine with the power of aromatherapy is a small but impactful way you can nurture yourself – mind, body, and spirit. 
---