Unveiling the Importance of Facial Masks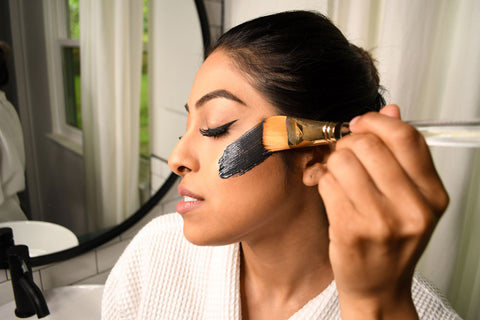 In the fast-paced world of skincare, where trends come and go, there is one timeless beauty ritual that continues to captivate beauty enthusiasts and skincare aficionados alike—the facial mask. A symbol of indulgence and self-care, facial masks have long been revered for their ability to transform the skin, leaving it rejuvenated, radiant, and glowing with vitality. From the classic clay masks of ancient civilizations to the innovative sheet masks of today, these concentrated treatments have stood the test of time, proving their worth as a staple in any comprehensive skincare regimen. 
Come along with us as we unravel the importance of incorporating a face mask ritual into your beauty routine.
What is A Face Mask?
A facial mask is a specialized skincare product designed to provide targeted benefits to the skin. It typically comes in the form of a cream, gel, clay, or sheet infused with a potent blend of ingredients that work harmoniously to address specific skin concerns. Facial masks are applied to the face and usually left on for a designated period, allowing the active ingredients to penetrate deeply into the skin and deliver their transformative effects. 
Whether you're seeking deep cleansing, hydration, or firming, there is a wide array of facial masks available to suit your individual needs. These masks can help replenish moisture, reduce the appearance of pores and blemishes, stimulate a more youthful complexion, and provide an overall boost to the skin's health and appearance. 
4 Reasons to Incorporate a Facial Mask into Your Beauty Ritual
Time-Efficient Skincare
Facial masks often offer a concentrated dose of active ingredients in a single application. By using a mask, you can provide your skin with targeted benefits in a shorter amount of time compared to multiple skincare products. This makes masks a convenient and time-efficient addition to your beauty routine, especially on days when you're short on time.
Enhances Product Absorption
Using a facial mask prior to applying other skincare products can enhance their absorption and effectiveness. By prepping your skin with a mask, you create a clean canvas for serums, moisturizers, and other products to penetrate deeply into the skin. This can maximize the benefits of your overall skincare routine.
Targeted to Skin Concerns
Facial masks come in various formulations to address specific skin concerns. Whether you're looking to brighten dull skin, reduce the appearance of fine lines and wrinkles, or calm the appearance of irritated skin, there's a mask available for your needs. By incorporating masks into your routine, you can target and address specific skincare concerns more effectively.
Relaxation and Self-Care
Applying a facial mask can be a soothing and relaxing experience. It provides an opportunity to take a break from your busy day, indulge in some self-care, and pamper your skin. The ritual of applying a mask may also have a positive impact on your mental well-being, promoting stress relief and relaxation.
What Source Vitál Face Mask is Right For You?
Using Source Vitál facial masks on a weekly basis will result in a visibly healthier and more balanced complexion. These masks are carefully crafted with a blend of algae, whole plant extracts, hyaluronic acid, pure essential oils, and freshwater silt. They effectively strengthen and fortify the look of the skin by addressing nutritional deficiencies and neglected areas. Whether you require hydration, deep cleansing, or a moment of relaxation, there's a mask available for your specific skin type. Alternatively, you can personalize your at-home spa experience by combining different masks to create a customized treatment.
Charcoal Clay Mask
Say goodbye to the appearance of spots, blemishes, and enlarged pores with our Charcoal Clay Mask, acting as a potent vacuum to eliminate impurities that often lead to irritations and breakouts. Achieve a clear and healthy-looking complexion with this solution-packed mask. But it doesn't stop there. We've also included Hyaluronic Acid in this formula to provide optimal hydration without any greasy residue. Your skin will never feel dry or parched after using this mask.
Formulated with a generous blend of Activated Charcoal derived from coconut, Betonite, and French Green Clay, this mask is enriched with skin-nourishing ingredients such as algae, Cucumber, Elderflower, Green Tea, and a carefully curated essential oil blend, specifically crafted to improve the look of congested and acne-prone skin.
Matcha Cool Mask
Indulge your skin in a refreshing and soothing experience with our Matcha Cool Mask, specially formulated to calm and soothe the appearance of irritated and sensitive skin. Whether your skin craves relief from excessive sun exposure, post-facial treatments, or general irritation, this mask is the perfect solution, packed with high-quality ingredients that provide a cool and comforting sensation.
Our revitalizing leave-on facial mask combines the calming power of Matcha, the nourishing benefits of algae extracts, and Hyaluronic Acids that effectively lock in essential moisture. Additionally, it features a blend of skin-loving botanicals including Aloe Vera, Elder Flower, Ginseng, and organic Marula Oil. This special blend is further enhanced with 100% pure essential oils like Lavender and Blue Tansy, which contribute to the overall comfort and rejuvenation of tender skin conditions.
Ageless Algae Mask
Unveil a youthful complexion with our Ageless Algae Mask, delivering visible results in just 20 minutes. Inspired by advanced facial treatments offered in prestigious day spas, our at-home version guarantees professional-grade results that will leave a lasting impact both in appearance and sensation. 
Formulated with nutrient-rich algae extracts, Hyaluronic Acid to preserve essential moisture, and a powerful combination of skin-loving botanicals such as Aloe Vera, Ginseng, Cucumber, Chlorella, Kaolin Clay, and pure essential oils. This mask is carefully crafted to optimize absorption, allowing your skin to absorb a wealth of vitamins, minerals, and antioxidants. Say goodbye to the appearance of redness, irritation, and inflammation as your skin indulges in the nourishment it craves.
Active Silt Mask
Experience the ultimate skin revival with our Active Silt Mask, enriched with a powerful blend of ingredients including silt, prickly pear, sea buckthorn, hyaluronic acid, and essential oils. This mask serves as a rejuvenating elixir, specially designed to restore a youthful appearance for those with normal, dry, and mature skin types. The combination of stimulating antioxidant ingredients works synergistically to bring back the vitality your skin craves.
This mask features Collodial Freshwater Silt, hyaluronic acid, and an array of skin superfoods such as bentonite clay, green tea, cucumber, sea buckthorn, prickly pear oil, abyssinian oil, activated charcoal, and a special blend of pure essential oils, this mask unveils a complexion that exudes health and vitality. Your skin will appear toned, and beautifully balanced.
Chlorella Hydra Mask
Experience relief from the discomfort and appearance of tight, parched skin and the irritation caused by inflammation. The high-quality botanical extracts utilized in our Chlorella Hydra Mask act as warriors against free radical damage, simultaneously working to enhance the appearance of fine lines and wrinkles, sun spots, lackluster skin, redness, and irritation.
Our Chlorella Hydra-Facial Mask is deliberately unscented, and devoid of synthetic fragrances, allowing for easy customization to cater to your specific skin needs. You have the flexibility to incorporate additional Botanical Oils, Infusions, or Essential Oils to personalize the experience and address your unique skincare concerns.
Which mask will you incorporate into your routine? Let us know in the comments!
---