Tips & Tricks to Get Your Skin Ready for Fall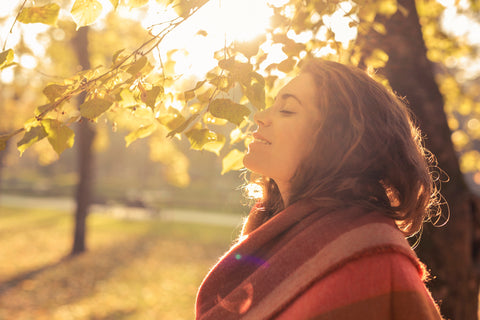 Could it be – a whisper of a fall breeze in Texas? We'll take it! There are so many things to love about fall: the changing leaves, cool breezes, all things pumpkin … and football season! As we transition out of summer and welcome this new season, it's important to make sure you're swapping out some of your summertime skincare habits for more fall-friendly ones. By making a few easy adaptations, falling into the season will be a breeze.
A key theme you'll see here is moisturizing. As the air becomes cooler and drier, taking the time to properly hydrate your skin will keep it in good condition and prepare it for winter.
Moisturizer
If you've been using a lightweight lotion or gel moisturizer for the summer months, now is the time to switch to a richer cream moisturizer. Have oily skin? Don't allow the heavier texture of creams to be off-putting. We have a variety of different options for all skin needs.
Our Clear Skin Cream is great for acne-prone skin, as well as those with oilier skin types. Soothing Cream is our number one selling facial moisturizer because it helps calm irritations and feels silky soft on the skin. Breathe in the lovely blend of essential oils to instantly relax the senses.
Hand Cream
Because they are often exposed to the elements, our hands can give away our age quicker than any other body part. Dry fall air can result in rough, cracked hands. We recommend investing in a hand cream you can keep on your bedside table to apply before bed.
Our Lemongrass Body Lotion is non-greasy and a great option for skin that doesn't experience extreme dehydration. Enriched with Lemongrass essential oil, this lotion also protects the skin from germs and other irritants. If you are prone to more serious dryness, we recommend our Lemongrass Mani/Pedi Cream, which is a bit richer in texture.
Lips
No one likes the feeling of dry, chapped lips. To ensure your lips don't become dry and irritated this winter, it's important to take preemptive steps this fall. Exfoliating your lips weekly with a scrub, or even your toothbrush, is an excellent way to remove dead skin, smoothing the lips.
Follow up with an emollient balm that is free of petroleum and mineral oil, like our 100% Organic Certified Lip Balm. Petroleum and mineral oil are common ingredients in lip balms, and while they may make your lips feel smooth and hydrated on the surface, they don't do anything to truly hydrate your delicate lip skin. In fact, they can actually dry your skin over time, increasing your dependence on the balm.
With these additions to your skincare routine, your skin will be in tip-top shape for the holiday season. Happy fall!
---