The Best Natural Ingredients for Acne-Prone Skin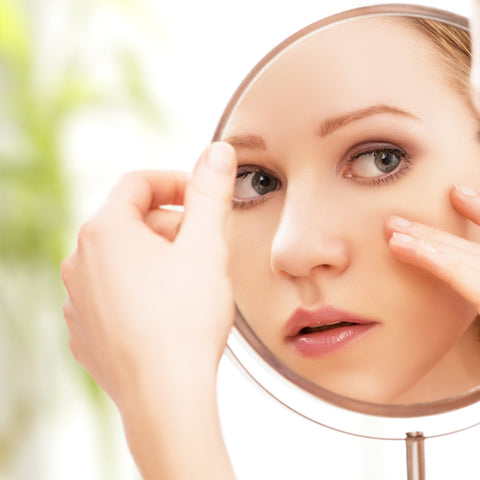 Our best recommendations for treating acne-prone skin include thorough cleansing, weekly exfoliation and bringing a sense of calm and balance to the skin.
Oftentimes the anti-acne solutions you see in drug stores or on TV involve harsh products with overly aggressive cleansers, scrubs and spot treatments, formulated to dry up oil production. While these may be a quick fix, we believe they often exacerbate the problem log-term.
At Source Vitál we look to nature for lasting solutions. The earth and sea provides us with some amazing natural alternatives that not only improve the look of acne, but can also nourish the skin, strengthening it for future greatness.
Here's a round-up of some of our favorite natural ingredients for oily, acne and congested skin types.
Tea Tree is one of the single best essential oils for acne because of its powerful purifying and germ-busting properties.
As the name suggests, this oil is derived from the tea tree plant, native to Australia. It works to soothe the look and feel of inflammation from bacterial or fungal infections and supports the body's natural healing process. Tea Tree is used in many over the counter products and is especially good for use on breakouts on the chest and back.
To use as a treatment to improve the appearance of acne, we recommend adding 2-3 drops of Tea Tree Essential Oil to a cotton swab and applying directly to the affected area. It is generally safe to use undiluted on the skin, but in excess can cause dryness and irritation, so take care to use it sparingly on more sensitive skin types.
This is a little known essential oil that is a master at helping to improve the appearance of acne and congested skin. With many properties similar to Tea Tree, Ravensara Leaf oil soothes the look of inflammation, boosts the body's natural healing processes, purifies and balances the feel of oily skin.
Forget those harsh, drying over-the-counter acne treatments, using Tea Tree and Ravensara together is a gentler, more effective way to get the look of clear skin.  
All citrus oils, especially Lemon and Bergamot, are gifted at reducing the look of excessive oil. Just like citrus-scented kitchen cleaners cut oil and grease, these oils offer a similar function on your skin.
Another benefit is the appearance of smaller pores. Keeping pores clean contributes to a healthier, more balanced complexion and less breakouts.
We also love Lemon Oil for its softening benefits. It is a key ingredient in our Aroma Peel exfoliant because it helps to loosen the glue that prevents us from sloughing off dead skin. By effectively eliminating dead skin you are a step ahead of the game in keeping pores happy and free from the look of pimples. 
Dubbed "natures most perfectly balanced oil" for it's 3:1 ratio of Omega-6 and Omega-3 fatty acids, and contains all 20 known amino acids and 9 essential amino acids our body can produce.
This lovely green oil is great for oily, combination and acne-prone complexions because it is lightweight and absorbs quickly into the skin without clogging pores.
Hemp is also well-known for it's soothing properties, which come in handy for calming the look of redness and inflammation that often is associated with breakouts.
Another nourishing and beneficial oil is Grape Seed. Rich in antioxidant polyphenols, Vitamin E and linoleic acid, it will hydrate, protect the skin from free radical damage and support the body's natural healing processes.
It is also a light weight oil that won't feel tacky on the skin and won't clog your pores. Plus, the high Vitamin E content makes this a greta choice for improving the appearance of acne scars.
Grape Seed is a nice option for someone who may get breakouts but wants to prevent their skin from the look of aging.
Pair Grape Seed Oil with Tea Tree Oil to prevent bacteria-causing breakouts.
French Green Clay
Sourced from the Montmorillonite area of France, this clay is rich in minerals and phytonutrients and is highly absorbant, which is why it is great for normal to oily and acne-prone skin types.
It helps to balance the look and feel of excess oil production and can also allow the body to draw out toxins and impurities from the skin. It is a great ingredient for congested skin and can promote a clearer complexion.
It is a pretty active ingredient, so those with sensitive skin may want to limit its use.⠀⠀⠀⠀⠀⠀⠀⠀
Turmeric
Beloved in Ayurvedic practices for it's anti-inflammatory properties Turmeric is a must-have in your natural acne-fighting arsenal.
The calming and soothing qualities help to improve the visible look of redness and irritation from breakouts and help the body to heal faster. Research has also found Turmeric to be antibacterial, reducing one of the root causes of breakouts.
Turmeric also protects against dehydration further protecting the skin from undue stress.
Aloe Vera
Aloe is probably THE most well-known natural ingredient for calming the skin. It is also an antioxidant that keeps the skin in peaking fighting condition against cellular damage, the signs of aging and acne. 
Use Aloe Vera to soothe inflamed breakouts and to provide lightweight, non-oily hydration for the skin.
Matcha 
Sure, it's a popular latte flavor but Matcha is a real winner in skin care.
A powerful source of antioxidants, especially vitamins A, C and E, and amino acids, use Matcha to prevent free radical damage and encourage a well-balanced healthy complexion.
Hyaluronic Acid
One of the biggest contributors to acne comes from an overproduction of oil. Oil gets trapped in pores and can lead to acne. This makes people susceptible to breakouts a bit nervous about the best way to keep their skin moisturized. The fear is it will add more fuel to the fire.
Hyaluronic Acid is perfect for those with oily, congested and acne-prone skin because it is a super powerful hydrator that does not leave any oily residue to clog pores. It goes deep into the layers of the skin to keep the skin plumed and moisturized.
Adding some of these natural skin-loving and acne-busting ingredients into your weekly skin care regimen can be a game changer. Do you have any natural remedies you use to promote clearer-looking skin? Let us know in the comments section below. 
---