Summer Survival Series: Skin Care Travel Tips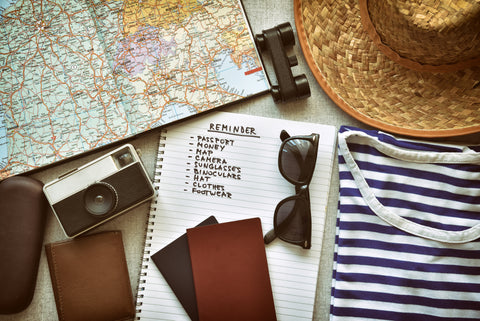 Taking Your Skin Care Routine on the Road
Summer has arrived – or at least it feels like it here in Houston! We hope that you'll get a chance to get away this summer to recharge those batteries and take a much-needed break.
While the idea of a vacation is appealing, for the average skin care junkie, the thought of leaving any one of your skin care must-haves at home can be anxiety-inducing. You never know what you might need!
Thankfully, you don't have to compromise your ability to tackle any skin care conundrum that comes your way when you're on the road. So, whether you're going on summer vacation or taking a business trip, we have a few travel tips to help you downsize your skin care collection.
Save Space
The simplest and most obvious way to cut down on the volume of products you pack is by investing in travel sizes of your favorites. At Source Vitál Apothecary, we offer a wide array of travel-friendly products, packaged in sizes that can make it past TSA inspection or fit in your checked bag without taking up too much valuable space.
Space-Saving Tip: To downsize even further, purchase small containers like these or use leftover, cleaned-out contact lens cases to store thicker creams, scrubs, and masks. They are the perfect size for a single use. So if you are going away for a week, you can still get in your weekly mask or exfoliation treatments.
Multi-Tasking Products
One of the best ways to save room in your luggage is to travel with products that serve multiple purposes. Not only do they help you save space, but they can also reduce the amount of time you need to get ready. Some of our favorite multi-taskers include:
Customized Facial Cocktail: We love these any time, but they're especially great for travel because they help shorten your skin care routine. Depending on the ingredients you select, you can combine your toner, hydration, and serum into one single product!
MultiSprays: The only limit on our MultiSprays is your imagination! We offer these in a variety of scents. Use them to freshen up your clothing after travel, as a body spray, or in spray on the linens in your hotel room to enjoy aromatherapeutic benefits.
Botanical Collection Oils: Great for use on their own, or as an added boost to your skin care favorites, these plant-derived oils can customize your products to suit your skin's changing needs. They are great to use on the face or body for added moisture.
Don't Forget the Essentials
While you may not need to bring everything on your trip, there are always those "can't do without" products that you just can't leave behind.
Sunscreen: This one should be a no-brainer! Your best line of defense against aging and sun damage is protecting your skin with sunscreen every day.
Lip Balm: The only thing more annoying than having dry lips is realizing there is no lip balm in sight! Don't forget to throw one (or two!) in your carry-on or suitcase.
Moisturizer: Whether you're dry, oily, or combination, moisturizer is a must, especially if you're traveling by plane. That recycled air can leave even the oiliest skin feeling dry and dehydrated by the end of the flight.
Cleanser: A good, gentle cleanser is the foundation of every skin care routine, so always remember this one.

 

Micellar Water

 

is a good option for travel, as it can remove dirt, debris, and stubborn makeup without drying out the skin. It's also a great option for men!
We know it can be hard to leave your skin care "holy grails" at home, but by including these summer travel strategies, you can cut back on your luggage without sacrificing your skin care routine. Bon voyage!
---