Spooky Halloween Simmer Pots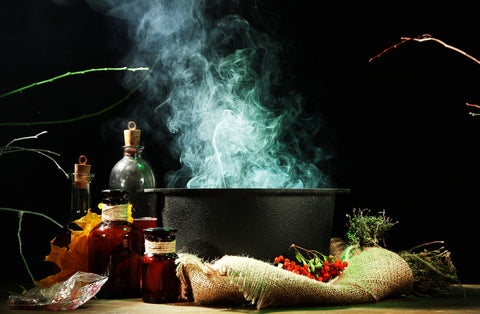 The spookiest time of the year is upon us! What better way to get into the Halloween spirit than by filling your home with fresh, autumnal scents? Ditch the harsh, chemical-laden scented candles this year and opt instead for these fun, easy simmer pots. Not only do they look and smell great, but they may even ward off negative energy. 
Simmer pots are essentially a mixture of spices and herbs, brewed together to scent your home. For each blend you will need 2-4 quarts of water. Bring the water to a boil and add all ingredients. Lower to a simmer and add water as needed. Now, here are a few of our favorite simmer pot blends for Halloween time. 
Lucky Citrus
Bright orange essential oil brings good luck, while clove promotes healing and drives out negative or harmful energies.
Ingredients:
Fall Spice
Warm, earthy patchouli and bright ginger come together to uplift the spirit and help you to breathe easier.
Ingredients:
Autumn Romance
Nutmeg brings good luck and dispels bad vibes while warming cinnamon lends a feeling of comfort and security. 
Ingredients:
We hope these quick, simple simmer pot potions help get you into the holiday spirit and bring you comfort, good luck, and good vibes this Halloween. Happy brewing!
---