Source Vital Apothecary's Father's Day Gift Guide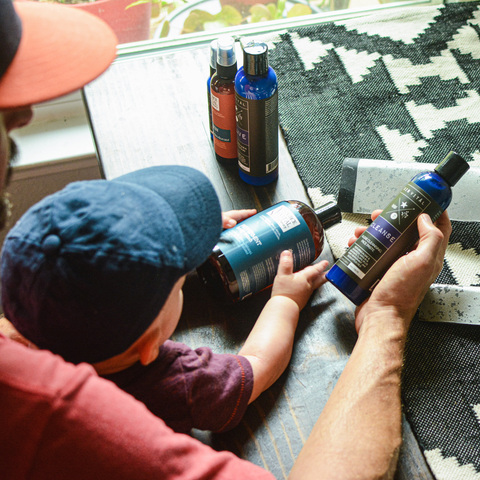 Shop Now to Save 20% on Select Father's Day Gifts
Father's Day is just around the corner! (Can you believe we are nearly halfway through 2021?) We are constantly search for unique ways to celebrate our dads and those that step in to be the dad-like figures in our lives. 
This year, we drew inspiration for our gift guide from our favorite, ever-relatable, TV dads.
Below, you'll find a selection of gifts that cross at the intersection of luxury and utility – perfect for all the men in your life: dad, husband, grandpa, uncle, fur dad, father of your child and any other paternal figures. 
From now until Father's Day – Sunday, June 20th – you can save 20% off* select products featured in our Father's Day Collection. 
Enter discount code: DAD2021 at checkout to get 20% off.    
For the Protective Dad
Eddard 'Ned' Stark, 'Game of Thrones'
"Summer is the time for squabbles. In winter, we must protect one another, keep each other warm, share our strengths."
For the man in your life that tries to shield you from the "not-so-great parts" of the world, give the gift of protection back to him – particularly when it comes to his skin. 
Sir Vitál SHAVE is an excellent option to protect and condition the skin while shaving, while Sir Vital Soothe offers a reparative feel post-shaving as well.
Infused with aromatherapy blends, these grooming products will also help to ground you favorite guy and keep him feeling ready to take on any battles.
Beard as unruly as a direwolf? Our Sir Vitál TAME Beard Oil will have him groomed in no time. 
For the Squeaky-Clean Dad
Danny Tanner, 'Full House'
"Clean is good, and dirt is bad."
Spotless countertops and immaculately clean floors? For the man who is as obsessive about cleaning his surroundings, give the gift of cleanliness, from shower to sink.
Sir Vital CLEANSE is a hard-working cleansing face paste, which effectively cuts through dirt and oil and has a refreshing tingling sensation. 
Or for a full head-to-toe clean, our Skin Shower Shave Kit has you covered- cleanser, body wash, shaving cream, after shave, and deodorant!
For the Tough Love Dad
Philip Banks, 'The Fresh Prince of Bel-Air'
"For four years, I treated that boy like my own son. Whatever he needed, whether it was a pat on the head or a kick in the pants, I was there for him."
Though he may talk tough, under that is a man who only wants the best for you. Soften up that rough exterior with the gift of skin-loving body care. 
Nourishing Body Cream is an excellent option for the dad who deals with dry, rough, skin. Its lightly invigorating scent provide an energizing feel to the body. 
Dry skin on the face? Sir Vital CONDITION helps to soften up brittle facial hair and combats pesky beardruff while also soothing the toughest skin. Find it paired with our Sir Vital Cleanse in the Beard Goals Gift Set.
For the Dad Who Will Do Anything for You
Tony Soprano, 'The Sopranos'
"Someday soon, you're gonna have families of your own and if you're lucky, you'll remember the little moments like this, that were good."
Although your dad is (likely) not engaging in mob activity, he still does everything in his power to help you grow into the best human being you can be.
Give the gift of Sir Vital EVOLVE Natural Cologne Roll-On to thank him for helping you grow into who you are today. This delightful blend evokes feelings of being in the woods, being cozy, and secure. 
Can't get enough of the scent? Our Sir Vital MANIFEST Natural Deodorant contains the same grounding scent, perfect for the man who helped to keep you grounded … and it will keep him feeling clean in fresh, even in the most precarious situations.
For the Dad Full of Laughs
Johnny Rose, 'Schitt's Creek'
"You Want the Smooth Under Eyes of A Sixteen-Year-Old? Get A Job."
To the man that could make you laugh, or groan (dad jokes aside) celebrate his sense of humor with a gift that will make him smile, and maybe even receive a laugh in return.
Our Make Your Own Beard Oil is an incredible bespoke gift that allows you to customize the formula just for dad – and you get to put his name on the label! 
Our easy-to-use four-step process helps you to perfect and personalize a luxe beard oil that can live up to the high standards of the Roses. For the fun-loving dad, we suggest choosing a favorite joke, or funny nickname to make a Custom Beard Oil that's a truly special gift. 
For more Father's Day gift ideas click here (or scroll down) to browse out curated collection dedicated to showing dad how much you love and appreciate him.
To the men you looked up to (quite literally) all these years, Happy Father's Day!
*Father's Day promo code is applicable for Source Vitál and Sir Vitál only. Discount does not include accessories, diffusers, starter kits, gifts sets or gift certificates. Promotion ends at midnight on Father's Day. 
 ABOUT THE AUTHOR
Tr
acey Ellis is a beauty enthusiast with over a decade of experience in the beauty industry. You can find her in the lab, manufacturing Source Vitál Products. Tracey is a New Yorker living in Texas and spends her time cooking and spoiling her miniature husky, Tabasco.
Shop the Father's Day Collection
---