Six Springtime Skin Care Tips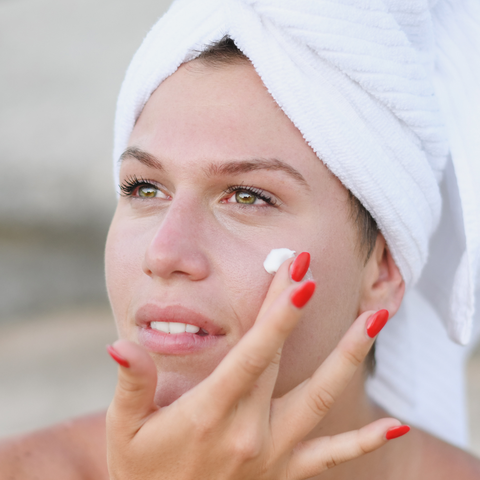 Spring has us swapping sweaters for sundresses and trading hot beverages for iced, but have you thought about changing up your skin care routine seasonally?
Much like trading in your boots for sandals, your beauty care regimen can also benefit from a few swaps to help your winter skin emerge from hibernation.
Below are six ways to get your skin prepped for sunnier days ahead!
1. Spring Clean Your Skin Care Stash
Spring cleaning is not just vacuuming and scrubbing anymore – this also applies to your beauty routine. 
This is the perfect time to take stock in what skincare you own and determine any gaps in your regimen you may have. Take time to toss any expired products and stash away formulas that are better suited for colder months. 
Additionally, it's an excellent time to deep clean any makeup brushes, or skincare tools to eliminate bacteria growth, which can transfer to your skin, causing breakouts, or clogged pores.
We also love the idea of literally cleaning up your skin care and other personal care products, swapping formulas that may contain questionable ingredients, like parabens, phthalates, non-sustainable additives with products made by brands who ethos are in line with your own (like not testing on animals), or are dedicated to creating clean, safe, non-toxic products. 
It can be hard to completely over hall your entire beauty cabinet, so start small making a few seasonal changes a few times a year. 
2. Shed your Winter Skin
Winter weather can cause a buildup of dry, dead skin. Reveal radiant, more healthy-looking skin by using an exfoliator once or twice per week to ensure skin remains soft and bright.
A more traditional exfoliant, like our Algae Deep Scrub, is refreshing to the skin, and is perfect to use in the shower or at the sink.
For a natural alternative to a harsh chemical peel, our Aroma Peel is an excellent, non-abrasive alternative. 
Use our handy video for tips about the best way to to use Aroma Peel. Click here to watch now.
3. Transition to Light-Weight Skin Care
Warmer temperatures typically require trading in emollient, heavier creams to something more lightweight, without sacrificing hydration. 
Thicker textures, with increased humidity and temperatures, may leave your skin feeling oily or greasy.
MerGel, a weightless, gel-like lotion, is one of our favorite skincare products for the warmer months. It leaves skin feeling soft, hydrated, and glowing, thanks to ingredients like hyaluronic acid, green tea, and sea buckthorn oil. 
This antioxidant rich formula will also help protect your skin from free radical damage and environmental pollutants as you start to spend more time outdoors. 
4. All about eyes
The sun is sticking around longer and seems to be shining brighter. Although it's great to feel the warmth of the sun and get some much-needed vitamin D, that bright sun can lead to prolonged squinting around the eye area, which can lead to increased fine lines over time. 
Additionally, allergies make themselves more known in the springtime, leading to itchy, puffy eyes. 
If you aren't including an eye cream in your skincare arsenal, there is no better time to incorporate one.
Cucumber Rose Eye Cream is a triple threat, improving the look of fine lines, puffiness, and dark circles. It's feather-light texture offers cooling relief to the delicate eye area. 
5. Freshen Up
All that extra heat and humidity can be a shock to the skin after the cooler temperatures of the fall and winter. 
Combined with artificial heating and cooling, and your skin may fluctuate from feeling drier in the cooler mornings to feeling oilier in the warmer afternoons. 
Spritzing on Blue Tansy Toning Essence is an excellent way to help promote the feeling of balance to the skin  and offer a refreshing boost to the skin and senses.
Tip: Keep Blue Tansy Toning Essence in the fridge for an instant, cooling pick-me-up, or lightly mist the skin after applying makeup to help increase its staying power, even in the warmest of temperatures. 
6. Keep "Maskne" At Bay
Something that won't go away with the warmer temperatures ( at least this year): mask-wearing, and the dreaded "maskne" that can come along with it. 
Warmer temperatures can lead to sweating, which can get trapped underneath the fabric of the face covering. Ultimately, clogged pores, and inflamed skin can result, leading to pesky "maskne" making its presence known. There are solutions to fighting back, however. 
Click here to get our full proof plan to battle maskne.
One of the easiest ways to help fight mask acne inflammation is to carry along a travel size of Our Micellar Cleansing Water and a few cotton pads.
When you are wearing your mask for hours on end, take some time to quickly swipe the bottom part of your face with the Micellar Water. The rinse-free formula make it easy to keep the skin clean from dirt, impurities and excess oil that can cause breakouts. 
 ABOUT THE AUTHOR
Tr
acey Ellis is a beauty enthusiast with over a decade of experience in the beauty industry. You can find her in the lab, manufacturing Source Vitál Products. Tracey is a New Yorker living in Texas and spends her time cooking and spoiling her miniature husky, Tabasco.
Shop Spring Skin Care
---