Self Care Routines for Busy Moms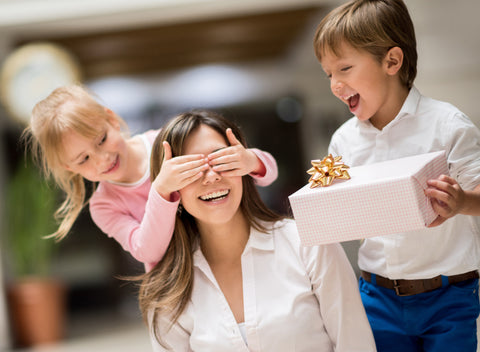 The Rolling Stones may sing that "time is on my side," but that rarely is the case. Our modern lives have us running from one to-do to another, often leaving our personal wellness on the back burner.
As a product line that was born in Sanctuary Spa in Houston, one of our passions is offering an at-home spa experience in every jar and bottle. Our professional grade formulas are designed to provide benefits that you can instantly see and feel. That means you can do more with less, saving you precious time.
Quick & Effective Skin Care
In fact, that was one of the inspirations for our new Customized Facial Cocktail. It is a personalized skin care system that packs 3 important skin care steps into one. We like to call it a facial in a bottle because it is essentially a toner, face serum and a light-weight moisturizer.
The facial cocktail provides a face serum that protects the skin from the signs of aging, a special blend of essential oils and vegetal oils that work to ease skin concerns like acne, sensitivity or sallow-looking skin. Lastly, the formula provides light weight hydration that keeps the skin glowing.
So, for an easy skin care routine that can fit into any busy schedule – especially for busy moms – all you need is a good cleanser, your facial cocktail and a moisturizer for those who need a bit more hydration.
Time Savers
Micellar Cleansing Water is the holy grail of skin care multitasking. Perfect for removing makeup but also a great, easy cleanser for men too. The power lies in the small micelles that are attracted to dirt, oil and grime. One quick swipe with a cotton ball and the skin feels clean and refreshed. It's also super gentle on sensitive skin and upset complexions.
For those nights when you just can't fathom a full cleansing, Micellar Cleansing Water is your go-to. Non-drying, gentle and it works!
Honorable Mentions
One product that can ease minor burns, cuts, scrapes, rashes, bruises and even sunburns? Yes! Our line of first aid products are packed with skin soothing ingredients that quickly bring comfort to skin irritations.
The spray is great for diaper rash and the perfect spot treatment to take out the sting…and itch from insect bites. It smells delicious and has a cooling feel to the skin. It's an essential item for on-the-go moms.
Self Care   
The movement to take time for personal wellness is in full steam. It represents a change of thinking that self-care is a selfish luxury rather than a necessity.
However, it is still tough to find (or make) the time for relaxation and a little bit of pampering. Another one of our favorite multitaskers are Bath & Body Oils. There's not much better than an aromatherapy bath. These oils are the solution for when you can't take a restorative soak.
Blended to be applied straight the skin, these oils target specific concerns like stress relief, feeling of fluid retention, sore muscles or sluggishness. Massage a few drops into the skin after a shower or anytime you need a pick-me-up. Close your eyes for a second, take a deep breath and conjure the peaceful feeling of the spa …. even if you are in the middle of a stressful meeting or a toddler meltdown.
---