Breathe Easier with Our New Essential Oil-Powered Respiratory MultiSpray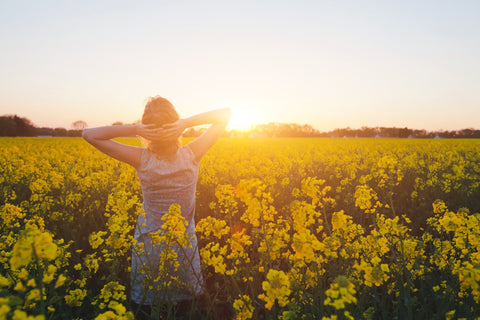 Enjoy the Many Benefits of this All-Natural Mist
For many of us, those beautiful summer blooms mean allergies and all the annoying symptoms that can blossom alongside the bounty of the season.
But while seasonal allergies may be unavoidable, you don't have to just sit back and suffer! Thankfully, from calming the senses to brightening up a room, essential oils can help with almost everything –  including soothing the symptoms related to allergies.
Source Vitál Apothecary is excited to introduce Respiratory MultiSpay, a new addition to two of our popular product lines – our specially-blended Respiratory family of products for deep breathing and our versatile essential oil-powered MultiSprays! Over the years, our Respiratory Essential Oil Blend (also used in the Respiratory Aromatherapy Inhaler) has been a go-to for customers who suffer from seasonal allergies or need a pick-me-up during cold and flu seasons.
By adding the crisp, refreshing scent and benefits of the Respiratory oil blend into a MutiSpray, you have a convenient and natural way to soothe and protect yourself from worst effects of allergies, cold and flu, whenever or wherever you may need it.
How Can I Use This Product?
The exclusive essential oil blend we use in all our Respiratory products is 100% pure and natural – no synthetics here! Eucalyptus, Peppermint, Lavender, and Basil all help fight the feeling of congestion and mental fog allergies can cause. Allergy-induced headaches, stuffy noses, and chest congestion are easily soothed with our Respiratory blend.
Not only does it encourage good health and easy breathing, but it smells great, too – fresh, energizing, and clean. You can use a MultiSpray on yourself, in your car, around your home, or wherever you'd like to experience the soothing relief of aromatherapy.
Essential Ingredients
The primary ingredients in our MultiSprays are pure essential oils. The unique blend of powerful essential oils in our Respiratory blend help relieve the discomfort associated with congested airways.
Eucalyptus Essential Oil: Refreshes and encourages deeper breathing that helps reduce the feeling of inflammation.
Pine & Thyme Essential Oils: Calms the feeling of inflammation while encouraging the natural elimination of toxins.
Ravensara Essential Oil: Soothes and naturally supports the immune system.
Lavender Essential Oil: Used in many blends to naturally purify and create a sense of balance and calm.
Peppermint Essential Oil: Cools and refreshes both the mind and the senses.
Basil Essential Oil: Revitalizes and stimulates a groggy mind.
Myrrh Essential Oils: Diminishes the feeling of congestion.
Whether you're looking to ease a stuffy nose while running errands, relieve sinus pressure throughout the workday, or simply refresh and purify the air in your home, our Respiratory MultiSpray is sure to become a springtime staple in your medicine cabinet.
Be on the lookout for more Respiratory products coming soon!
---