Natural Solutions to Help You Keep Those Resolutions in 2020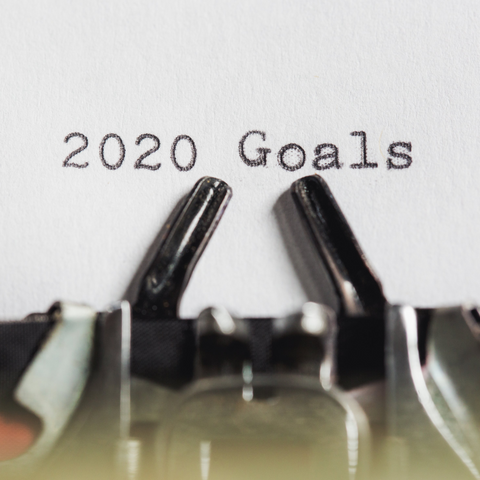 Resolutions. Love them or hate them, it is nearly impossible to not get caught up in setting some sort of goal or intention for the new year.
Our focus in 2020 is to concentrate more on solutions rather than resolutions.
Why Solutions are Better Than Resolutions
A solution is about solving problems and dealing with difficult situations.
However, a resolution is connected to a more rigid, unwavering action or decision. It can feel like there isn't much wiggle room to hold on to that resolution as life gets in the way.
And considering 80% of people fail to achieve their new year's resolution, why even set yourself up for that emotional sabotage.
Solutions are more fluid and adaptable to life. They are constantly changing and evolving as new problems and priorities pop up.
Below, we have identified some  common resolutions and have added tips and tricks to flip them into solutions that will help you to live a more happy and healthy life.
Eat Healthier and Exercise More
The issue with diet and exercise is often consistency. In a world of fad diets and instant gratification, not seeing instant results can be off putting.
Add that to busy schedules, travel and other lifestyle issues, and your weekly food prep and workouts can fall to the wayside.
The solution here is to make small, meaningful changes and to quit beating yourself up for not being perfect. 
A few bad meals aren't the end of the world - it's all about balance.
Analgesic Products for Sore, Achy Muscles
Starting any new exercise regimen can lead to sore, achy muscles and joints. Reward your hard work with natural products that can offer a sense of relief.
Our line of analgesic products are made with special essential oils and natural menthol that cools and comforts soreness and promotes a feeling of release for tight, overworked muscles. 
Massage directly on the areas where you are experiencing a pain, use in a therapeutic bath or develop your own post-workout recovery ritual.
Manage Stress Better
One solution to managing stress goes back to practicing weekly self-care. That can mean something different for everyone.
Some may need a time out from that feeling of always having to be productive, your nightly skin care ritual may be just the thing, weekly aromatherapy baths or just reading a book.
Whatever self-care means for you, schedule it into your weekly or monthly activities to recharge those batteries and restore your mind, body and soul.
Aromatherapy for Stress Relief
One of the easiest ways to find a moment of zen during a stressful day is with aromatherapy.
Research shows that essential oils can have both physical and emotional effects on the body.
Keep a bottle of our Stress Relief Essential Oil Blend of Stress Relief Essential Oil Roll-On on your desk at work and when you get annoyed or start feeling like the world is sitting on your shoulders, take a few deep breaths.
Be proactive on crazy days by diffusing your favorite oils and creating a peaceful environment.
Get Moore Sleep
Don't forget to invest in rest. During stressful times, sleep can be elusive.
Keep a bottle of Tranquil MultiSpray or Serenity Essential Oil Roll-On on your bedside table. Lightly mist linens before bed and apply the Serene rollerball to your chest.
Breathe in the aroma as you lay down and allow the oils to help promote a more restful night's sleep.
Less Screen Time
Staying with the theme of getting more rest, disconnecting from your devices is also important.
The blue light, that crazy article you just read, social media, etc. can keep your mind constantly stimulated, keeping you from releasing tension or allowing the body to restore.
All those screens can also make us feel disconnected from friends and family. The solution is to create screen-free time.
At dinner, commit to having no phones at the table and put away the devices 30 minutes to an hour before bed. Instead, read a book, have a conversation and disconnect.
Using that time to take a relaxing aromatherapy bath is a great way to reduce the feeling of stress, get you ready for bed, treat your sore, tired muscles, and practice self-care. See how we covered a handful of "resolutions" in one go?
Here's the recipe for one of our favorite relaxing aromatherapy baths.

Destress & Let It Go - Lavender & Marjoram Bath
Add oils and Dead Sea Salts to warm (not hot) bath water, light a candle and soak away your worries for 15-20 minutes. To make this bath feel even more luxurious, add some fresh Marjoram and Lavender sprigs into the bathwater.
If you don't feel like mixing the oils, use a premixed Bath & Body Oil such as Stress Relief or try the fragrant Serene Bath Salts.
Take Better Care of Your Skin
Ok, there is one resolution we can actually get behind. Wash your face every night!

Taking care of your skin is a form of self-care.
Washing your face at night can create a nightly ritual that signals the body to get ready for sleep mode, and it is one of the best things you can do to keep your skin looking clear and healthy.
The solution side of this is to have an easy, multipurpose product ready to go for those night's when you just can't do a whole beauty routine.
Micellar Cleansing Water is just the thing. It is rinse-free, effectively removes makeup, dirt and excess oil and won't irritate the skin. 
If you don't already have a skin care routine in place, or you're looking for something new, you can Make Your Own Skin Care Kit. Choose a basic 4-step product kit or a more comprehensive skin care routine with an 8-piece kit.
You get to choose the products that are perfect for your skin type and lifestyle. It's a great way to start caring for your skin and seeing amazing results.
And your name comes on the box - how fun is that?
Save More Money
This seems to have a pretty straight forward solution - cut your spending, especially on "frivolous" things.
However there is a psychological aspect of enjoying the feeling of buying new things. Our solution here is to practice some abundance meditations and enhance the experience with one of our Essential Oil Roll-Ons. This will help, on a deeper level, satisfy the need to want more stuff.
Try Success to unlock your potential and redirect unproductive behavior (like spending too much money), and Luck to elevate your personal belief that anything is possible. These blends will open you up to receiving all the universe has to offer.
Use on pulse points while meditating, before a big meeting or wear as a personal perfume to keep you feeling balanced and in control.
Live a More Natural, Holistic Life
This goal is easier than ever to achieve. With so much focus on wellness, there are lots of resources available. 
From practicing yoga, to switching to a reusable glass water bottle. Little changes can add up to living a more "natural" life.
Our Healthy Home Kit makes it easy to introduce more natural alternatives to potentially toxic and aggressive household chemicals.
Packed with Natural Elixirs to help with minor cuts and bruises, headaches and the sniffles, a collection of the most versatile essential oils, our Analgesic Bath & Body oil for common aches and pains, and Safflower Seed carrier oil, this 10-piece kit is a powerful collection of products that will help you keep your family happy and healthy.
Try making your own kitchen cleanser by mixing a few drops of Lemon and Rosemary Essential Oils (included in the Healthy Home Kit) in a glass spray bottle with some cheap Vodka or Everclear alcohol, or distilled water and white vinegar. Use to spray down and cleanse countertops and other surfaces - no toxic ingredients in sight!
What solutions are you bringing into the new year? Let us know in the comments below or send us an email to sales@sourcevital.com if you need any personal recommendations.
Shop Our ReSOLUTIONS Collection
---