Celebrate National Play Outside Day with Source Vital's First Aid Collection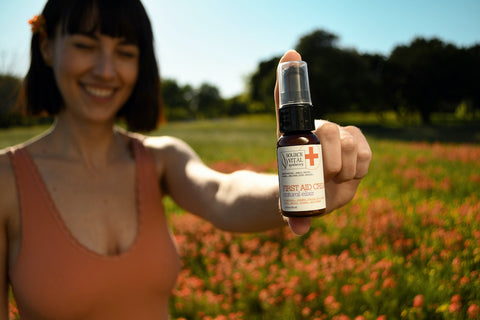 As summer winds down, the call of the great outdoors beckons us to venture into Nature's playground. In celebration of National Play Outside Day on August 5th, what better way to embrace the spirit of adventure than to celebrate outdoors?  
Source Vital Apothecary's remarkable First Aid Collection is a perfect partner for this activity.
The beauty of the outdoors lies in its spontaneity and the unexpected encounters it brings. Whether it's a thrilling hike, a joyful game with friends, or a serene picnic under the blue sky, every adventure has its own story to tell. However, amidst the excitement, a few bumps, scratches, bruises, and insect encounters may come your way.
Fear not, Source Vitál Apothecary has curated a selection of natural, plant-based products that embrace the healing power of Nature. From a soothing balm to a calming mist, our First Aid Collection is a testament to the harmonious synergy between science and Mother Earth. Let us discover how these products become your trusty companions on your outdoor escapades.
Our First Aid Collection
Our First Aid Collection of products boasts a harmonious blend of Nature's finest ingredients, expertly formulated to nurture and protect your skin during outdoor adventures. Infused with plant-based goodness, these products are a testament to our commitment to providing natural and effective solutions. 
First Aid Oil
Our First Aid Oil is a pure, undiluted essential oil blend that naturally soothes, calms, and cools the skin. Prepare to be astonished by its incredible effectiveness in alleviating various skin irritations! This powerful blend takes the sting out of insect bites, burns, bruises, open cuts, scrapes, scratches, rashes, and other minor skin irritations. Keep a bottle in your first aid kit, medicine cabinet, and purse for any "boo-boo" emergencies, as it won't cause any stinging sensation. 
Our First Aid Oil is crafted with carefully chosen key ingredients for optimal skin soothing. Lavender Essential Oil calms and cleanses, while Peppermint Essential Oil purifies, stimulates, and cools irritated skin. Tea Tree Essential Oil boosts the body's natural wound-healing abilities, and Blue Tansy Essential Oil brings calming relief. Helichrysum Essential Oil supports the body's natural healing abilities, completing this potent blend dedicated to addressing various skin irritations. 
First Aid Cream
Created to naturally calm and soothe skin, this exceptional cream initially served as a much-needed after-wax solution for spas. Employing the potency of our First Aid Oil, a concentrated blend of 100% pure essential oils, this cream has evolved to offer intensive hydration and care for any minor skin irritation such as rashes. Enriched with Aloe Vera, seaweed, Lavender, Peppermint, Cucumber, Green Tea, and Shea Butter, this formula boasts powerful soothing qualities and a luxurious moisturizing feel.
The versatility of our First Aid Cream makes it a must-have in every household. From aiding scabs in their healing process to providing relief for minor burns, dry patches, and rough elbows, this cream offers a wide range of benefits. It becomes your go-to solution for insect bites, bumps, and bruises, and even takes the sting out of waxing or shaving any part of your body. Additionally, it proves highly effective in alleviating rashes and diaper rash, along with addressing various other minor skin irritations. 
First Aid Spray
Our First Aid Spray is a gentle yet effective solution to soothe sunburns, insect bites, rashes, and minor cuts. Formulated for situations that require a "dont touch" attitude, this spray cools, cleanses, and gently tingles, providing a calming relief for skin irritations. Its delightful fragrance complements the refreshing sensation it brings. This versatile spray addresses a range of concerns, starting from sunburn, which was the primary inspiration behind its creation. Additionally, it proves beneficial for rashes, insect bites, burns, bruises, cuts, scratches, and other minor first-aid issues that do not require immediate medical attention. 
The foundation of this remarkable product lies in our First Aid Oil concentrate, featuring pure essential oils specifically chosen to comfort and soothe irritated skin. Key ingredients like Aloe Vera, Cucumber, Green Tea, and Seaweed Extracts have been thoughtfully included for their legendary soothing, calming, and hydrating properties.
As the sun dances across the sky and laughter fills the air on National Play Outside Day, these remarkable products become your trusty companions. All three First Aid products are thoughtfully crafted with carefully chosen key ingredients, offering effective relief for various skin irritations. Source Vital Apothecary's First Aid Collection is your go-to solution for staying prepared and cared for during your outdoor escapades.
---