It's National Hemp Month! And our Sir Vitál line of Men's Products is Loaded with Hemp Goodness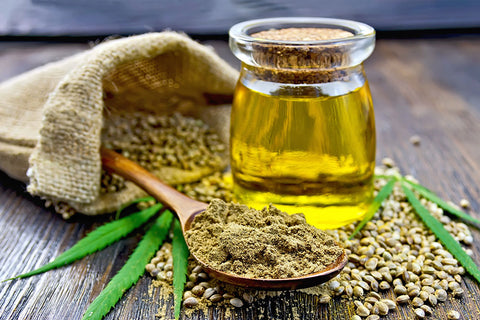 Hemp in this country is as old as, well, this country. Cultivating this crop goes back to our colonial roots in Britain, however, hemp was spun into more than 50,000 years ago. It's one of the most versatile plants on the planet, as it's used now commercial in everything from fuel, biodegradable plastic, and clothes to food and cosmetics and skin care products. After being outlawed for more than 80 years, hemp is making a comeback in major ways. With the advancement of new legislation, farmers, growers, and users are finally starting to understand the power of hemp again in a multitude of ways.
What is Hemp?
Hemp is a fast-growing variety of the cannabis sativa species of plant. Much of the confusion around hemp stems from both hemp and what's commonly known as marijuana are from the cannabis sativa plant. Both contain varying levels of the psychoactive THC (tetrahydrocannabinol), though hemp contains much less. They each come from unique strains and have completely different uses.
Some of the most common uses of hemp are:
Clothing and shoes
Textiles
Food
Biofuel
Paper
Biodegradable plastics
Skin care, body care, and beauty products (hemp seed oil)
What is National Hemp Month?
In August of 2019, cbdMD filed to be the official sponsor of National Hemp Month in order to better educate the public on the benefits of Hemp and dispel myths and rumors that have plagued the plant for so long. This July (2020) marks the first observance of National Hemp Month, with many more to come (hopefully). Observance means talking about the benefits of the plant, shopping for hemp-based products, and using the predetermined #NationalHempMonth hastag on social media. So, get out there and celebrate the awesomeness of this plant, spread the word, and support hemp-based products.
Why Does Sir Vitál Use Hemp?
Using the seeds of the cannabis plant, you can make an oil that's incredibly beneficial your skin. This lightweight hemp seed oil is loaded with antioxidants, minerals, and omegas and can be used on any skin type. Hemp seed oil doesn't clog pores, making is a perfect moisturizer for problematic skin that is often in need of moisture and balance. This includes oily and acne-prone skin. Fatty acid content creates a protective barrier that helps capture moisture.
It's the perfect ingredient for our men's shaving and skin care line, because it also helps inflamed, red, irritated skin, which is common for men with beards. You'll find hemp in our CLEANSE facial cleanser, SOOTHE after shave lotion, and all 3 of our beard oils (CONDITION, TAME, and THRIVE).
Learn More About Hemp:
---