Four Morning Rituals to Start Your Day Off Right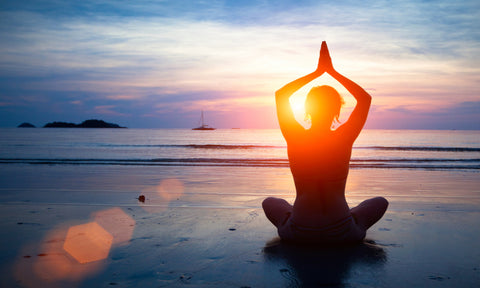 We've all had those mornings: difficulty getting out of bed, hitting the snooze button one too many times, or feeling the need to immediately grab a cup (or two) of coffee. Whether we like it or not, mornings have the potential to set the tone for the rest of our day. 
Although this article is about morning rituals, it's important to know that the most important start to your morning ritual actually begins with a good night's sleep! If you aren't sleeping well or not getting enough sleep, it's going to be that much harder to enjoy your mornings. For some ideas on how to improve your sleep, check out our blog post on our evening rituals, here. 
Once you've found a way to make sure you're getting quality sleep more often than not, you're ready to incorporate morning rituals into your day. Below, you'll find four of our favorites. 
Practice Gratitude
We're always looking to start off our day in a positive way. What better way to radiate positivity than by practicing a bit of gratitude? Practicing gratitude is easily one of the most overlooked rituals, but the truth is it costs nothing (other than a few minutes of your time) and can be done anytime and anywhere! 
Gratitude can be practiced out loud, on paper, or with others. The beauty is that it's completely up to you. To further enhance your gratitude experience, try diffusing our Citrus Essential Oil Blend. Citrus oils are known to promote happiness and brighten the feel of our surroundings. Need a moment to practice your gratitude on the go? Try our Citrus Essential Oil Roll-On. 
Wash Your Face
Although you may be guilty of skipping this part of your skincare routine, there are important benefits to taking the time to cleanse your skin in the morning. Not only does it help to remove dirt and oil that may have accumulated overnight, but the act of cleansing can be relaxing, and help you to put your best face forward. (Literally.)
As an added bonus, washing your face (and applying the rest of your skincare routine) can help you feel more awake. Our favorite morning secret weapon? Our Algae Deep Cleanse. This facial cleanser leaves the skin feeling refreshed and tingly, like a cup of coffee for the skin and the senses. 
Have Breakfast
Many of us are so rushed in the morning that we don't have time for breakfast, and no, a cup of coffee doesn't count. We're told from a young age that breakfast is the most important meal of the day, and for good reason. Not only does eating breakfast give our bodies the necessary energy to move throughout the day, but the activity of eating breakfast can feel nurturing. 
Can't stomach a hearty breakfast? Try a smoothie. They're portable, completely packed with nutrients, and customizable to your likes. Add a scoop of your favorite supplement powder to your smoothie, shake, or juice for a serious nutrient-rich bonus. 
Stretch
While our bodies recover from the stress of the day while we sleep, they can also use a jump-start in the morning to counteract all that stillness we experienced overnight. Moving first thing in the morning can help reduce stiffness, alleviate aches and pains, and boost circulation.
Stretching after getting out of bed helps to wake the body in a gentle manner as well. Feeling stiff after a good night's rest, or did you sleep wrong? Prior to stretching, apply our Sports Balm Roll-On to the areas that may be achy. This fast-acting formula provides a gentle and cooling sensation, not to mention an invigorating scent, thanks to natural menthol crystals and peppermint essential oil.
What are your favorite morning rituals? Let us know in the comments!
---