Look and Feel Your Best in the New Year with Our Best Beauty Lessons of 2017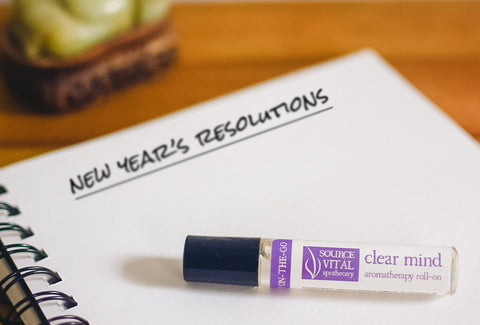 In the world of beauty and skin care, trends can come and go in the blink of an eye. We love to be in the know about new ingredients and product formulations, but what we've learned in 2017 is to celebrate the uniqueness of different complexions.
With the new year we want to share some of the beauty lessons that we are looking forward to enjoying well into 2018.
Skin Care Lesson #1
Personalized Face Serums
Sometimes trends are worth keeping. Personalized beauty had a moment this year. From ever-expanding color palettes that match a wide-range of complexions, to customized skin care formulas, custom-made products offer effective solutions that help you to feel more comfortable in your own skin.
It's no surprise that our Customized Facial Cocktail was our best-selling product this year. We launched this system at Indie Beauty Expo Dallas this past May, and it's been a huge hit ever since.
The concept behind the Customized Facial Cocktail is two-fold: a product that is personalized to an individual's specific skin care needs, while also providing a simple, multi-use formula that's easy to incorporate into any skin care regime or lifestyle.
The customizable nature of the product allows the user to pick and choose their serum base, protective infusions, and booster "shots" to create the ideal 3-in-1 cocktail that is perfectly blended for their needs. We like to think of it as a "facial in a bottle" that contains your toning, hydration, care and serum all in one bottle. It's a way to feed the skin with the ingredients it needs to look its best.
What our fans are saying:
"Wish I could give more than five stars - I love, love, love this serum. I just ordered a new one for day time. Definitely a new staple."
– Bronwyn J.
"LOVE IT - I have ordered 2 different facial cocktails and I loved them both! They are my daily go-to and most of the time it's the only thing I put on my face for the day. I definitely noticed a change in my skin overnight! Love the smell of both of them and I recently received a compliment on the smell of the rose based one I made from a barista at Starbucks who thought it was perfume."
– Raven D.
"Great! - The custom face cocktail has really evened out my skin tone and brightened my skin. My skins is super sensitive and this has done wonders. I really love it. I even had my little brother customize one for himself because he's acne prone and it seems to be working really well! Overall, great product."
– Clara C.
Skin Care Lesson #2
It's All About the Double Cleanser
The foundation of every skin care regimen starts with a great cleanser. Purifying the skin not only feels great and helps to send internal signals to your brain that it's time to take on the day or slow down for rest, it is also one of the most important things you can do for a young, healthy-looking complexion.
However, removing the makeup, dirt, oil and grime from the day occasionally needs more than just a quick splash of water. Double cleansing is one of those skin care steps that may seem unnecessary, but the benefits are quickly seen and felt. The trick is to choose the right formulas – one that will cleanse and another that will nourish.   
Our top-selling facial cleanser, Algae Deep Cleanse is ideal for double cleansing. A consistent cult favorite over the years, this formula is part mask, part cleanser and part skin food.
Our active seaweed formula gets deep into the pores, leaving the skin feeling completely clean and refreshed. The unique blend of seaweed, natural botanicals and essential oils makes this cleanser an excellent choice for all skin types, and is especially effective for congested, acne-prone skin types. This cleanser is perfect to use in the morning for a tingly, peppermint-infused wake-up.
Skin Care Lesson #3
Don't Forget the Eye Cream
The delicate area around the eyes can be one of the first areas where the signs of aging can appear. Out favorite tip to keep the eyes looking bright and rested is to keep your gel-textured eye cream in the fridge. The cold temperature feels refreshing to the skin and helps to alleviate the appearance of dark circles and puffiness.
Lightweight and gentle, our Cucumber Eye Cream punches well above its weight. Cucumber extract, brown and red algae, aloe vera and a blend of essential oils blend to deliver skin that is toned, brightened and looks smooth. The lightweight non-greasy formula is great to use in the  morning and wears well under makeup. Leave dry, crepe-y under-eyes behind in 2017!
Skin Care Lesson #3
Hydrate, Hydrate, Hydrate!
Want your skin to instantly look better? Slather on the moisturizer. It is the key to smooth, plumped, glowing skin. Whether you are fighting illness, recovering from a facial treatment or want to keep the signs of aging at bay, moisturizer is your friend. 
Our two most-loved facial creams of 2017 are the Soothing Cream and Clear Skin Cream. Perfect for sensitive skin types, Soothing Cream is rich in texture and nutritive properties. This cream is ideal for those with normal, sensitive, dry, rosacea and mature skin-types, and helps to protect against environmental wear-and-tear. If you're looking to sooth and protect, this one's for you!
Clear Skin Cream was also a big hit this year. Lighter in weight than the Soothing Cream, this gel-like formula is ideal for those with congested, oily-combination and acne-prone skin types. It delivers light hydration and helps combat excessive oil production by promoting harmony and balance in the skin.
An honorable mention goes to our Night Repair Cream. This rich, hydrating formula plumps up skin with our special mix of seaweed, botanical extracts and essential oils. Don't let its fluid texture fool you – this product hydrates just as well as a luxurious night cream. Plus it smells dreamy so breathe in the aroma while massaging into the face and neck.
Personal Care Lesson #1
Natural [Deodorants] is Better                                      

With a variety of formulas, textures and scents, natural deodorants have entered the mainstream of personal care products. There is no need to use conventional antiperspirants made with potentially harmful aluminums. Natural deodorants can keep you feeling clean and fresh.
There is a reason why our Deozein Natural Deodorant has been one of our top sellers for more than a decade – it works! Free of aluminum chlorohydrate and zirconium, parabens and phthalates, Deozein is formulated with pure essential oils, natural mineral salts and seaweed extract that inhibits body odor form forming, without interfering in the body's natural detoxification efforts. And it works for both men and women.
This year we launched a new scent and introduced a new easy-to-use roll-on formula. With so many options, there's no excuse not to ditch that traditional, chemical-laden antiperspirant!
Personal Care Lesson #2
Ingredients Matter
Well, this is a lesson we've known since the beginning, The right blend of natural, effective ingredients is a must. We believe in the powerful benefits of essential oils to promote wellness for the mind and body.
 
This is the philosophy behind our line of natural elixirs. Made with pure essential oils, whole plant botanicals and skin-loving algae, These products are meant to care for common every day issues, without aggressive chemical-heavy, synthetic formulas.


First Aid Oil was one of our most-loved personal care items. This undiluted, pure essential oil blend was initially created to naturally calm and cool irritated skin after waxing and hair removal. Perfect for insect bites, burns, bruises, small cuts,  rashes, blisters and bruises, this is also a fan-favorite of those with little ones at home because it helps to take out the hurt without stinging!  
We are thankful to share our passion for great ingredients and results-oriented products for the skin and body with our fans. Use these lessons to ring in 2018 with a healthy mind, body and spirit.
Cheers to the new year!
---