Introducing: Kooky Southern Aunt Collection with Natch Beaut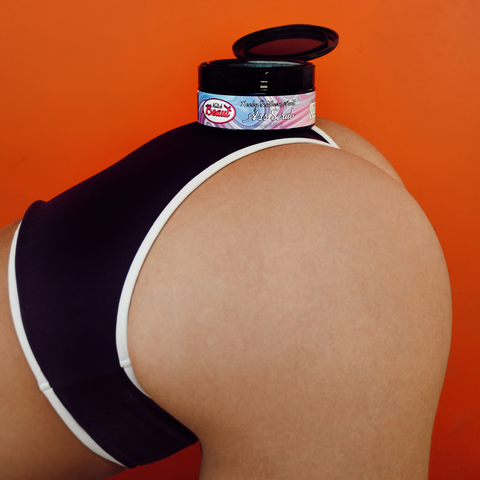 Get Your Scrub On, Oil Your Ass and Keep Your Pits Fresh, Hunnie!
What have we been up to during the past year? Making a fabulously kooky and sexy collection with our favorite Natch Beaut podcaster Jackie Johnson - that's what!
We've been dazzled with Jackie since we first met her at the Dallas Indie Beauty Expo in 2017. 
So, yes it was about time we got together for a collab.
The Kooky Southern Aunt Collection
The result is a 3-product bath and body collection all about self-love, empowering aromatherapy scents, luxurious textures, and embracing that "Kooky Southern Aunt" in all of us. 
What is a Kooky Southern Aunt? Other than one of Jackie's many colorful monikers, it's the idea of a sassy, confident woman who likes to keep it fun and flirty.
You go to her for tips on how to look and feel fabulous, and can always rely on her to tell it to you straight!
And she's not afraid to be a little "cheeky." You'll notice we've had a lot of fun with the names of these products.
We hope they will inspire you to embrace whatever skin you're in and have a lot more laughs in your life too.
Kooky Southern Aunt Ass (and body) Scrub
Yes, you read that right. Ass scrub! 
After sitting on our rears for more than a year, don't you think it is time to give our bums some TLC?
For this Ass (and, yes body too!) Scrub we used a trio of pumice, volcanic sand and perlite, soothing Aloe Vera, purifying Plankton extract, and our special eco cleansing solution to create a creamy exfoliating paste that has a subtle sudsing effect that works to keep the skin hydrated and protect while you buff away rough textures.
Then we heightened the experience with a warm, slightly exotic and sexy aromatherapy blend of Orange, Patchouli, Clove, Frankincense, Ylang Ylang and Jasmine essential oils.
At first smell you will want to lather this all over your curves.
The flip-top jar makes for easy use in the bath or shower. Get those hand in there and get your scrub on!
Kooky Southern Aunt Ass (and everything) Oil
Does anything feel more extravagant than using a delicious smelling body oil? We think not.
After your done smoothing and softening your curves it's time for the Ass (and everything) Oil.
Using the beautiful glass bottle and dropper take a couple handfuls of this oil and give thanks to your bum, thighs, legs, shoulders, arms and chest as you massage in hydration and give your skin a healthy glow.
The magic is in a combination of high quality Hemp Seed, Avocado and Watermelon botanical oils, that nourish and moisturize without any greasy skin feel, Chlorella and Japanese Shikon extract for nourishment and brightening, and a complex, enticing blend of essential oils like Grapefruit, Bergamot, Lavender, Sandalwood, Rose and Ylang Ylang that energize the spirit and inspire inner confidence.
Use as a body oil or to transform your bathing ritual into a spa-like aromatherapy experience.
Kooky Southern Aunt Deozein Natural Deodorant
And to top off the collection, we've added a new scent to our collection of popular natural deodorants.
Because you can't feel confident with smelly underarms!
Deozein has been one of our top-selling products for over two decades. The Kooky Southern Aunt Deozein is made with our same effective formula of natural mineral salts, algae extract, Babassu Oil and an exclusive blend of essential oils similar to those used in the Ass (and body) Scrub.
Formulated without any potentially dangerous aluminums or irritating baking soda, Deozein works to prevent bacteria causing body odor without clogging sweat glands or inhibiting the body's natural function of eliminating toxins.
Plus, it smells so good you might also want to use it as a body spray or to freshen up stinky shoes and gym bags.
The entire Kooky Southern Aunt is available for purchase now.
Keep an ear out to hear Jackie break down the collection on the Natch Beaut podcast - available anywhere you listen to your podcasts.
Plus, we'll share more content about how to enjoy the Kooky Southern Aunt Collection and build a bath and body ritual that puts a new spin on self-care.
Shop the Natch Beaut Kooky Southern Aunt Collection
---